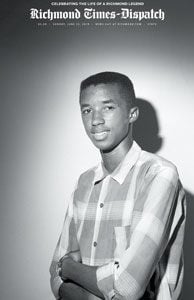 RICHMOND, VA – We are honored to celebrate the career of Arthur Ashe and Saturday's dedication of Arthur Ashe Boulevard with a special section in the Sunday newspaper, June 23. The cover image features a never-before-seen photo of the athlete as a 17-year-old rising senior at Maggie Walker High School.
The image was recently uncovered in our historic archives by a member of our photography team while gathering photographs for the special section.
"… Arthur Ashe was one of many local athletes who came to the Richmond Times-Dispatch for what we refer to as a 'head shot,' explained James Wallace, RTD Photo Editor. "It wasn't supposed to be an elaborate photo session, just a photo to capture another in a regular Saturday series on high school leaders. However, the photographer shot a few frames that turned out to be something more…"
"… But, there was something about this photo and the casual pose that seemed to speak more about Ashe and his future potential, as well as his innocence. After years of combing through our archive and running just about every photo we have, it was pure serendipity that we discovered something of such a famous face that the world has never seen. Ashe will forever be linked to Richmond, and we are delighted we can share a part of history that places him at the start of a trajectory that saw him reach the height of his sport and as national civic leader."
Our special section this Sunday celebrates the life of a Richmond legend with photos, commentary from Michael Paul Williams, live coverage of the Arthur Ashe Boulevard renaming and much more.
For more information about the historic photos and the features in this Sunday's newspaper, contact Executive Editor Paige Mudd at (804) 649-6671 or pmudd@timesdispatch.com.
About the Richmond Times-Dispatch
The Richmond Times-Dispatch is Central Virginia's leading source of news, advertising, commentary and community conversations.
The RTD is part of the BH Media's Richmond Group, which also includes The Mechanicsville Local, the Ashland-Hanover Local, The Goochland Gazette, Powhatan Today, Chesterfield RTD, Henrico RTD, Cumberland Today and The King William Local. Online, access the RTD on Richmond.com.
The Richmond Times-Dispatch and BH Media Group are owned by Berkshire Hathaway Co.