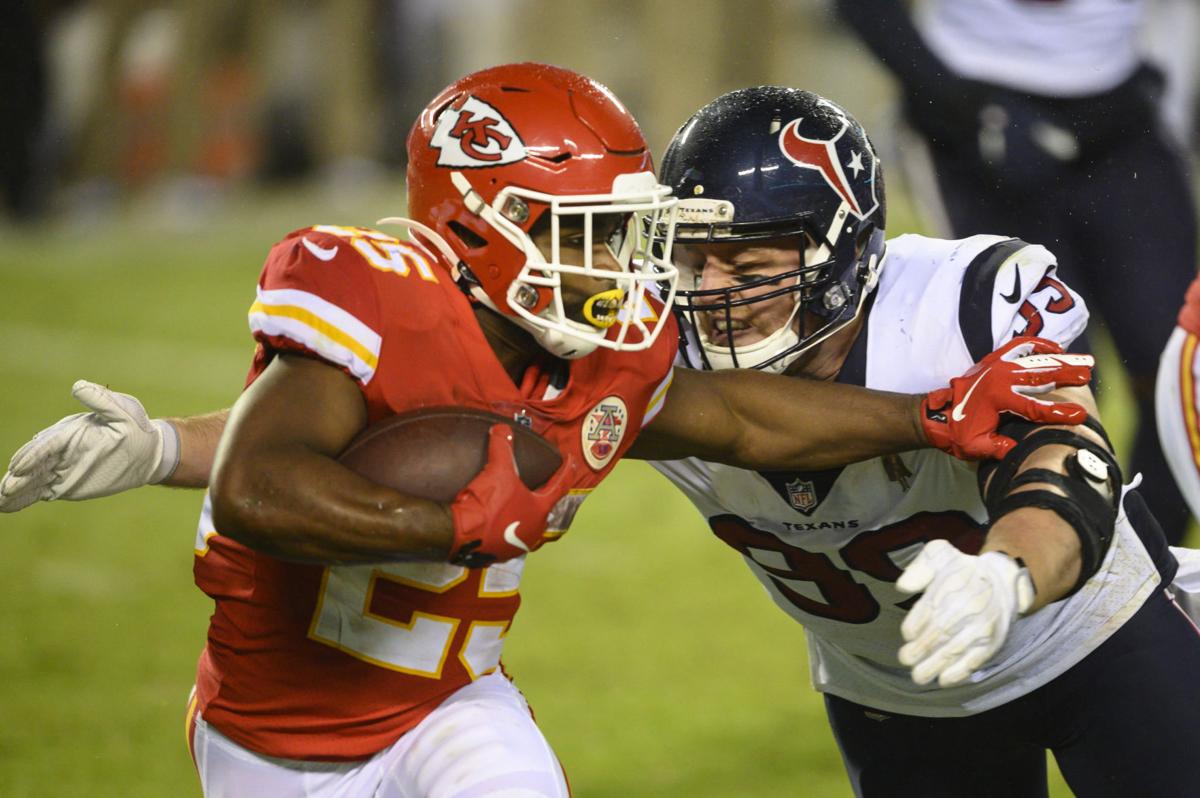 K.C.'s Edwards-Helaire returns to practice
KANSAS CITY, Mo. — Chiefs running back Clyde Edwards-Helaire practiced Wednesday for the first time since getting hurt against New Orleans in Week 15, raising hopes the first-round pick can play in the AFC semifnals against Cleveland on Sunday.
Edwards-Helaire had been out with a high-ankle sprain, causing him to miss the Chiefs' final two regular-season games. He also missed a game earlier in the season but still finished fourth among rookies with 1,100 yards from scrimmage.
The only players to miss practice Wednesday were wide receiver Sammy Watkins, who missed the final game of the regular-season with a calf injury; rookie linebacker Willie Gay Jr., who has been dealing with an ankle injury; and cornerback Rashad Fenton, who hurt both of his ankles in the Chiefs' meaningless Week 17 loss to the Chargers.
That means wide receiver Tyreek Hill and linebacker Ben Niemann were back from hamstring injuries that hobbled them late in the season, along with linebacker Anthony Hitchens (COVID-19) and offensive tackle Mike Remmers (back).
Browns' Ward, Johnson off virus list
The Cleveland Browns will need all the help they can get against Kansas City Chiefs quarterback Patrick Mahomes, so cornerbacks Denzel Ward and Kevin Johnson are coming back just in time.
The Browns said they activated Ward and Johnson from the reserve/COVID-19 list on Wednesday.
Offensive line coach Bill Callahan also returned to Browns headquarters Wednesday, coach Kevin Stefanski said on Zoom.
Ward, Johnson and Callahan missed the past two games after testing positive for the virus.
Stefanski said he remains on track to be back with the Browns in person Thursday after testing positive for COVID-19 last week and missing Sunday's 48-37 win over Pittsburgh in an AFC first-round game.
Two Browns players remain on the COVID-19 list who will be eligible to return as early as Thursday: three-time Pro Bowl guard Joel Bitonio and receiver KhaDarel Hodge.
Paton is named Denver's GM
ENGLEWOOD, Colo. — John Elway's replacement as Denver Broncos general manager will be Minnesota Vikings executive George Paton.
Elway announced the hiring Wednesday. Denver hasn't reached the playoffs since winning Super Bowl 50 five years ago.
Paton spent the last 14 seasons with Minnesota, including the last six as vice president of player personnel and assistant general manager. He's been one of the hottest names on the GM circuit in recent years.
Paton will report to Elway, who is keeping his role as president of football operations.
CHICAGO — The Chicago Bears plan to keep general manager Ryan Pace and coach Matt Nagy for at least another season.
The team opted against sweeping changes in leadership after the Bears slipped into the playoffs despite going 8-8 for the second year in a row, chairman George McCaskey said.
The announcement came in the wake of the Bears' first-round playoff loss at New Orleans on Sunday, their second playoff appearance in three years. Chicago won the NFC North at 12-4 in 2018 — Nagy's first season.
The Bears have two playoff appearances and a 42-54 regular-season record in six years under Pace, while Nagy is 28-20. They have not won in the postseason since the 2010 team played in the NFC championship game.
NFL won't penalize Eagles over QB calls
PHILADELPHIA — The Eagles won't be penalized after the NFL looked into the way the team handled its quarterback decisions in the final regular-season game against Washington, two sources familiar with the decision told The Associated Press.
Doug Pederson, who was fired by Philadelphia on Monday, removed Jalen Hurts for third-string quarterback Nate Sudfeld in the fourth quarter of a 20-14 loss on Jan. 3. The Eagles trailed by a field goal when Sudfeld, who hadn't thrown a pass in a game since 2018, entered. He was intercepted on his second attempt and also lost a fumble.
Washington (7-10) secured the NFC East title with the victory and the New York Giants (6-10) were eliminated. Giants players and their fans were angry that Pederson benched Hurts, feeling the Eagles tanked. The loss gave Philadelphia the sixth pick in the draft instead of the ninth.
Packers put Veldheer on COVID-19 list
The Green Bay Packers placed offensive tackle Jared Veldheer on the reserve/COVID-19 list just one day after announcing they had signed him off the Indianapolis Colts' practice squad.
Veldheer was Indianapolis' starting left tackle for each of their last two games, including a 27-24 AFC first-round playoff loss to Buffalo last week.
The Colts had activated Veldheer from their practice squad for game day rather than officially signing him to their 53-man roster. That enabled the Packers to sign him this week.
Green Bay (13-3) hosts the Los Angeles Rams (11-6) in an NFC semifinal Saturday.