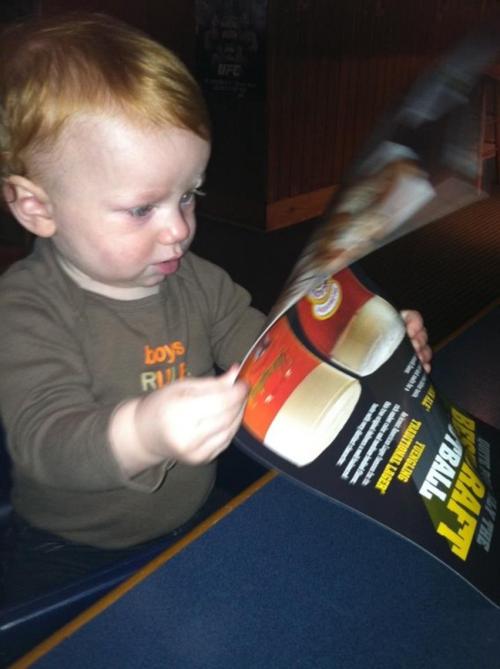 Indian Pale Ale (IPA) beer was invented by British brewers in the 18th century so that they could safely ship swill to the far reaches of the world – successfully getting their colonizers blitzed without killing them.
At least that's the alleged true story. As a conspiracy theorist, I'm staking my liver on version B: a dashing British aristocrat got hitched, had a kid and needed high-octane beer to get him drunker, faster.
That's why I've made the switch to the hoppy, high-percentage beer: maximum efficiency of alcohol consumption for relaxation in a pinch. These babies check in at 7 to 10 percent or higher where your typical domestic lager is around 4 percent ABV (alcohol by volume). When you're drinking a potent Dogfish Head or Lagunitas ale, you don't have to worry about filling your trashcan with more empty Coors Light bottles than Kid Rock's green room. Two or three will get you done. You save time, calories and the environment.
And when you're spending $15 on a six-pack, it's not a problem. It's a hobby. You're not a drinker; you're a collector.
You don't need to be a self-employed photographer with an  ironic mustache and a hipster vibe to enjoy fine craft beer. You just need a halfway-demanding day gig, a mortgage and a toddler who likes extreme living room sports like dog surfing and bookshelf climbing (I really should turn off "Sesame Street" and make my kid watch the last half of "127 Hours").
Now that I've spent half of a parenting column attempting to rationalize borderline binge-drinking, I'll get to the point. Parenting is about trade-offs. For example, my kid dresses fairly frugally but decently; he surely has the highest clothing allowance in the house out of our own guilt more than out of true need. That said, my wife and I haven't purchased non-Old Navy clothes for ourselves in at least 18 months. That's a trade-off.
We've also traded off sleep for coffee. I know that sounds a bit hack, like some bad stand-up comedy routine material from the '80s, but it's true. Four hours of sleep a night plus three large coffees and a Diet Mountain Dew or two mixed in works. On the upside, I have more waking hours to drink IPAs and patch up all my old clothes.
This past Sunday, we piled in the car to head to brunch. It has been a while since we'd been able to make it out for our favorite meal. It was 11 a.m. – dangerously close to Nolan's critical naptime (In case you didn't know, if toddlers don't nap when they're supposed to nap, your entire world shatters in less than 24 hours.) We thought we had enough time to make the round trip to a Fan or Northside greasy spoon until Nolan conked out somewhere around the end of the driveway. Constantly grappling with getting the little guy the perfect nap so that he sleeps through the night, we opted not to wake him and instead proceeded to drive around Richmond for an hour until found a Sonic. No bloody marys or blueberry pancakes, but easy car-side ordering on the cheap.