Dominion Energy is already known as the largest corporate contributor in Virginia politics. But outside of the company's giving, individual executives and employees bundle donations to state lawmakers from their own pockets in an artful display of power.
In addition to big donations to state lawmakers from the corporation's political action committee, executives like Chairman, President and CEO Thomas F. Farrell II and Senior Vice President-Regulatory Affairs Thomas P. Wohlfarth complement that with political giving of their own - sometimes on the same day.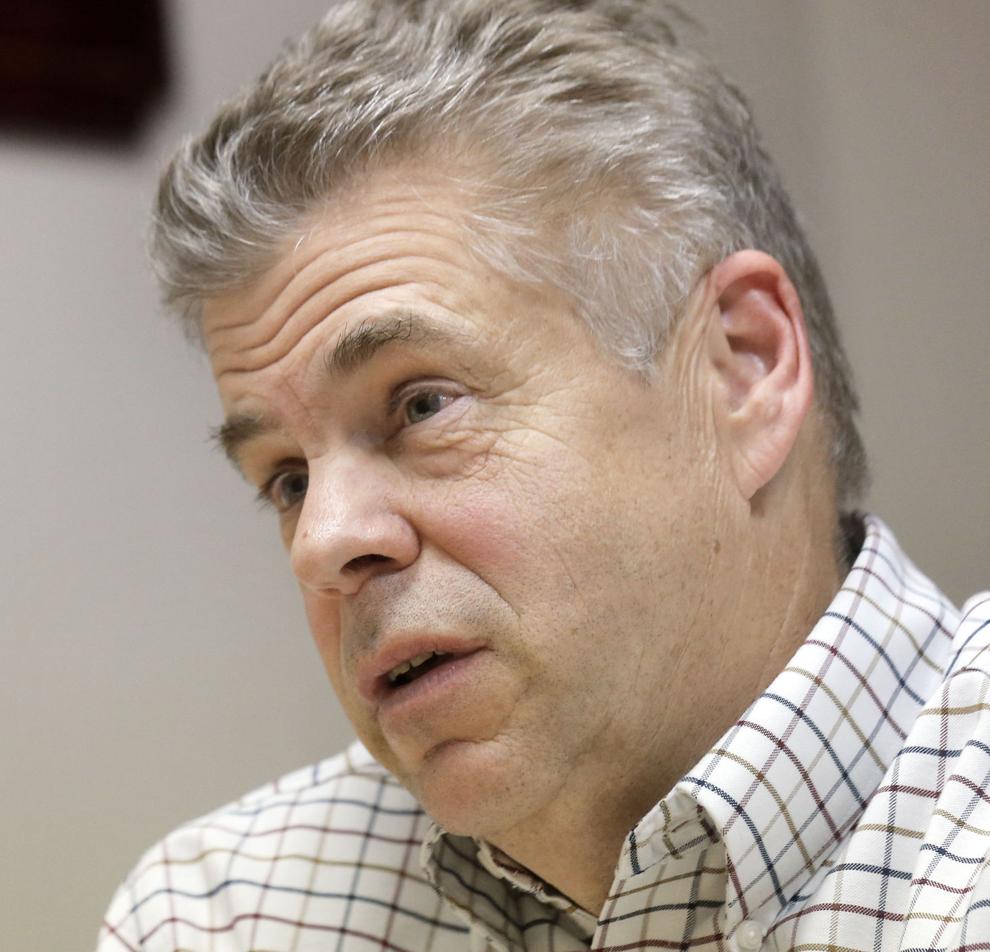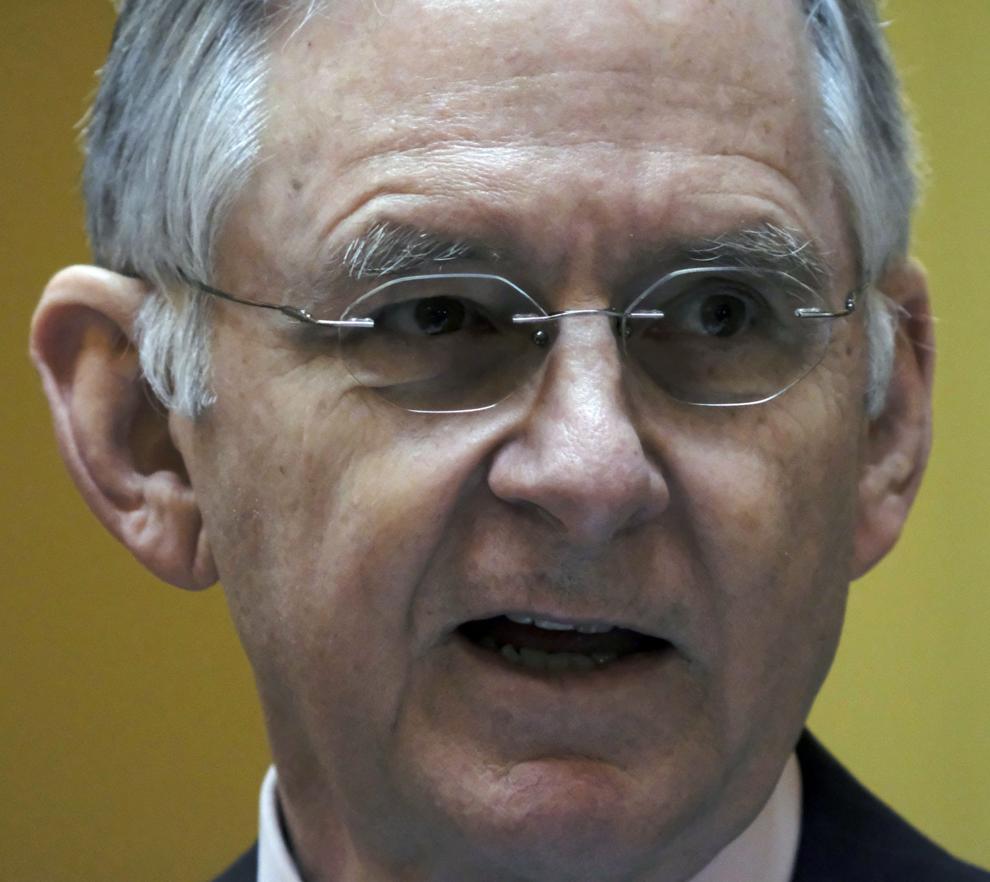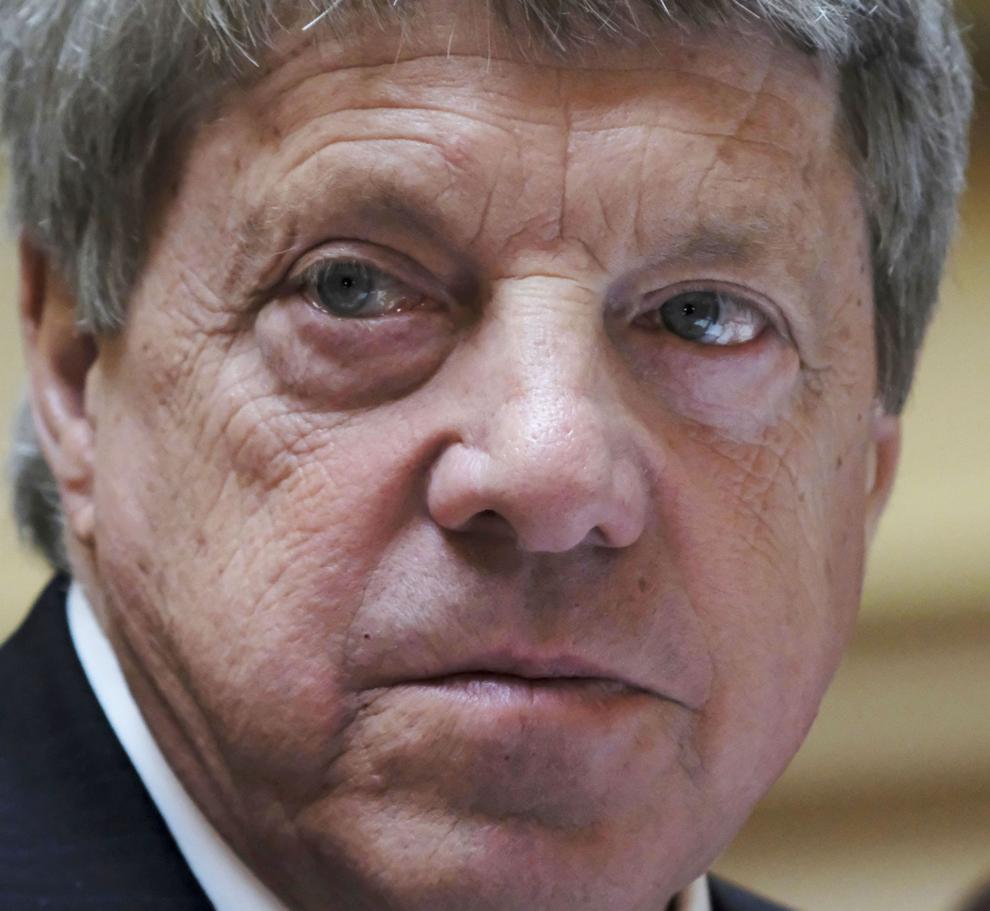 For example, House Majority Leader M. Kirkland Cox, R-Colonial Heights - who will be speaker of the House of Delegates assuming his party maintains control in the November elections - reported 35 donations from Dominion employees on July 12 after Dominion held an event for him. Farrell gave him $2,500, and others gave between $150 and $1,000. Add that to a $5,000 donation from Dominion's PAC, and Cox pulled in $30,400 from Dominion on July 12.
That broke a record for Dominion employee donations held by outgoing House Speaker William J. Howell, said Charlie Spatz, a researcher with the Climate Investigations Center in Alexandria, a watchdog organization that monitors the fossil fuel industry and pushes for renewable energy. Howell, R-Stafford, received 31 donations from individual Dominion employees, totaling $24,100, on June 30, 2015.
Other state lawmakers receiving the greatest number of donations at once include state Sen. Frank W. Wagner, R-Virginia Beach, Senate Majority Leader Thomas K. Norment Jr., R-James City, and former state Sen. A. Donald McEachin, D-Henrico, who is now a member of the U.S. House of Representatives.
Wagner sponsored the 2015 Dominion-written legislation that led to a temporary freeze on reviews of its base electricity rates by the State Corporation Commission - legislation that opponents believe will result in Dominion keeping $1 billion in excess profits. He reported receiving 21 donations from Dominion employees on June 30, 2015, totaling $23,000.
Current and retired Dominion employees, individually, have donated $2.4 million to Virginia campaigns since 1997, according to an analysis of Virginia Public Access Project data. Of that, $715,827 came from Farrell.
"Dominion executives are going beyond their PAC to demonstrate their power in a very personal way," Spatz said. The company is going further than "what your average company is going to do to influence legislators, and it really just shows how integrated Dominion is with Virginia politics."
Longtime Virginia political analyst Bob Holsworth said Dominion executes its political operation "with extraordinary skill."
"Their own lobbyists are always extremely well-informed, well-respected people," he said. "The outside lobbyists they hire are at the top of the profession."
The campaign donations are transparent and the company is open about it, he said.
The personal donations are all on top of the biggest number - Dominion PAC donations to Virginia campaign committees.
---
Top 10 DOMINION DONORS
| Donor | Sum of contributions | Count of contributions |
| --- | --- | --- |
| Thomas F. Farrell II | $715,827 | 264 |
| Thomas N. Chewning | $348,050 | 170 |
| Eva Teig Hardy | $235,484 | 229 |
| Paul D. Koonce | $150,250 | 85 |
| Thomas E. Capps | $97,197 | 65 |
| William Lawrence Murray | $68,664 | 99 |
| William W. Berry | $66,900 | 91 |
| William C. Hall Jr | $50,443 | 61 |
| Robert M. Blue Sr | $46,285 | 65 |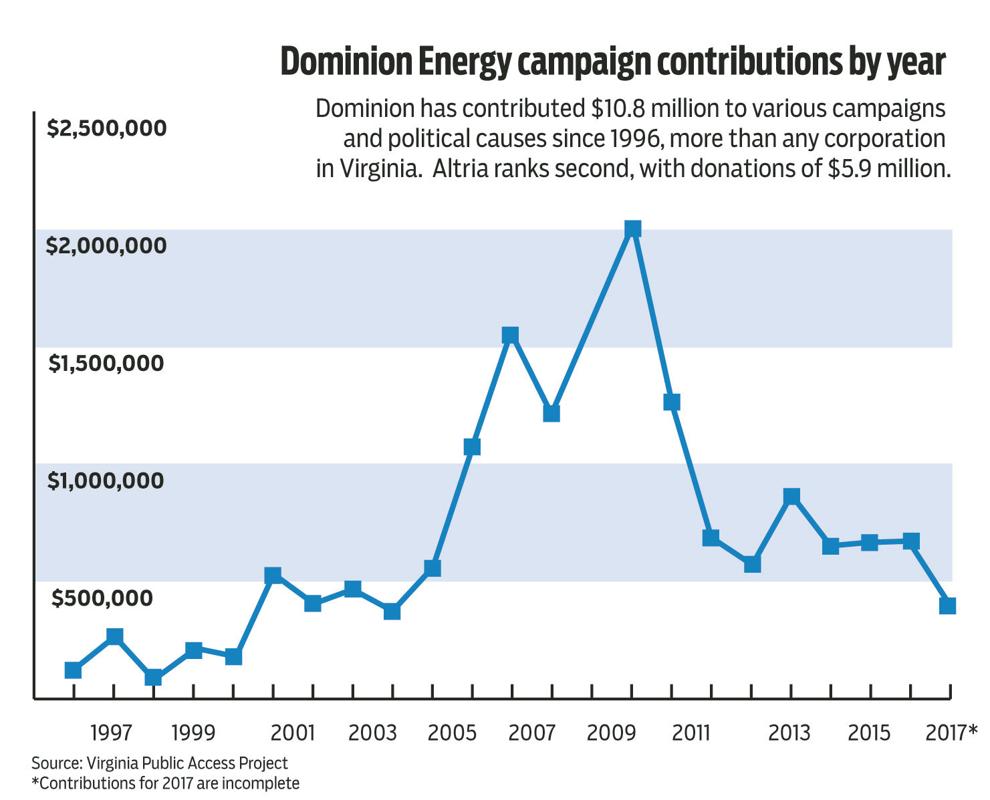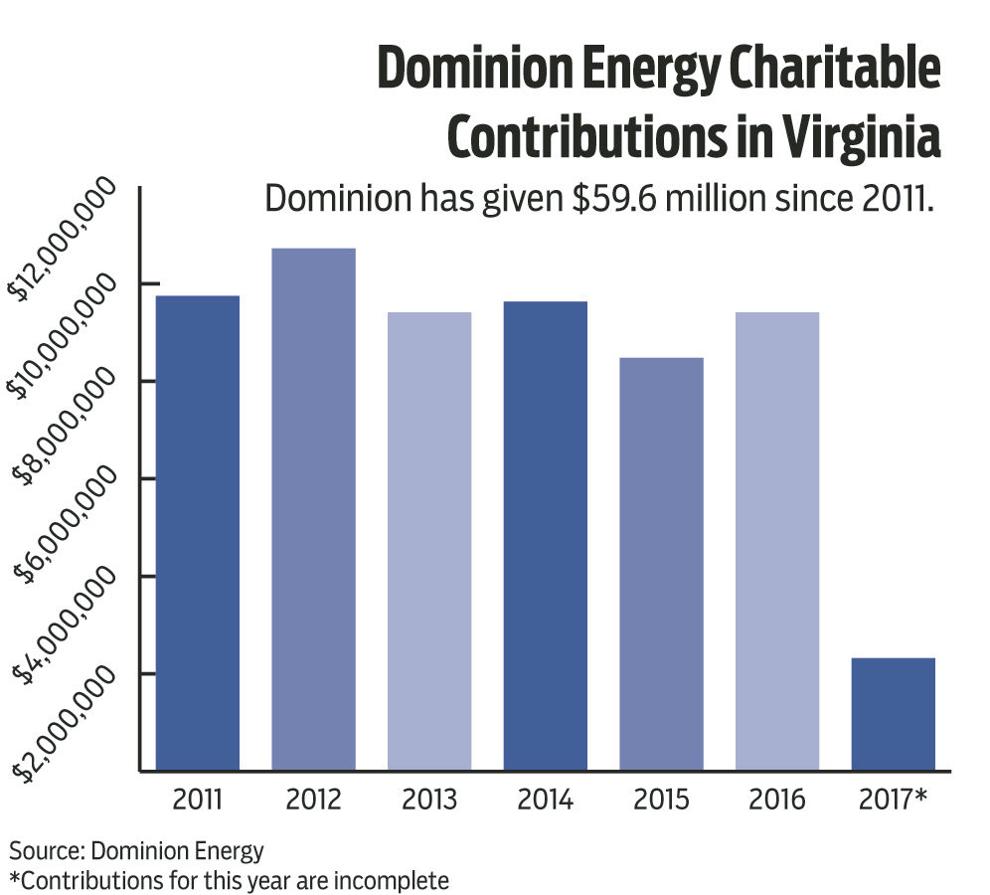 ---
Since 1996, no private-industry donor has pumped more money into Virginia politics than Dominion, which has contributed a total of $10.8 million to various campaigns and causes, according to the Virginia Public Access Project, which began tracking campaign finance data around 1996. Behind Dominion are the tobacco company Altria, which has given $5.9 million over the same period, and the Virginia Automobile Dealers Association, at $5.2 million.
In 2016, Dominion made donations to 127 individual lawmakers or their leadership committees, or about 90 percent of the 140-member legislature. The company's PAC giving seems to follow a tiered system. Many lower-level lawmakers receive $500, but the checks get bigger for those higher in rank or members of key committees. For top leaders, the company's annual contributions regularly reach five figures.
A Dominion spokesman did not answer questions about donation levels.
The topmost General Assembly recipient of Dominion money since 1996 is Dominion Leadership Trust PAC, the fundraising vehicle of Speaker Howell, which has received $583,000. The top Democratic recipient is Sen. Richard L. Saslaw, D-Fairfax, who has received $319,000.
The company also contributes heavily to both state parties, as well as both party caucuses in the House and Senate. Gov. Terry McAuliffe's PAC, Common Good VA, has received $95,000 from Dominion, and the company has contributed this year to the campaigns of the two major-party nominees to be the next governor: Democrat Ralph Northam and Republican Ed Gillespie.
In response to a question about the individual giving by Dominion executives, company spokesman David Botkins insisted that the Richmond Times-Dispatch use this statement in its entirety:
"Dominion is 9th on the most recent list of donors – outspent by the Democratic Governor's Association, League of Conservation Voters, the House Democratic Caucus, the Democratic Attorney General's Association, and at least two individuals. The reality is freedom of speech via political giving is protected by the First Amendment. The media usually champions the First Amendment. The leadership of most companies and trade associations that participate in the democratic process by hosting fundraisers also contribute, in addition to their PACs."
Botkins' reference to the most recent list refers to political giving in Virginia in 2016 and 2017 as listed on the the Virginia Public Access Project website. Topping all spenders on that list is the Republican Governors Association and a Republican political action committee. Those groups and the ones Botkins cited are political associations, not corporations.
Jeff Thomas of Richmond, author of "Virginia Politics & Government in a New Century: The Price of Power," is a harsh critic of Dominion. The utility giant was among the powerful institutions he scrutinized in his book, which is required reading in a state and local government course at Christopher Newport University.
"The insular Richmond business community sings hosannas to Dominion's business savvy, but Dominion Power ... is guaranteed a rate of return from the government and takes money away from families and small businesses as effectively as any tax," Thomas, who has a master's degree in government from Virginia Tech, said by email. "Dominion's relationship with the General Assembly is indistinguishable from a large-scale bribery operation."
And that government-guaranteed rate of return, he said, is not consistent with American free-market capitalism.
Dominion's political giving has begun to face backlash inside state government.
Northam, the sitting lieutenant governor, called for a ban on all corporate and business contributions after his primary opponent, former Congressman Tom Perriello, vowed to refuse donations from Dominion or Appalachian Power. The proposal would face steep odds in the General Assembly, and Northam has said he won't "unilaterally disarm" by rejecting such donations to his own campaign.
And earlier this year, 75 candidates for the Virginia House of Delegates signed a pledge from a group called Activate Virginia not to take money from the state's two large power companies.
The pledge stated, in part: "This pledge is an effort to avoid the appearance of undue influence via campaign contributions. It's based on the assumption that, if elected, all signatories will be willing to sit down with these entities to formulate policy that benefits their constituents. But these constituents will have a renewed trust in their representatives, a reason to believe that legislators are having clean conversations with corporations."