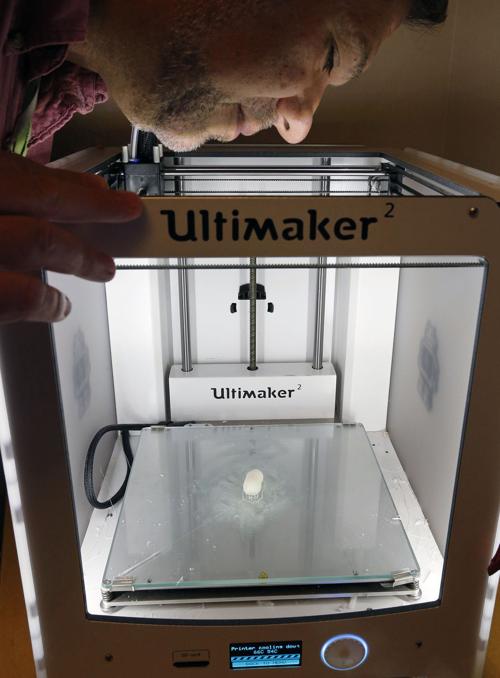 Bernard Means has made 3-D scans and reproductions of a mummified possum, countless Native American artifacts and a 96-year-old World War II veteran.
But on a recent morning, the Virginia Commonwealth University professor was fixated on his two most recent subjects: one billed as the world's oldest cured ham, the other the world's oldest peanut.
Both are finds from the Isle of Wight County Museum in Smithfield — artifacts from the Gwaltney family of Virginia pork processing fame. Means is understandably enthusiastic.
"I'm going to start printing another peanut, because it's going to take about 40 minutes, then I'll answer your questions," he said in his cramped lab on West Franklin Street.
Means is an anthropology professor, who with the help of Department of Defense funding established the Visual Curation Lab at VCU, which is dedicated to preserving and reproducing archaeological artifacts using 3-D printing and scanning technology.
His latest digital acquisitions have generated significant external interest, he says, and he is printing copies as quickly as he can. Just as quickly, it seems, he gives them away to visitors who stream in and out of his lab.
Since it's the holiday season, Means also is printing scaled-down copies of the ham — refashioned as Christmas ornaments — for distribution.
Casually handing out copies of otherwise irreplaceable artifacts is in large part the point of his work.
"Even though people know it's not the real thing, people sort of get that tactile impression from the object," he said. "And there's been a lot of studies that show people get more from being able to touch something, even if it's one step removed."
The Department of Defense is involved not because they care about preserved hams and nuts, but because they're the second-largest property owner in the country and are tasked with being good stewards of archaeological finds on their lands, Means said.
His trip to scan the ham was self-funded, and the offbeat nature of the artifacts fits the sometimes irreverent approach he takes to his work: In addition to shelves lined with serious artifacts made during trips to Jamestown, Mount Vernon and Montpelier, he also displays, for instance, a small bust of himself next to a half-gorilla, half-octopus figurine.
The technology behind his work sounds high-tech, and it is, but it's also increasingly common and affordable: 3-D printers are widely available, and the scanners, such as the one Means used to generate a digital copy of the ham, now come as small, portable attachments for iPhones.
Brian McNeill, a VCU public relations worker who wrote about Means' trip to Smithfield for the university's news website, says Means has scanned enough noteworthy artifacts that the university has to be relatively discerning when it comes to deciding which of his work to publicize.
---
---
The ham and peanut easily made the cut, McNeill said.
The peanut is the older of the two, dating back to 1890.
"It belonged to P.D. Gwaltney Sr.," said Jennifer England, the museum's director. "Basically he picked up the peanut in his field one day, wrote the date on it and kept it."
The pork dates back to 1902 and belonged to P.D. Gwaltney Jr., who made a brass collar for it, called it his "pet ham," and brought it with him on his travels across the country, using it to "exhibit the preservative powers of his smoking method," England said.
Interested parties can check in on the ham day or night using the museum's online "Ham Cam."
England said the museum plans to use its copies of the artifacts as teaching tools.
"When you come to a museum, you aren't able to touch a lot of things," she said. "So it will be a fine piece to pass around."
In some ways, a 3-D copy of the ham might be more pleasant for visitors to interact with than the real thing.
"I was trying to describe the smell," Means said. "It didn't quite smell like formaldehyde, and it didn't smell bad, per se. It was just indescribable."
(804) 649-6580
Twitter: @nedoliver