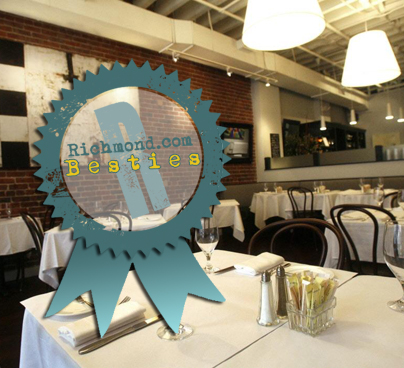 There are so many great chefs in the RVA...
We think they all should win an award.
But the results are in and….
A French native and former owner of Washington D.C.'s Lavandou, Devilliers opened Bistro Bobette just a few years ago in Shockoe Slip.
Originally named Bouchon, Bistro Bobette has gained a reputation for some of the best French cooking and most authentic bistro experience in Richmond.
Bistro Bobette was a pick of the year by the Richmond Times-Dispatch's Dana Craig who called it "a coolly confident hideaway that could have been plucked from the streets of SoHo."
Expect French bistro fare like steak frites, escargots, seared foie gras with marinated figs and much more – all in a quintessentially cool French setting.
It's not your typical Richmond restaurant – but maybe that's what makes it so uniquely refreshing – and what brought out fans in droves to vote for Bistro Bobette. 
As stipulated in About the Besties, our editorial team retains final rights to review all votes, determine their validity and decide the final outcome of each category. Our editorial team extensively reviewed the votes on this poll to determine their validity (we did math, people, math!) and some votes were disqualified.
And thanks to everyone who voted -- for all the great chefs in the RVA.