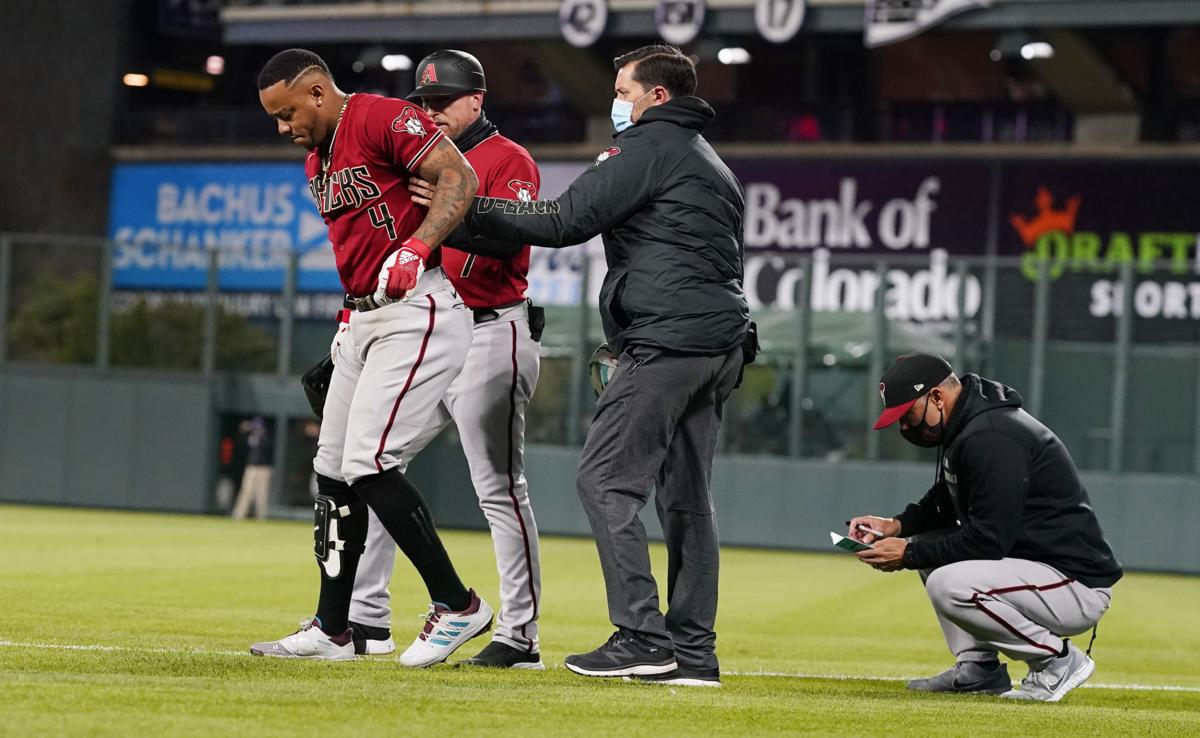 DENVER — Center fielder Ketel Marte was placed on the 10-day injured list by the Arizona Diamondbacks on Thursday, a day after hurting his right hamstring against the Colorado Rockies.
Marte was injured in the sixth inning of the Diamondbacks' 8-0 loss. He grabbed the back of his right hamstring while running to first base after hitting a grounder to third and had to be helped off the field.
Manager Torey Lovullo said Marte likely will get an MRI when the team returns home.
Marte, 27, was off to a hot start, hitting .462 with two home runs in the first six games. Marte was an NL All-Star in 2019 when he hit .329 with 32 home runs and 92 RBIs and finished fourth in NL MVP balloting. He hit .287 with two home runs and 17 RBIs last year.
The loss of Marte is another blow for the Diamondbacks, who have been crushed by injuries.
It started in spring training when right fielder Kole Calhoun had surgery to repair the meniscus in his right knee. Calhoun led Arizona with 16 homers in last season's pandemic-shortened season.
Later in March, veteran reliever Tyler Clippard was shut down with right shoulder soreness. A few days later the D-backs learned that their young star pitcher Zac Gallen had a hairline fracture in his throwing (right) arm after an injury in batting practice.
A couple days before the season, two-time Gold Glove shortstop Nick Ahmed revealed he was battling knee soreness. He tried to play through the pain but was put on the 10-day injured list.
Once the season started, reliever Joakim Soria strained his calf while covering first base and was put on the injured list. Another reliever — right-hander Chris Devenski — was put on the restricted list on Wednesday without explanation from the team.
Athletics' Rosenthal has surgery, may miss season
OAKLAND, Calif. — Reliever Trevor Rosenthal underwent thoracic outlet surgery and was transferred to the 60-day disabled list.
Rosenthal, 30, is expected to be out at least until August and could miss the entire season.
Oakland signed Rosenthal to a one-year contract in the offseason with the expectation he would replace Liam Hendriks, who signed with the Chicago White Sox, as the Athletics' closer.
Rosenthal had 11 saves and a 1.90 ERA with Kansas City and San Diego in 2020. Overall, he has 132 saves and a 3.36 ERA in eight seasons.
Toronto outfielder George Springer suffered a low-grade strain in his right quadriceps while running the bases Tuesday, pushing back the season debut of the Blue Jays' big offseason addition at least another week.
Springer,signed to a six-year, $150 million contract, started the season the injured list becuase of a strained left oblique.
Orioles fans welcome back Mancini
BALTIMORE — Orioles first baseman Trey Mancini was given a standing ovation when he was introduced before Baltimore's home opener and again before his first home at-bat following treatment for colon cancer.
The 29-year-old was diagnosed during spring training last year and missed the pandemic-shortened 2020 season. Boston players applauded during the ovation and Mancini tipped his batting helmet in appreciation.
He grounded into a forceout, beating the relay throw to avoid a double play as part of a 1-for-4 afternoon.
"It was amazing. I think it's well-documented at this point what I went though and what it took to get back to playing," Mancini said. "It meant the world to me. Even though it was like 25% capacity, it felt like a full stadium out there, and I had goosebumps thinking about it."
Mancini said he teared up when he heard the initial ovation.
"That's probably what will stay with me the most," he said.
Mets: Reliever Dellin Betances was placed on the 10-day injured list with a right shoulder impingement.
Betances, a four-time All-Star, made his season debut Wednesday in an 8-2 loss to the Phillies. The 6-foot-8, 265-pound right-hander gave up one run with a walk and a strikeout in one inning of work. He did not allow a hit, but threw only nine of 21 pitches for strikes.
New York recalled right-hander Trevor Hildenberger to take Betances' roster spot.