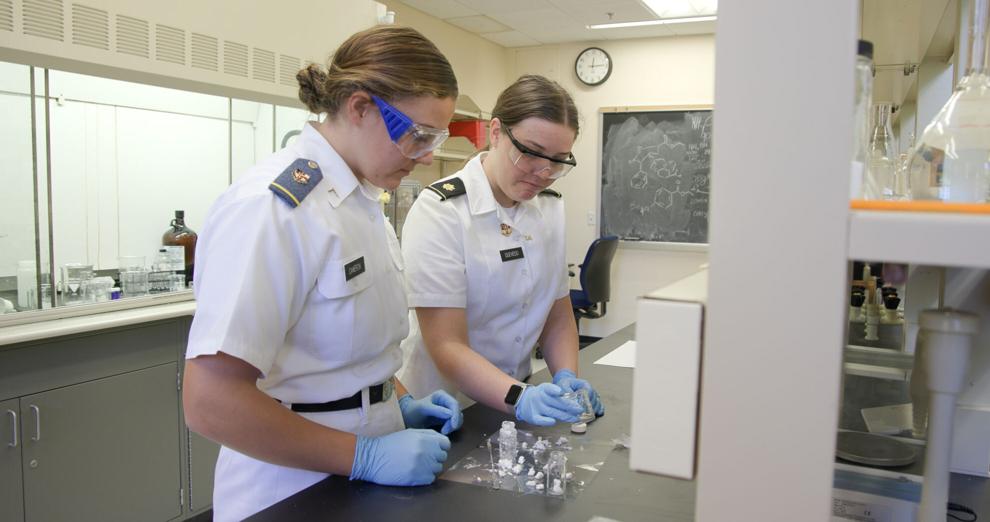 When using water to drink, cook or bathe, most people assume that what's coming out of the faucet is, in fact, clean. But is it really?
Maj. Shannon Quevedo, Ph.D., an analytical chemist who teaches in the chemistry department at Virginia Military Institute, is on a mission to find out. With the help of two cadets, Emma Cameron and Bella Bruzonic (both members of the Class of 2025), Quevedo is researching methods for testing community wastewater to detect the sorts of substances that end up there.
"The content of wastewater is a big concern for city and county governments that filter wastewater and provide drinking water," Quevedo said. "All sorts of substances end up in our wastewater. Often, people dispose of their leftover prescription medications by flushing them down the toilet, and they end up in the wastewater."
Quevedo said these can include anything from amphetamines and opioids to cocaine and nicotine. Because the molecules of these chemicals are so small, municipal filtration systems cannot remove them — but in this problem, Quevedo has found an opportunity. Her team, along with the two cadets, is doing research that could someday give local governments and law enforcement authorities the ability to determine the scope of drug use in their jurisdictions by testing wastewater.
"One of the greatest things about being at VMI is that cadets like Cameron and Bruzonic are civically minded," Quevedo said. "They're interested in engaging with governments about these issues. The wastewater problem is of great concern to area healthcare providers and policymakers and we want to assist in any way we can with this endeavor."
The project not only helps cadets learn but also dovetails with VMI's emphasis on citizenship, personal honor and public service. VMI, a public military college with nearly 1,500 cadets in Lexington, Virginia, has long been known for its strength in the sciences and commitment to undergraduate research. Just over half of the school's graduates commission into the military, and many others work for companies and nonprofits advancing the public good. VMI was founded in 1839 and is the country's oldest public military college.
Cameron, a chemistry major who once lived in Alaska where she saw the opioid crisis firsthand, never imagined she'd one day be able to help combat drug abuse. The 18-year-old's research seeks to detect cocaine in wastewater, substituting benzoylecgonine, a substance molecularly similar to cocaine, for the actual substance.
"In areas with limited resources, this program could help us detect cocaine and realize how large or to what extent the (drug abuse) epidemic is," she said.
Bruzonic, a civil engineering major from Annandale, Virginia, chose sulphates to test as part of the research, mainly because they are a common pollutant from industrial waste.
The two cadets added their test substances to an inert base, continually checking the Petri dishes for signs of a chemical change. Initial results were found within 24 to 48 hours; two months later, the two are still seeing good results from their efforts.
Cameron said she's glad she chose VMI and undergraduate research.
"I believe VMI is helping me make a change," she said.
---
This content was produced by Brand Ave. Studios. The news and editorial departments had no role in its creation or display. Brand Ave. Studios connects advertisers with a targeted audience through compelling content programs, from concept to production and distribution. For more information contact sales@brandavestudios.com.