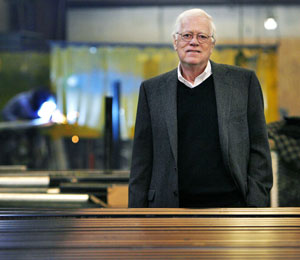 Martin Giles bought Virginia Sprinkler Co. and Virginia Pipe & Supply Inc. from his father in 1971.
Over the years, Giles expanded the businesses' geographical footprint from Maryland to Florida and bought other companies. The various companies operated under their individual names.
But that changed last year when Giles changed the name of his companies to VSC Fire & Security.
"We had nine different companies with different names," said Giles, the company's chairman. "We started talking about naming all of them one name because it was getting confusing for our regional customers."
His father, Roland, along with V.M. Buck, started Virginia Sprinkler Co. in the Giles family's Hanover County home in 1958.
VSC Fire & Security now provides fire protection, inspections and security solutions for fire suppression, fire detection, fire sprinklers, alarms and security systems.
Its customers include building owners, architects and general contractors who are responsible for planning and managing fire protection and security systems.
Dennis Lynch, executive vice president for general contractor KBS, said VSC "is one of the best sprinkler contractors" that KBS uses.
"I put them at the top of the list," he said. "They do whatever it takes to work with a contractor to get the work done on time and on budget."
The company has learned to adapt over the years.
It started to expand its offerings after the 1991 recession. At the time, 85 percent of VSC's business was in new construction, which took a hit during that recession.
"The recession hurt us," Giles said. "We began diversifying and not being so dependent on new construction. We started an alarm division and a special projects division that specialized in smaller jobs, such as retrofits."
Today, new construction and retrofits account for about 60 percent of the business. The remaining 40 percent is split evenly between fire alarm maintenance and inspections.
The company is putting an emphasis on security systems for corporate customers.
"We see that as the next step," Giles said.
From 2004 to 2008, VSC's revenue grew 60 percent. That number dropped about 15 percent in 2009 compared with 2008.
"In 2010, we don't know if we will be flat, grow or go down," Giles said. "We can only speculate."
Rich Robertson, vice president of Dallan Construction in Richmond, relies on VSC to provide "engineering expertise and knowledge" when they are designing a project.
"They are top-notch. They always achieve what is necessary for code," Robertson said. "The guys in the office are always responsive. Everyone is polite and courteous."
VSC's most recent large projects in the Richmond area include providing the fire sprinkler systems for the Richmond federal courts building and MeadWestvaco's corporate headquarters building downtown.
VSC is currently working on a multimillion-dollar job in Charlotte, N.C., for Bank of America. "It's a 40-story high-rise," Giles said.
Because of the current economic downturn, the number of large jobs has dwindled, he said.
VSC's expertise with fire sprinkler systems sets it apart, said Neil Palmer, vice president of sales for Century Construction Co. in Richmond.
"They check the infrastructure before a project goes out to bid," he said. "They are great people to work with during the design phase and also construction. If there are any code problems during the construction phase, they work with us to find a solution."