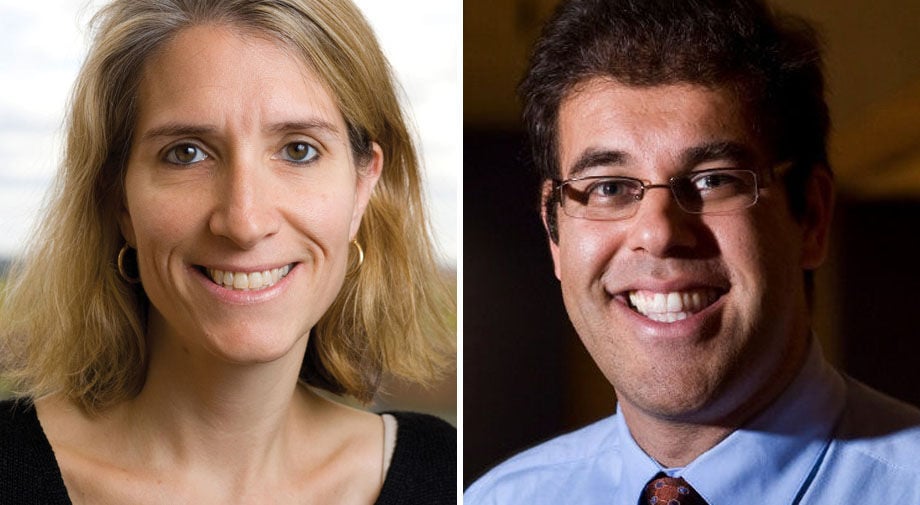 Steve Schragis had just taken his daughter for her freshman year of college in upstate New York 10 years ago when he had a big idea.
"When we got to the campus, they had a program for the parents," Schragis recalled. "It was 10 or 12 professors, who were spread around the campus, each giving a 20-minute lecture. They had specifically chosen the really interesting professors at the school."
"The parents loved it and said 'this is a lot of fun, and I wish I was the one going to college,'" he said. "That's where my idea came from."
"When I was driving home, I thought, 'This would be a fun way to re-create the college experience, but just for a day,' " he said.
Thus was born One Day University, a kind of traveling college experience where adults can hear the best lectures from some of the most popular college professors in the country, condensed into a single day.
Schragis, who had been working as director of a company that organized how-to seminars, founded the One Day University as his own business. It has since spread from its first events in New York City to more than 50 cities around the nation.
The company partners with newspapers in host cities to organize and promote the lectures, which are usually held twice a year in each city.
In partnership with the Richmond Times-Dispatch, One Day University plans to hold its first Richmond lectures on Saturday June 18. The event is scheduled for 9:30 a.m. to 4 p.m. at the University of Richmond.
Registration for the One Day University in Richmond is available online at OneDayU.com or by calling (800) 300-3438. The full cost is $179, but the first 100 people to register pay only $99.
Over the course of the day, four college professors will give lectures and take questions from attendees. The professors and lectures are:
Jeremi Suri of the University of Texas at Austin, speaking on "FDR: The Making of the American Century;"
Catherine Sanderson of Amherst College, speaking on "Positive Psychology: The Science of Happiness;"
Jennifer Lawless of American University, speaking on "Men, Women and Politics: A World of Difference;" and
Jeremy Yudkin of Boston University, speaking on "The Beatles, The Sixties and Popular Culture."
Sanderson, a professor of psychology at Amherst College, said she has given about 30 lectures for One Day University in the last four years. In between her normal teaching duties, she has traveled to weekend programs in cities such as San Diego; Seattle; Miami; Dallas; Austin, Texas, and Charlotte, N.C.
In her lectures at Amherst, Sanderson's 18- to 22-year-old college students are often most interested in what's going to be on the test, she said.
With One Day University, there are no tests, no grades, and no stress, and the lectures typically draw an older crowd — "people who have a range and breadth of life experience," she said.
"There is something rewarding about talking to people who are there voluntarily, genuinely interested in learning about a topic, and interested in putting to use some of the information in their own lives," Sanderson said.
As for her lecture on happiness, one of its core lessons is that happiness does not come from where we think it comes from.
"We have so much of a belief that happiness comes from money or prestige," she said. "The reality is we are often wrong about the things that we think will make us happy."
"I talk about what the scientific research says actually does make us happy," she said.
Suri, a history professor who has twice been recognized by students at the University of Texas as "Most Engaging Teacher," described his lecture on President Franklin D. Roosevelt as "a meditation on what allowed him to be creative, what allowed him to do what others had not done before, and what we can learn from that today."
Suri said he gives 8 to 10 lectures for One Day University each year.
"What One Day University does is remind all of us that education is a continuing process," he said. "To be better citizens, there are obligations to always better ourselves."
The Internet has led to an explosion in online lectures and learning — some of which are for-credit and some of which are not.
Yet Schragis resists equating One Day University with online classes and with programs such as TED and TEDx, a popular series of lecture events that are available online and typically focus on cutting-edge science and technology, or on social issues.
"People often compare us to TED," he said. "TED talks are about people who have something interesting to say for 20 minutes, and they usually do a good job of it. Ours are actual professors at nationally known universities whose students say they are great professors."
"What we do is education and entertainment," Schragis said. "People go to it for the same reasons they go to a Broadway show, or an art gallery, or the ballet or opera — to have a good time."
At the same time, "they are stretching their mind some, and seeing what America's greatest teachers are like."