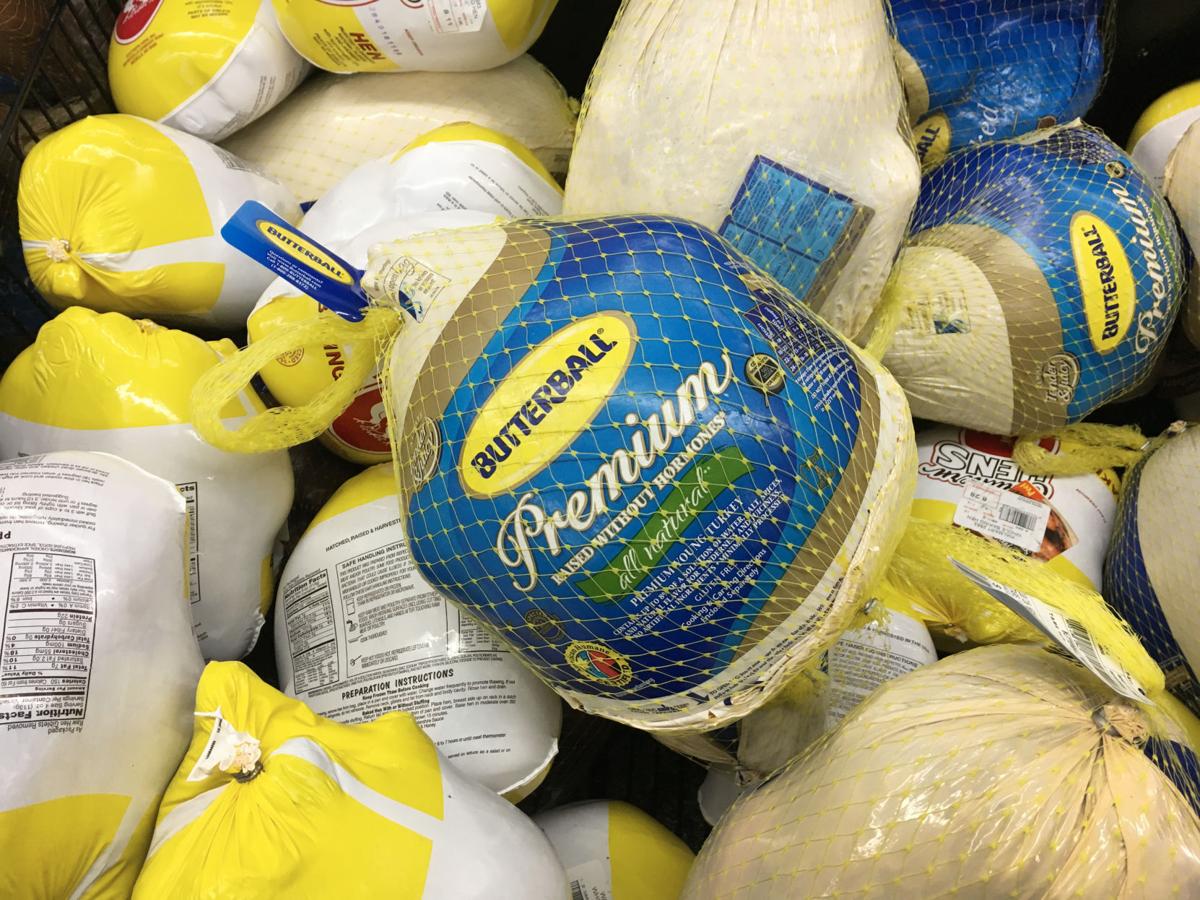 The price of a Thanksgiving dinner in Virginia this year will cost on average about 6% less than last year's meal, largely thanks to lower turkey prices.
The ingredients for a traditional meal to feed 10 adults costs $60.33, down $3.91 from last year's average of $64.24, according to the Virginia Farm Bureau Federation's annual grocery store price survey.
It is the first decrease since 2016, the group says.
Part of the reason for the decline is a 15.1% drop in turkey prices in Virginia. The average cost of a 16-pound turkey at grocery stores in Virginia was $22.42, or about $1.40 per pound, according to the Virginia Farm Bureau. The 2019 average was $1.65 per pound.
Nationally, prices for a 16-pound bird have fallen about 7% from last year, according to the American Farm Bureau Federation.
The cost of ingredients for a turkey dinner for 10 people nationally is down to the lowest level in a decade, the group said.
"Pricing whole turkeys as 'loss leaders' to entice shoppers and move product is a strategy we're seeing retailers use that's increasingly common the closer we get to the holiday," said John Newton, chief economist for American Farm Bureau Federation, which has been surveying retail prices ahead of the holiday since 1986.
In Virginia, the Thanksgiving meal includes a 16-pound turkey and a 4-pound bone-in ham, plus dressing, sweet potatoes, russet potatoes, rolls, green beans, frozen peas, celery, cranberries, milk and pumpkin pie with whipped cream.
It comes out to about $6.03 per person, down from $6.42 per person a year ago.
This is the 17th year that the Virginia Farm Bureau has conducted the survey, which is based on an annual survey organized by American Farm Bureau Federation.
For the survey, volunteers went into stores across Virginia to check prices or, for safety reasons relating to the pandemic, were encouraged to check prices using the grocery store's website and app. Price checkers did not use any promotional sales or coupons, which many grocery stores offer at this time of year.
Besides the turkey, the average price for a 4-pound bone-in ham was $8.29.
Foods that showed price declines include russet potatoes, celery, pie shells and whipping cream. Ingredients showing increases this year included sweet potatoes, cubed bread stuffing and pumpkin pie filling.
Here are the average prices for the other items on the Thanksgiving meal list (with the price a year ago in parenthesis):
a gallon of milk: $3.02 ($3.11 );
peas: $1.30 ($1.42 )
green beans: $1.31 ($1.48 )
3-pound bag of sweet potatoes: $2.99 ($1.07);
5-pound bag of russet potatoes, $3.04 ($3.62);
1 bunch celery: $1.45 ($1.80);
carrots: 98 cents ($1.06);
9-inch pie shell (2 per package): $2.24 ($2.58);
Half pint of whipping cream: $1.59 ($1.72);
can of pumpkin pie filling: $3.26 ($3.17);
fresh cranberries: $2.63 ($2.61);
cube stuffing mix: $2.91 ($2.68); and
dozen rolls: $2.89 ($3).
If your Thanksgiving meal doesn't include ham, russet potatoes and green beans — all of which were added to the survey in 2018 — it will cost Virginians an average of $47.69, down from $50.57 last year.
Washington County was the locality that had the highest average cost for a meal this year at $91.30. Fredericksburg had the lowest average cost at $41.10.
(804) 649-6379
Information from Bloomberg News was included in this report.