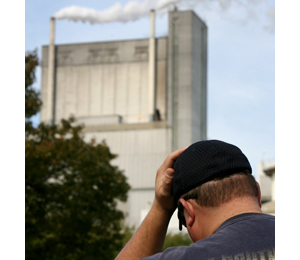 The economic heart of the small Tidewater city of Franklin will stop beating next spring when International Paper Inc. will close its mill there and put 1,100 people out of work.
The tens of millions of dollars a year of lost wages and salaries could hit the town even harder than the flooding after Hurricane Floyd nine years ago, which shut more than 180 downtown businesses for months.
The mill employs nearly 4 percent of the work force in Franklin and surrounding Isle of Wight and Southampton counties, a Richmond Times-Dispatch analysis showed.
The taxes it pays on its machinery and tools account for more than one-eighth of local tax collections in Isle of Wight, where the plant is located, just across the Blackwater River from Franklin.
"Today, we know the mill is not coming back after they shut it down, so that is 1,100 potential customers that are not going to be coming in," said David Rabil, operator of Fred's restaurant, an eatery and bar in Franklin where plant workers have been stopping for fried chicken, pork tenderloin and other comfort foods for decades. "It is not just us. It is everybody."
The shutdown was caused by soft markets for writing and photocopy papers, as well as the coated cardboard for packaging that International Paper makes in the Franklin mill, spokesman Desmond Stills said.
Those are the slowest-selling of the company's products, and it was Franklin's bad luck that it makes both. The company felt it was less costly to have its other plants serve Franklin's customers than to shut those plants and have Franklin take up the slack, Stills said.
"This is not a reflection on the work force. They've been outstanding," he said. "They've done everything the company asked as we tried to stay competitive."
For months, paper-makers have been trying to put a floor under slumping prices by reducing how much they make, furloughing workers, idling machines, and shutting plants.
But their efforts, which boosted prices last fall and winter, fell apart this year. Paper prices, tracked by the U.S. Bureau of Labor Statistics as part of its wholesale price index, are down 7 percent from last year, while paperboard prices are down 12 percent.
"We have concluded that we have excess capacity in our North American paper and packaging business, and these decisions will better match our supply with our expected customer demand," said John Faraci, chairman and chief executive of Memphis, Tenn.-based International Paper.
The process starts Nov. 7 when International Paper will shut its No. 6 paper machine, though employees assigned to it will continue working for several weeks after that.
The company will close its paperboard operation by the end of this year and its three stationery papers machines by spring.
"This is pretty much happening all over. It's not just IP," said Frank Perkowski, a paper-industry analyst and consultant in Georgia. "IP is the biggest competitor in these markets, and they've been very aggressive. . . . That's a big mill, but it is competing with bigger mills with bigger machines."
In addition to Franklin, International Paper is closing its 270-employee mill in Albany, Ore., and a 230-employee mill in Pineville, La.
Stills said International Paper is working with union officials concerning severance benefits for employees who earn hourly wages, while salaried employees will be offered severance benefits and help finding new jobs.
The company expects severance benefits will total $60 million for all affected plants. International Paper will write down its assets by about $1.1 billion to reflect the closings.
The closure is an example of how the recession has led some manufacturing companies to make permanent changes in their operations, said Brett Vassey, president and chief executive officer of the Virginia Manufacturers Association.
"This should be a wake-up call for Virginia that while the restarting of the economy is within sight, there is still some shakeout that is on its way," Vassey said.
He said the state has lost about 20,000 manufacturing jobs in the past 18 months, and he expects more losses in the coming months.
Samuel Penn, a representative for the United Steelworkers' Hampton office, said workers at the plant represented by the union were in meetings yesterday to get details of the closure plans.
"We think it is a sad day when a plant that has been open that long decides to close," Penn said. "We have secondand third-generation people working there."
Rabil's family has fed a lot of them at Fred's.
"They come in after work, and for lunch, and for breakfast before they go to work," said Rabil, whose father, Fred, started the eatery in 1945 and who, at age 92, still comes in to man the cash register.
"A lot of people are kind of in a stupor today. They feel like they have been blindsided."
Gov. Timothy M. Kaine said the Virginia Employment Commission would send a crisis team to Franklin in the coming days to help International Paper employees and their families.
International Paper took over the mill in 1999 when it acquired Union Camp Corp. in a $7.9 billion transaction. Union Camp employed about 2,600 workers in the Franklin area at the time of the takeover.
The company started in 1887 as the Camp Manufacturing Company when six members of the Camp family bought a sawmill not far from where the Franklin plant operates now.
The Camps gradually built their small business into a big one. In 1956, Camp Manufacturing merged with Union Bag and Paper Company to form Union Camp.
---
Contact David Ress at (804) 649-6051 or dress @timesdispatch.com.
Contact John Reid Blackwell at (804) 775-8123 or jblackwell @timesdispatch.com.