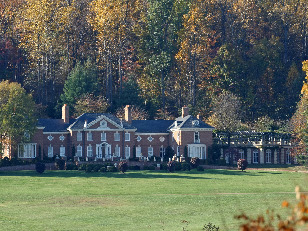 CHARLOTTESVILLE -- Representatives of real estate mogul and reality television star Donald Trump say their organization is negotiating to purchase as much as 1,300 acres owned by Patricia Kluge, including the nearly 24,000-square-foot Albemarle House.
Mortgage holder Bank of America outbid the representatives Wednesday morning as they tried to purchase Albemarle House at trustee's auction on the Albemarle County courthouse steps.
The bank bought the house for $15.26 million after spirited bidding that began at $2 million and made it to $3.60 million before the bank bid. Kluge owes the bank an estimated $23 million.
Trump representatives said they negotiated purchasing more than 200 acres of property surrounding Albemarle House, land held by a trust for Kluge's son, John W. Kluge, Jr. They said they are interested in acquiring other Kluge holdings, including the foreclosed Vineyard Estates and Kluge Estate Winery and Vineyards.
"It's a beautiful area and the land is suitable for any number of uses and Mr. Trump is very interested," said Les Goldman, who made the bids on Trump's behalf. "We're interested in acquiring as much of the property as possible."
Goldman said Trump's organization is interested in Albemarle House because of its historic nature and its uniqueness. The home includes a library, a gallery, a formal dining room, a pool, a recreation room, extensive gardens, a helicopter pad, stables, staff quarters and, of course, a wine cellar.
Built in 1985 and designed by Kluge and architect David Easton, the house went to Kluge in her 1990 divorce from billionaire media mogul John Kluge, who died in September. It is designed in the style of an 18th-century English country manor.
"We'll enter into negotiations with the bank to see if we can reach an agreement for the right price," Goldman said. "It's a beautiful house, although it's not everyone's cup of tea, and there's much that can be done with the properties."
Goldman and other Trump representatives at the sale declined to discuss whether the organization has set plans for the properties.
Bank of America officials declined to comment on the sale or possible negotiations with Trump.
Trump's interest came as Kluge's fortunes declined. Kluge and husband William Moses built a successful, award-winning 900-acre winery and vineyard. They had plans to develop a luxury subdivision called Vineyard Estates on 485 acres surrounding the vineyard. Then the real estate and stock markets crashed in 2008 and the recession ensued.
The crash forced bankruptcy of First Colony Resorts, the couple's North Carolina-based partner, in the subdivision and eventually brought the development into foreclosure. Mortgage holder Sonabank, which was owed $8.9 million on the property, bought it for $4.9 million at trustee's auction.
Trump's representatives also bid at that auction.
As the couple struggled to keep the development going, they also attempted to position the vineyard and winery for national distribution, pledging personal property and finances to support the project.
Kluge wines won several awards and were praised at international wine tastings in England. They also were served at Chelsea Clinton's wedding last summer and there were talks with Chinese businesses about importing the wines and starting a winery in China
Kluge Estates produced more than 30,000 cases of wine a year and there were plans to increase it to 75,000 cases. Its wine was distributed in 15 states and was estimated to be worth more than $70 million prior to the recession, according to a prospectus by Rothschild Investments.
But, as wine sales plummeted during the economic crunch, the winery's sales could not meet levels set in the mortgage held by Farm Credit Bank. Kluge put Albemarle House on the market for $100 million but there were no takers, even as the price was dropped to $24 million.
Kluge also put some of her personal jewelry and possessions and Albemarle House's furnishing up for auction last summer through Sotheby's, gaining $15 million.
Farm Credit Bank foreclosed on the winery last fall and bought it at a December auction for $19 million. Trump's representatives bid at that auction.
"We are negotiating with those parties involved. This is a beautiful area and it's something that Mr. Trump has a strong interest in," Goldman said. "The more property that can be put together, the more potential uses are available."
(Bryan McKenzie is a staff writer for the Charlottesville Daily Progress)