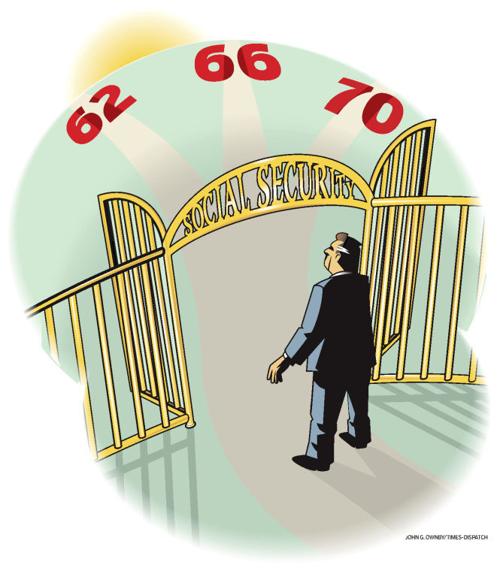 With millions of boomers retiring or thinking about it, the big question is when to collect Social Security benefits.
If people can hold off until full retirement age of 66 for those born from 1943 to 1954 or age 67 for those born after, their monthly payments will be bigger.
They can do significantly better if they wait until age 70 to take their benefits, financial experts say.
For all the money collected at a younger age, it will take years of collecting at the older age and at the higher rate to break even.
Garner
But for those concerned about outliving their assets or maximizing their lifetime benefits, waiting longer might be the best strategy — if it is an option, said Thomas K. Garner, vice president with Kanawha Capital Management, an investment advisory firm in Henrico County.
For people who collect at the earliest age of 62, their benefit will be at least 25 percent less than it would have been had they waited until their full retirement age.
But their future benefit can increase significantly — 8 percent a year — if people delay taking the payment beyond their full retirement age until age 70, Garner said.
Delayed retirement credits on Social Security payments accrue until age 70. At that age, they top out, he said.
Each year people delay payments, the benefits increase — but not as much as they do from ages 66 to 70. The benefit rises 5 percent if it is deferred from age 62 to age 63, for example, and 6.7 percent each year from ages 63 to 66, Garner said.
"The Social Security Administration has done the math and structured benefits to be actuarially fair," he said.
The lifetime value of benefits is approximately equal, whether a person takes smaller payments earlier or larger payments later, assuming normal life expectancies, he said.
But that doesn't take into account personal circumstances.
Unmarried singles should assess their health and situation to determine when to take Social Security benefits.
"The issue is even more pronounced with married couples," Garner said. Decisions in most cases should be based on two people, not one, and the chance of one living beyond the break-even age is considerably greater, he said.
Social Security benefits are calculated based on a worker's highest 35 years of earnings. If a person has at least 40 quarters of covered work, he or she will be entitled to an individual benefit.
Individual earnings are used to determine the monthly retirement benefit that a person would receive at full retirement age.
For some, delaying payments isn't an option. They need the money. Or they are in poor health and probably will not live long enough to benefit from larger future benefits.
Others fear Social Security will go bankrupt so they might as well collect on it as soon as possible.
"Some people adhere to the bird-in-the-hand theory and take the benefit as soon as they are eligible," Garner said. Others, however, worry that they will outlive their assets.
"If they live beyond their normal life expectancy, there is a greater chance of depleting their financial resources," he said.
Using Social Security for longevity protection is similar to other insurance decisions, Garner said.
Homeowners buy property insurance to protect against risks to their home. If nothing bad happens, they lose their premiums, he said. That is better than not paying for insurance and being responsible if the house burns down.
Thornhill
"If you talk with any financial adviser, they will say that the breadwinner should delay collecting as long as possible," said Matt Thornhill, founder and president of The Boomer Project, a Richmond-based marketing research and consulting firm that looks at the boomer population.
"Every year past your full retirement age, you get 8 percent on your money," Thornhill said. "That's 24 percent more money every month," assuming three years' worth of delayed retirement credits. "A surprising number of boomers will want to do that."
There are two groups of boomers, Thornhill said. "One side will have to get their Social Security early because they lost their job, they can't get a new job and they can't get insurance. They will have to take early retirement.
"On the other side, you have boomers who want to keep working, have to keep working and they are able to keep working. They will delay Social Security until the very end, and they will make off like bandits relative to the ones who had to do early retirement."
One in four people in America, or 76 million, are baby boomers, those born from 1946 to 1964. About 2.5 million applied for Social Security benefits last year, Thornhill said. "The numbers are ticking up. … More than 3 million hit 65 every year."
Boomers will have to decide for themselves whether Social Security benefits are safe, Thornhill said.
"The official story … is that Social Security has funds until 2021 and won't run completely dry until 2033," he said, adding that a solution might be to raise the retirement age.
The first government-funded pension was in Germany more than 100 years ago, Thornhill said. A statesman picked age 65 as the start date because the average life span of a German at the time was 63. "To equate that to today, our retirement age would be around 75, not 65."
Garner said Social Security probably is safer than most people think, at least for boomers 62 and older.
Married couples need to know that survivor benefits are a function of when the deceased spouse began collecting benefits, not the primary insurance amount at full retirement, Garner said.
For example, if a deceased spouse collected benefits early and received $750 a month, the survivor benefit would be the same amount for the rest of his or her life, cost-of-living adjustments not included. It would not be $1,000 at full retirement age or $1,320 a month had the person waited until 70 to receive the benefit.
Here are other little known tips for married couples to accrue delayed retirement credits and still get a Social Security payment, Garner said. They involve the spousal benefit, which is 50 percent of the primary insurance amount if taken at the spouse's full retirement age.
• One spouse, typically the primary income earner, files for benefits at full retirement age and immediately suspends payments. This allows the other spouse to collect a spousal benefit based on the primary earner's record, while still allowing the primary earner to accrue delayed retirement credits. The credits would accrue at the same rate.
This situation typically involves one spouse who did not work or whose primary insurance amount is low and delayed retirement credits would not be that beneficial.
• A spouse who is eligible to receive benefits at full retirement age can receive spousal benefits while earning delayed credits on his or her individual benefit. The person can do this by filing a restricted application, making him or her eligible for the spousal benefit. The other spouse must have applied for the benefit to make this option available.
"For couples who are in reasonably good health and who want to maximize their lifetime benefits, I would encourage the primary earner to defer benefits as long as possible up to age 70," Garner said.
Both spouses can defer benefits, but only one can take the spousal benefit while accruing his or her delayed retirement credits.
Divorced spouses, if married for at least 10 years, currently unmarried and age 62 or older, also are eligible to receive spousal benefits – as long as two years have passed since the divorce.
Baby boomers unfortunately may be retiring at the worst time in a generation or more, according to a Bankrate.com analysis released this past week.
People should not only delay getting Social Security as long as possible but also should refrain from taking anything out of their investment accounts, said Chris Kahn, the Bankrate.com analyst who prepared the report.
"The tough news is — if you can — delay everything," Kahn said. "If you are able to delay, hopefully the market will be different in a few years than it is now."
People hoping to supplement their cash with investment income won't find much. Dividend and bond yields are about 2 percent and barely keeping up with inflation, he said.
"The 1980s was considered an excellent time to retire, because the returns on investments were 6.9 percent," Kahn said. People could take 4 percent out of their investment accounts a year to live off, and their investments still grew.
Even a generation ago, people expected to live off their stock and bonds.
"Hold on, wait longer and maybe yields will improve," he said. "If you are about to retire, look at the yields."
While people can't control yields, some can control when to take their Social Security benefits. Both will have a big influence on retirement.
"The Social Security Administration has done the math and structured benefits to be actuarially fair."

Thomas K. Garner, vice president with Kanawha Capital Management