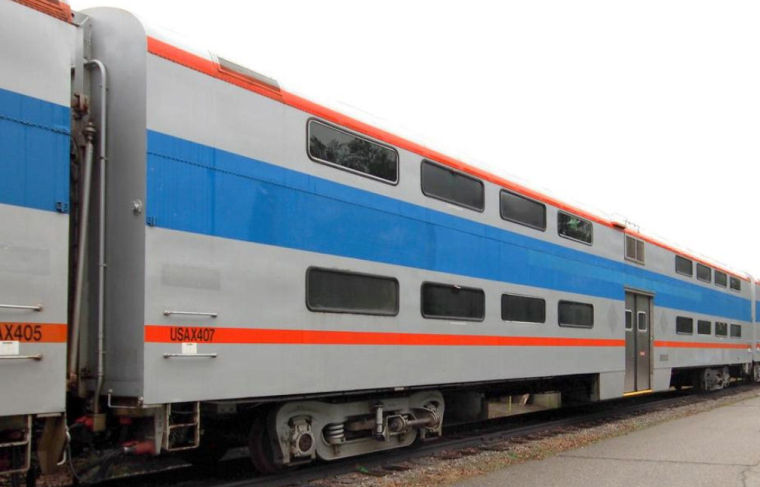 Four surplus passenger rail cars at Fort Lee brought about $9,000 each at an online auction.
Another four of the 85-foot passenger rail cars will be auctioned next week. Bidding for one of the double-deck commuter cars starts at $25.
"We are the proud owners of two passenger cars from Fort Lee," said Mathew Appelget, president and CEO of River City Recycling.
With scrap steel selling for about $350 a gross ton — 2,240 pounds — the Richmond company is recycling the cars for their steel, he said.
Two of the 124,000-pound cars sold for $9,570 a piece, and the other two went for $8,580 each, according to Sultana Ali, spokeswoman for Washington-based Liquidity Services Inc., which conducted the auction.
"Most of this will go into plate or structural steel, and another percentage into stainless steel," Appelget said. "Only the trucks — the wheels and axles — and couplers have a higher resale value as parts."
River City Recycling specializes in metal recycling, including processing end-of-life vehicles. The local company bought the cars in an online auction held March 10-12.
Liquidity Services did not identify the winning bidder on the second pair of cars.
Manufactured in the 1950s, the cars have 157 seats with additional standing room, Liquidity Services said. They are in good condition and could be used for their original purpose, the company said, though they could be converted into diners, stores or hotels.
Online bidding for the second four railcars begins Monday and closes Wednesday at 5 p.m. Buyers must have the rail cars removed from Fort Lee.
Norfolk Southern Railway serves the post in Prince George County.
In a pilot program, the Army had planned to use trains to move soldiers between Fort Lee and Fort A.P. Hill, but canceled the program in 2012.
The Combined Arms Support Command at Fort Lee dropped the project because train service would have been slower and more expensive than estimated.
Amtrak would have operated the Fort Lee-Fort A.P. Hill shuttle for the Army. The Army bought the used rail equipment from the Virginia Railway Express in Alexandria.
Liquidity Services sells surplus and scrap under contract for the Defense Department. Over the past decade, the auction firm said it has returned $630 million to the federal government.