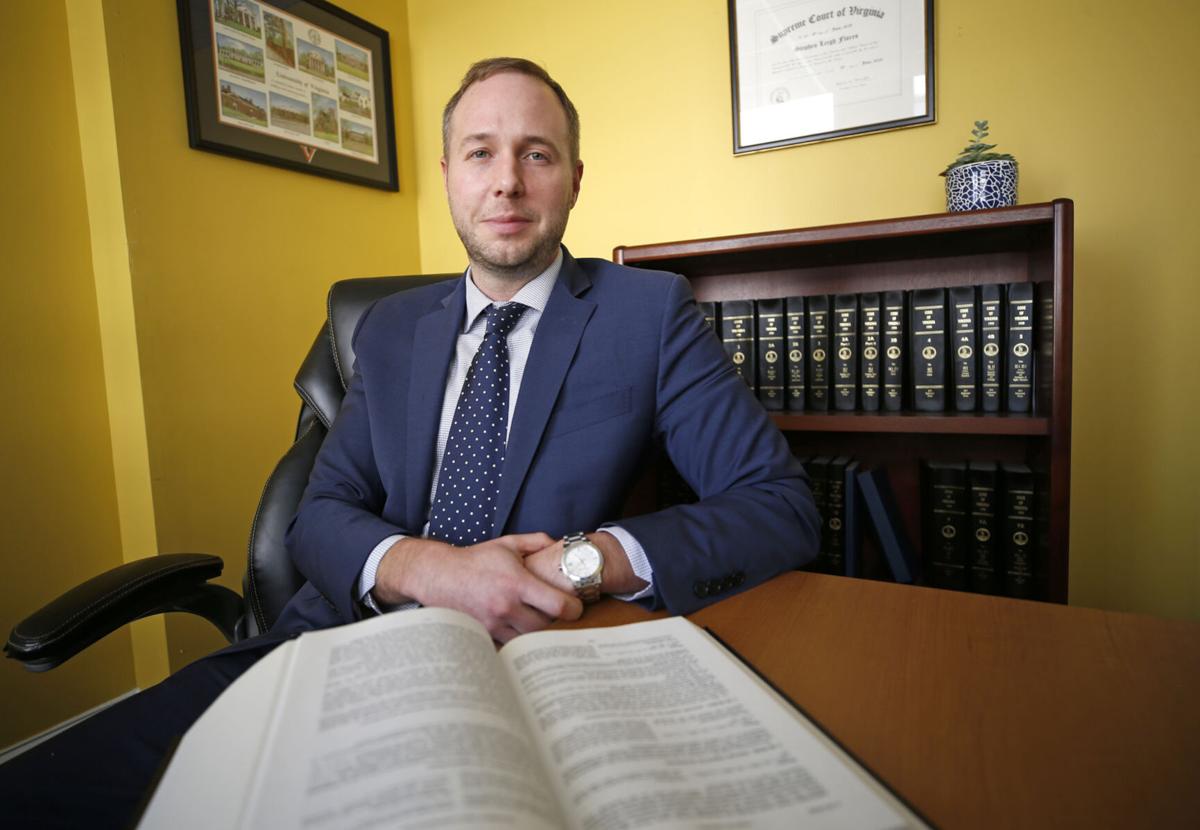 On the evening of May 11, Richmond attorney Stephen Flores received a call that altered the course of his life.
Flores was getting ready to leave work at Throop Law downtown, where he was an associate. Then the phone rang. It was his boss' brother calling to inform Flores that firm owner Matthew Throop had died suddenly at the age of 47.
In an instant, Flores, 34 and the only attorney at the office, was tasked with sorting through the immediate fallout — Mr. Throop had not left a formal succession plan for the event of his death.
Flores has since picked up the pieces and started his own practice, Flores Law.
"It was a lot to take in all at once because it was so sudden, and he didn't have any readily apparent succession plan for what would happen if something happened to him," Flores said.
Flores spent a couple of weeks working feverishly over weekends and 12-hour days in order to call or send letters to the roughly 140 clients with active cases Mr. Throop had left behind. Throop Law, established in 2014, handled primarily Chapter 13 bankruptcy cases.
Flores previously had considered starting his own practice, but it was a goal sometime in the future rather than an immediate plan, he said. He had no ownership interest or executive authority over Throop Law, yet found himself handling many of its cases and fielding questions from staff about what the future held.
In July, he started Flores Law, a small bankruptcy firm in the same downtown building, just a few floors below Throop Law.
Flores has bought some of Throop's Law's assets — including some furniture, equipment and internet domain name — for $8,650, bankruptcy court records show. Two of the three full-time staff who worked there now work at Flores.
Flores said the decision to start his own practice was, in a sense, both obligatory and opportunistic. One on hand, he wanted to help Mr. Throop's clients who suddenly found their cases in limbo and allot them some measure of continuity. On the other, he had to be realistic and admit that this tragedy had presented him with an opportunity for professional growth.
All of Flores' own clients carried over to his new practice, as did many of Mr. Throop's clients.
"It was an opportunity that came out of tragic circumstances of course because Matt was a good boss to me, he really helped me out a lot, hiring me as a paralegal, helping me get my license," Flores said, adding that the two had a strong professional relationship.
Mr. Throop hired Flores in 2016 when Flores was not yet licensed as an attorney, and allowed him to study for the bar exam.
"And if he were around, if he could see what was happening, he would be pleased that I'm able to take on something he built."
But because Mr. Throop didn't have a succession plan for his firm, the Virginia State Bar in June asked the Richmond Circuit Court to appoint a receiver for Throop Law. Christian K. Vogel of Vogel & Cromwell was appointed, and in July he put the firm into Chapter 7 bankruptcy liquidation.
Legal and business experts say sole-practitioner law firms or single-proprietor small businesses should create a succession plan.
Cameron Rountree, deputy executive director of the Virginia State Bar, said the state bar has discussed requiring attorneys in Virginia to have a formal succession plan. Currently, lawyers are encouraged — but not mandated — to do so.
Two states, Delaware and Indiana, ask lawyers to designate a successor lawyer when they fill out their annual registration forms. Each state has its own set of procedures for succession planning.
The American Bar Association's model rules of professional conduct suggest practitioners prepare a plan which designates another lawyer to review client files and notify each client "in the event of a sole practitioner's death or disability."
"We do have a process to ensure that clients of lawyers who pass can be made whole. But the preference is to not have to utilize bar dues and to just exercise some foresight and planning to ensure that your clients are taken care of," Rountree said.
George Cohen, a professor and associate dean for curricular programs at the University of Virginia School of Law, said via email he does not know why the state bar does not require formal succession planning.
But Cohen did note that a rule of the Virginia Rules of Professional Conduct requires lawyers to act with "reasonable diligence" in representing a client. "A lawyer should plan for client protection in the event of the lawyer's death," the rule says, noting that a plan should be in writing and designate an attorney who has agreed to and is capable of handling the interests of clients of the deceased lawyer.
"Of course, if no one finds out about the lack of a succession plan until the lawyer dies, there wouldn't be disciplinary action against the deceased lawyer," Cohen said in the email.
Flores is a native of the Roanoke area who did his undergraduate studies at the University of Virginia and earned his law degree at the University of Richmond.
Though his new firm was born of tragic circumstances, Flores hopes it can serve as a source of relief for people grappling with the financial constraints of the pandemic.
"With the economic downturn that's happening and expected to continue happening because of COVID, I think bankruptcy is going to be something people need in response to this kind of financial crisis," he said.
"And I'm hoping to be a resource for that."
(804) 649-6555
Twitter: @ZachJoachim