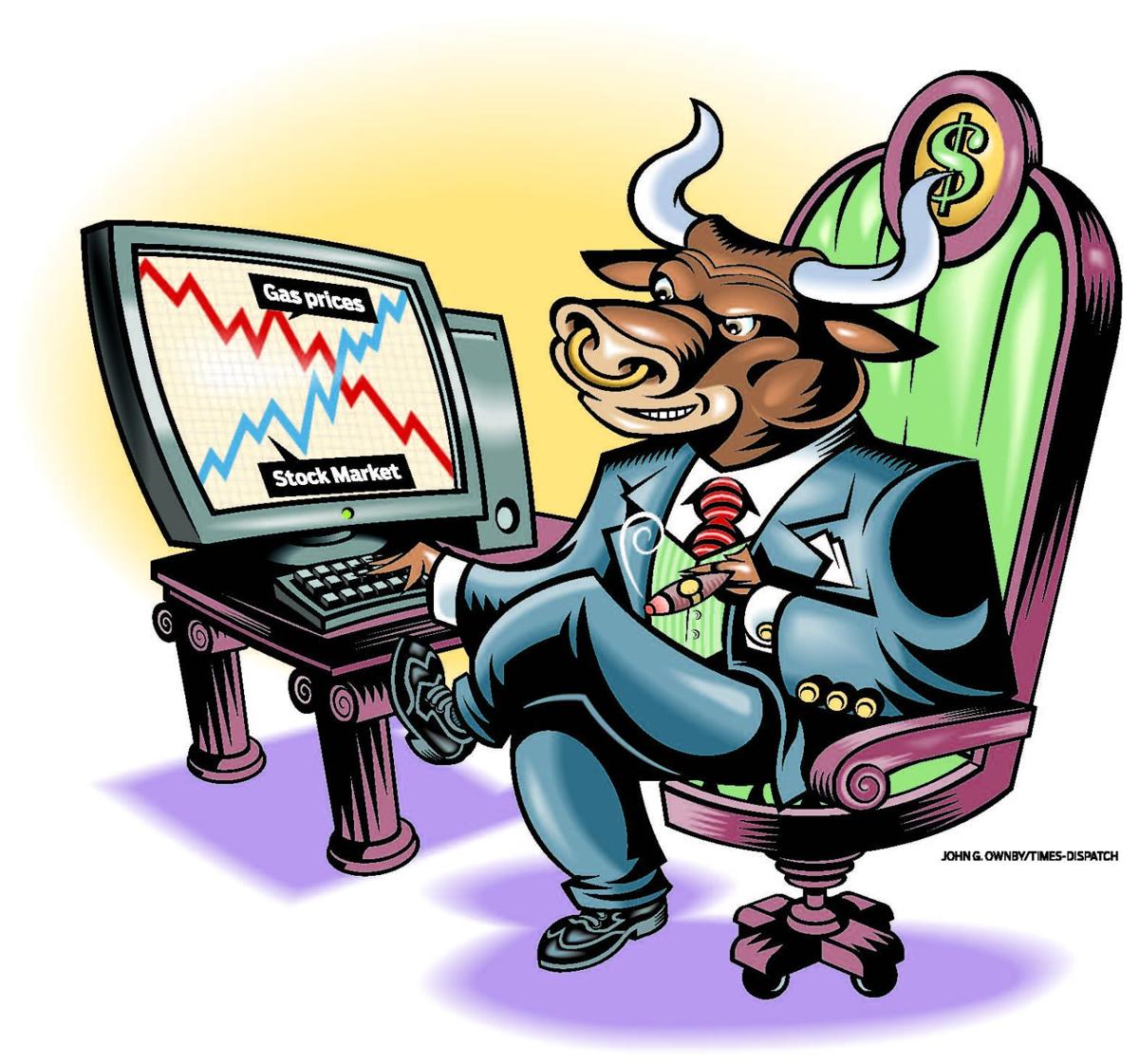 Investors finished 2014 riding high on a bull market that, while volatile, has now lasted almost six years.
Major stock indexes reached new highs in 2014 and ended the year with gains. The Dow Jones industrial average rose 7.5 percent, the Standard & Poor's 500 index climbed 11.4 percent and the Nasdaq composite index gained 13.4 percent.
Local investment advisers expect a sustained bull market in 2015, propelled by lower energy prices, growth in consumer confidence and spending, solid corporate profits, and an improving job market.
"In 2014, it dawned on people that this (economic) recovery is sustainable," said Chris Singleton, managing director at Kanawha Capital Management in Henrico County.
Yet U.S. stocks may not produce the same returns as in 2013 and 2014, analysts said. The bull market in the U.S. is mature, and 2015 likely will have its share of market volatility, especially as investors react to Federal Reserve policy, which is expected to push interest rates higher.
While stocks have been on a rising trend, "it has not been an easy ride," said Jamie Cox, managing partner of Harris Financial Group in Chesterfield County.
"There have been four or five times when the market has dropped dramatically. It has been anything but clean and easy, and I suspect (2015) will be the same."
Here are some of the major factors that should influence markets in 2015, investment advisers say:
The big story of 2014 was the dramatic decline in oil prices, which pushed the cost of regular gasoline to $2.26 per gallon nationwide on the last day of 2014.
Prices in Virginia were at an average of $2.17 per gallon by New Year's Eve, down from $3.23 a year earlier.
Lower energy costs should continue in 2015, and that should be a big help for consumers who could then spend more on other products and services, analysts say.
The decline of gas prices "in effect is like a tax cut," Singleton said. "I have seen studies that say the typical household will save $750 to $1,000 next year over what they spent previously on gas."
Cox said he expects 2015 to be marked by "the resurgence of the American consumer," driven by lower energy costs.
"Basically, folks are not making more money," Cox said. However, "they will not be spending as much on the things they normally buy: gasoline and food. Things that are big components of a person's budget are going to drop."
"As we go through next year, people are going to be spending more and traveling more and buying clothing," he said. "You will see those consumption patterns show up in retail sales. And that will be something we will see in quarterly earnings."
Cheaper gas benefits consumers, yet lower oil prices can be a double-edged sword, said Keith Muth, managing director of Virginia Asset Management LLC in Midlothian.
"Returns of energy companies can be hurt by prolonged or deeper price declines," he said. "Companies that are users of oil, consumer spending and emerging markets would likely benefit from lower oil prices."
The decline in oil prices will produce some winners and losers, analysts said. It may temporarily dampen U.S. gross domestic product, said Tim Jester, managing director at CapGroup Advisors in Henrico.
Ultimately, however, "the additional amount of money that is being put into consumer pockets and companies that are heavy users of oil will more than offset the negative impact to producers," he said.
Since the economic recession, the Federal Reserve has maintained policies and programs to keep interest rates low and to stimulate the economy.
In October, the Fed ended one of its key programs, known as quantitative easing, which had included buying bonds. Analysts say 2015 is likely to be the year when the Fed will finally start raising interest rates.
That is likely to result in some volatility for stocks.
Generally, strategists see the Federal Reserve raising its key interest rate, officially known as the Fed funds rate, from zero to 1 percent this year, in gradual increments of 0.25 percentage point each.
"We expect them probably to raise overnight rates sometime midyear or a little later," Jester said.
"That will be good news, because they (the Fed) are not going to do it unless the economy is gaining strength," he said. "It could cause some volatility in the markets, but ultimately it will tell us the U.S. economy is doing well."
Rising interest rates may increase concerns about dampening economic growth, but analysts said they do not think a moderate increase will produce that.
"The debate will be whether the economy can withstand higher rates," Singleton said. "I think the answer is yes."
Cox said an increase in interest rates should be beneficial.
"In fact, what we really need to move our economy forward and move it back to trend growth, which is 3.5 to 4 percent (GDP) growth, is for banks to feel like they can lend into the general economy," he said.
the international markets
Analysts see the major risks in 2015 largely coming from overseas.
While the U.S. economy is growing, some foreign economies remain shaky.
Oil revenues are critical for several large economies, including Russia. One of the major risks would be a default by an oil-dependent country, Cox said.
"That type of thing would definitely have a major effect on markets in the short run," Cox said.
Europe's economy was in recovery mode the first half of 2014 before being derailed by the Russia-Ukraine crisis, and Europe has teetered on the brink of recession.
China and Japan also are concerns. The Chinese government is still in a multiyear effort to slow down the country's rapidly growing economy, which has had mixed results.
If the Chinese economy slows too much, it could hurt markets everywhere.
Japan, meanwhile, is trying to stimulate its stagnant economy through massive amounts of economic stimulus. While the stimulus helped briefly, the Japanese government had to raise taxes to cover the cost of the program, effectively negating what the officials were trying to do.
"The potential for a broadening global recovery led by the U.S. economy, along with the success of central bank stimulus measures in Japan, Europe and China, could provide a boost to global markets in 2015," Muth said.
"On the flip side, the impact of the economic sanctions imposed on Russia could hurt the potential recoveries of world economies."
The European Central Bank has stepped in to help stimulate its economy and is expected to ramp up its efforts early next year.
If that works, "you ought to see a fairly positive market in Europe," Jester said.
Some advisers suggest that investing in Europe before it recovers could provide an excellent return.
"The U.S. stock market is pretty high, and so on a relative value basis, you are much better to make investments in Europe and Asia where the prices have not risen as much as they have here," Cox said.
"There are plenty of companies in Europe — utilities, manufacturing and technology companies — that are doing great. Their stock prices don't represent their earnings."
J.B. Bryan, president of J.B. Bryan Financial Group Inc. in Henrico, said stock valuations could benefit in 2015 from an increasing confidence by more investors in a sustained recovery.
She pointed to Federal Reserve research indicating that the majority of Americans still do not directly invest in stocks, and the percentage of Americans who do has been on the decline since 2001.
"In my opinion, an increase in individual investor confidence will improve individual investor participation in the stock market directly and/or indirectly in 2015 and possibly have a significant influence on the stock market during the approaching year," she said.
"For investors to prepare to get the best investment returns (in 2015), there needs to first be an increase in long-term participation in the stock market," she said.
Also, investors need to have a better understanding and deliberate use of all asset classes, "along with a renewed commitment by the individual investor to reduce their debts and increase their saving and investing each month."