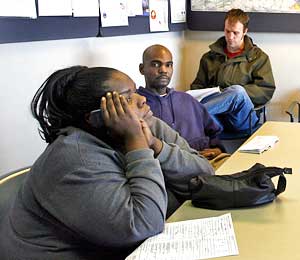 It's a new experience for more and more Virginians: standing in an unemployment line or going online to claim unemployment benefits.
The state's unemployment rate in December was 5.2 percent, up from 3.2 percent a year earlier.
Facing a sudden loss of income, many of the newly unemployed turn to the Virginia Employment Commission, which administers the state's unemployment insurance program offering weekly payments to qualified individuals. More than 347,000 people filed unemployment insurance claims last year, up 33 percent from 2007.
But navigating the system can be a challenge.
"Quite frankly, it's a foreign process to many people," said Bill Walton, manager of the commission's Mechanicsville employment center.
Here are some basic tips:
Am I eligible for unemployment benefits?
It depends on how you became unemployed.
If you are unemployed through no fault of your own, it's likely you will be eligible for benefits. People who are part of a mass layoff should qualify.
If you were fired, that does not mean you are ineligible. A hearing officer will conduct an investigation and decide whether benefits should be awarded.
"Some employers will try and avoid paying unemployment," said David D. Schein, president and general counsel for Claremont Management Group Inc., a human resources consulting firm in Midlothian. Employers' unemployment tax rates are based on benefits paid to former employees.
Make sure you have evidence available for a hearing, he said. "If [claimants] have any documents that support their case, they need to submit that to the employment officer," said Schein, who is also a visiting faculty member at the University of Richmond's Robins School of Business.
For instance, if you were fired for being out sick but have a doctor's note, file that with the commission.
You also may be eligible for unemployment benefits if you quit a job, but again that decision will be made by a hearing officer.
But if you quit to be self-employed, such as to start a business, or to join a spouse in another locality, you will not be eligible for benefits, Walton said.
How are benefits calculated?
How much money you receive and for how long depends on your earnings during a base period.
The base period is the first four of the last five calendar quarters before the date when you file a claim. Example: For claims filed now, the base period is Oct. 1, 2007, through Sept. 30, 2008.
You must have earned at least a total of $2,700 in two quarters of the base period to be eligible. .
There is no deadline for filing a claim, but the longer you wait, the more that affects your base-period wages, which affects how much money you receive, commission spokeswoman Joyce G. Fogg said.
So if you file after being out of work for nine months, that lack of salary will be used when calculating how much benefit you receive.
What are the benefits and how long can they last?
Weekly unemployment benefits in Virginia range from $54 to $378 per week and are based on your wages. The more you made, the higher the payout.
To get the maximum, a person must have earned, during two quarters of their base period, at least $18,900.01, which means an annual salary of $37,800.
Benefits are paid 12 to 26 weeks, depending on the amount. The higher the salary, the longer the benefits.
When you begin getting benefits, be careful where the money goes.
"Don't spend like you normally did," said Bruce McClary, spokesman for ClearPoint Credit Counseling Solutions, based in Henrico County. "Cut all the extras out immediately."
Chesterfield resident Iris Seldon, who was laid off Dec. 2 from her job as a material handler at a printing company, echoes that sentiment.
"I don't spend like I used to because I know what I'm getting from week to week," said Seldon, 40. "I basically just use my money toward the bills."
Will a severance package affect benefits?
Any money from your former employer -- severance, vacation, holiday pay, sick benefits -- will be considered when calculating your weekly benefits.
You can wait for your severance or other money to run out before claiming, but those company contributions will be used to calculate earnings during your base period.
Seldon is getting some money from her former company through May, so that reduces what she gets from the state.
There is a one-week unpaid waiting period, which is the first week during which a person is eligible.
Right now is a good time to make sure you have enough savings, whether you think your job is safe or not. An ideal amount is three months' worth of net income, McClary said.
"[Benefits] don't kick in instantly and there is a waiting period, and it can be frustrating to wait for the money," he said.
Do I have to do anything to keep receiving benefits?
Every week you must file a claim, either by an automated phone line at (800) 897-5630 or online at www.VaEmploy.com.
If you do not call weekly, your benefits will be halted, Seldon said.
You will have to answer a series of questions about your availability to work, if you earned any wages and if you actively looked for a job during the previous week.
You will need to provide detailed information about any contact you had with employers.
"The main thing you have to do every week is keep up with your contacts," Seldon said. "Make sure you have all of the info. If something is wrong, you're going to delay your benefits."
If I enroll in college or a training course, will I lose my benefits?
"This is a tricky situation," Walton said.
To qualify on a weekly basis for your benefits, you must be available to work.
If you are taking day classes on a set schedule, that may affect your ability to work a full-time job. If you are taking classes at night or on a flexible schedule, you may be able to keep your benefits.
"It probably will be OK if you are truly seeking full-time work," Walton said.
The point of the weekly benefit is to help people make ends meet while searching for a job. Delaying or reducing job-seeking efforts to go to school means your former employer may be on the hook for more unemployment taxes than they probably should be.
Businesses "only should be liable as long as necessary," he said.
Are there tax implications?
Benefits are taxable. Upon request, the Virginia Employment Commission will withhold federal income tax from your benefits.
McClary recommends having taxes taken out of the payments, which will make your benefits and income easier to track. It also means you won't get an unexpected tax bill. "You don't want to end up with a big surprise," he said.
What else should I watch out for?
Try to make sure your time unemployed does not affect your credit rating.
Call your credit card companies and tell them what is happening. Try to work out a way to maintain your standing. See if there are options to skip or defer a payment, or make interest-only payments.
Some industries -- finance, insurance, banking -- require credit checks, and you don't want a bad rating to prevent you from getting a job.
"You don't want to derail your credit too much," McClary said. "To have your credit score keep you out of it would be just tragic."