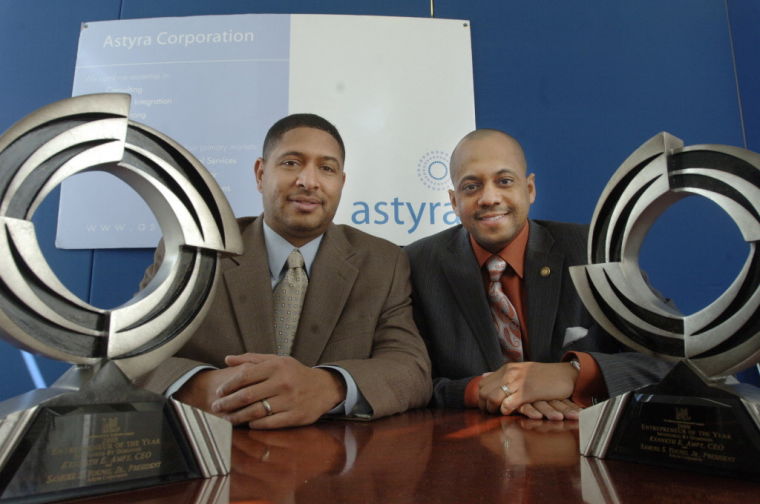 Twenty years ago, almost to the day, Ken Ampy and Sam Young headed over to Consolidated Bank in Jackson Ward to open a business checking account with the $400 they had scraped together. As they walked over to City Hall to get a business license, they talked about their plans for the fledgling enterprise.
"We said if we ever made any money at this, we wanted to make a difference in our community," Ken remembers.
"We were very serious about that," Sam says. "Turns out we made very little money those first few years, but we did everything we could to contribute wherever we could."
The two owners of what evolved into Astyra - a technology staffing and consulting firm – grew the company in fits and starts. Twenty years down the road, they've garnered a number of awards for business growth – this will be their third year in a row on Inc. Magazine's list of the fastest-growing companies in America – but they say what means the most is the difference they've made to Richmond-area kids.
The former college roommates credit good home training. Ken considers himself straight-up country. Born and raised in Dinwiddie County, by age five he was working on a tobacco farm.
"It was very communal," he says. "Everyone pitched in to help whenever it was needed, whether that was helping feed a family or fixing a broken tractor for a neighbor. We just grew up doing for each other."
He saw no reason to change that just because he moved to Richmond.
Sam grew up here. Where Ken saw a big city, Sam says that Richmond is just "like Mayberry, but with a few big buildings."
His parents were both educators involved in numerous civic and self-help associations. His father led a non-profit that worked with children. He made it a point to take Sam to work with him regularly, "so I could see where the money came from. I had no illusions about hard work."
Or about the need invest in impactful causes.
As the company grew more successful, the checks they wrote grew larger, the amount of hands-on time grew less. The men realized they could accomplish a lot more by participating on area boards. Ken and Sam say they weren't the least bit interested in business development when they joined several boards, despite the fact that some of Richmond's most powerful and successful business people were sitting right across the table. Yet, their involvement has obliquely burnished the company's bottom line.
"We don't consider ourselves to be salespeople or natural networkers, so we're not sitting on these [civic] boards to get next to someone to leverage for business with us," Ken says. "It's more like, I have kids, you have kids, there are kids out here who need our help. What else do we have in common?"
Sam says Richmond is all about relationships, and those relationships, built over years, have benefitted the company in small and large ways.
"Not all business owners see the value in being extremely active in the community and serving on boards," Sam said. "I believe it impacts the bottom line, but that's not why we do it. We believe that what goes around come around."
That attitude of service-based leadership permeates the entire organization. The firm has won awards as the best place to work in Richmond for young professionals. Community involvement is part of everyone's job description and employees get paid time off during the week to follow their volunteer interests.
Ken and Sam each have their favorite projects, of course. Ken serves on the Board of Visitors of his alma mater Old Dominion. Sam coaches football, baseball and basketball through a free summer camp he founded with Wells Athletic Association in Chesterfield.
Astyra is poised for continued growth, even as the economy struggles. The duo is focusing on workforce development. They currently employ three interns, one of whom they will retain throughout the school year and bring back full time when she graduates. They've opened the Astyra Learning Center, a computer resources lab for Beating the Odds, an organization that helps young adults transition successfully out of the foster care system.
"It's a nice place to find ourselves," Ken says of the ability to financially support a variety of causes.
So nice, the two have already overspent their charitable giving budget for the year.
"We believe we've underachieved," Sam says. "There is so much more we have to learn, go much more we can grow. More road ahead of us than behind, we just want to help a few people along the way."