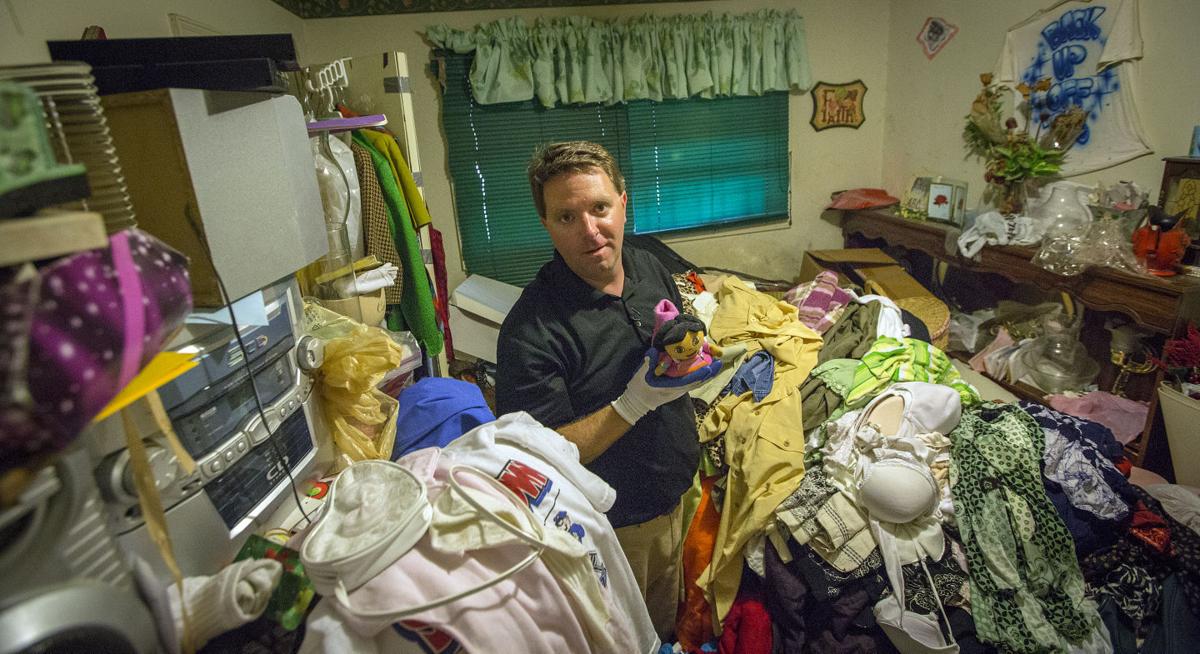 A person doesn't become a hoarder overnight.
"It takes time to be a really good hoarder," said Matt Paxton, author of "The Secret Lives of Hoarders," who was the lunch speaker Monday at the Governor's Conference on Aging.
About 400 people attended the event, presented by the Virginia Department for Aging and Rehabilitative Services at the Hilton Richmond Hotel and Spa in western Henrico County.
Paxton, a Chesterfield County native and founder of Clutter Cleaner, has appeared as the cleaning expert in 68 episodes of the television show, "Hoarders." The documentary series debuted in 2009 on the Arts & Entertainment network depicting real-life trials of people who suffer from the compulsive disorder.
An estimated 5 percent of Americans, or 10 to 15 million people, struggle with hoarding — up from about 2.5 million people in 2006 — and the numbers are likely to increase as baby boomers get older, Paxton said.
Not that hoarding is necessarily a disorder striking older people, but there is always a trigger and those triggers are tragedy, trauma or grief, Paxton said.
Most boomers, with all their years of living, have experienced a trigger that occasionally manifests itself perhaps as many as 20 years later as a hoarding disorder, he said.
"We're just beginning to recognize hoarding as a mental disorder, and money for research is just starting to happen," Paxton said.
The top three careers for hoarders are teachers, nurses and social workers, he said. "They are caregivers, and they deal with traumas."
And they are just as likely to be men as they are women, he said.
Paxton, 40, tells the story of picking up a newspaper from 1981 during a cleaning in the past 10 years and asking the hoarder what happened that year. The answer: "My mom died, I lost my job and my husband left me."
One of the worst situations he experienced was finding about 300 cats in a small home west of Richmond. Another was an 8-foot wide and 6-foot tall rat's nest in Oakland, Calif.
"I have the luckiest job in the world," Paxton said. "I clean the messiest houses in the country." A year of therapy is provided to people who participate in the show. "If we didn't provide therapy, it would be wrong," he said.
Hoarding is recognized now as a protected disability, Paxton said. "Ten years ago, we called hoarders pack rats."
As a protected disability, therapy is generally covered by most health plans, which is a blessing for the hoarder, Paxton said, but it can be a nightmare for landlords or homeowners associations.
Besides creating a health hazard, all that stuff can add 20,000 to 40,000 pounds to houses that weren't built to support that much weight. "We are starting to see houses crumble under all that weight," Paxton said.
Some cleaning jobs are archaeology digs, with the stuff of the hoarder in one part of the house and the stuff of a late parent and late spouse in other parts of the house.
"Baby boomers are getting hit with stuff; they don't have time to deal with the grief." Paxton said.
The problem has been exacerbated by consumption habits over the last 50 years, he said. The parents of boomers didn't buy new shoes. They had them resoled. People today just buy new shoes — and lots of them, Paxton said.
"My biggest issue with home shopping is technology and finance have pushed that to new levels," said Paxton, who has cleaned houses where hoarders never opened mailing boxes.