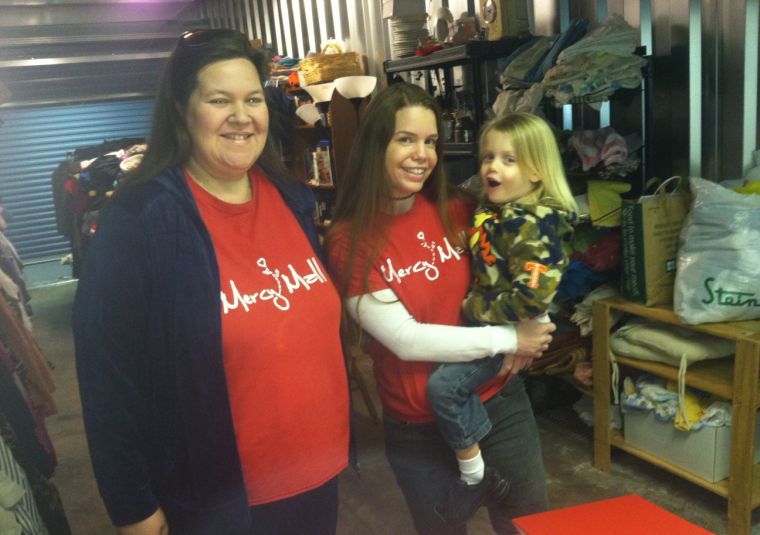 It's not at all what most of us associate with the word "mall," but perhaps this time of year is a good time to contemplate an operation like Mercy Mall.
This mall is spread over three Richmond-area locations and housed in self-storage units. The average item price — indeed, the only price — is zero dollars and zero cents.
A visit last week to the Henrico County Mercy Mall at Laburnum Racetrack Self Storage at 1400 E. Laburnum Ave., just west of Richmond International Raceway, found volunteers Lynn Orrock and Christine Garten there with Garten's son, Liam, who turns 4 on Thursday.
The nonprofit's two other locations are in Chesterfield County at Uncle Bob's Self Storage at 3830 N. Bailey Bridge Road and at Walthall Self Storage at 14324 Jefferson Davis Highway.
The Laburnum Avenue Mercy Mall is run out of a 250-square-foot storage unit. It is packed with clothes and other items, with extra stock in a smaller overflow storage space.
The Bailey Bridge location, which opened last month, is about double the size of the Laburnum operation. The Jefferson Davis spot, which opened in 2011, is six times as large.
At all three, those in need can get free nonperishable food, clothes, laundry detergent, baby care equipment, household items, and health and beauty care items. Hours and other details are available through email at bncmercymall@gmail.com.
Stacey Jones, who founded the nonprofit organization here after working in a similar outfit in Arkansas, said Mercy Mall is there year-round for those who aren't reached by other charitable groups.
"We're here for people who slip through the cracks," Jones said.
Mercy Mall trusts clients to limit visits to about one a month and doesn't do rigorous screening. "That's just not part of our vision," Jones said. "It would mean more work for us, and less time to help people."
On Dec. 21 from 10 a.m. to 2 p.m., Mercy Mall will have a day for moms and dads preparing for Christmas. Visitors can pick out new and used toys, gifts for teens, stockings and stocking stuffers, and holiday wear — in addition to other warm clothing and food. Volunteers will wrap the presents.
Want to help? Checks written to Grace Home Ministries, Mercy Mall's parent organization, can be mailed to P.O. Box 1023, Chesterfield, 23832.
Donations of clothes and other items are welcome. Garten said volunteers are gratified when a family that has been served comes back with donations of their own.
"That's just beautiful," she said, "to see someone we helped coming back to help others."
The new Tractor Supply Co. store at 201 Junction Drive in Ashland had its grand opening Saturday.
The 19,097-square-foot store is the 46th in Virginia for the Tennessee-based company that has nearly 1,250 locations nationwide.
Store Manager Chip Pabst joined Tractor Supply in June at the company's Williamsburg location. Before that, he worked as a grocery store manager. A Mechanicsville native, he likes working with electronics in his free time.
Tractor Supply sells merchandise for horses, livestock and pets; agricultural products; tools and hardware; light truck equipment; work clothing; and lawn and garden power equipment.
Relay Foods, the Charlottesville-based online grocery operator, has added Culpeper to the markets it serves.
The pickup location in Culpeper is at CFC Farm & Home Center at 15172 Brandy Road.
Customers can order groceries online by midnight Wednesday and pick them up Thursday afternoon.
Relay offers local produce and other food items along with other regular supermarket items. Customers make orders at www.relayfoods.com and Relay delivers to customers' doors or to pickup spots.
The company also serves the Charlottesville, Richmond, Washington, Baltimore, Annapolis, Staunton, Williamsburg, Fishersville, Fredericksburg and Lynchburg markets.
Meanwhile, Relay Foods is airing television ads for the first time. The ads are running in the Washington and Northern Virginia markets, according to CEO Zach Buckner.
The Piggly Wiggly supermarket chain has returned to a couple of Virginia markets in recent months.
In June, the grocer converted a Super Save IGA in Roanoke, and this month took over a Be-Lo location in Norfolk.
The New Hampshire-based company, which operates about 600 stores in 17 states, has its two other Virginia stores in Danville and Emporia, according to the Piggly Wiggly website.