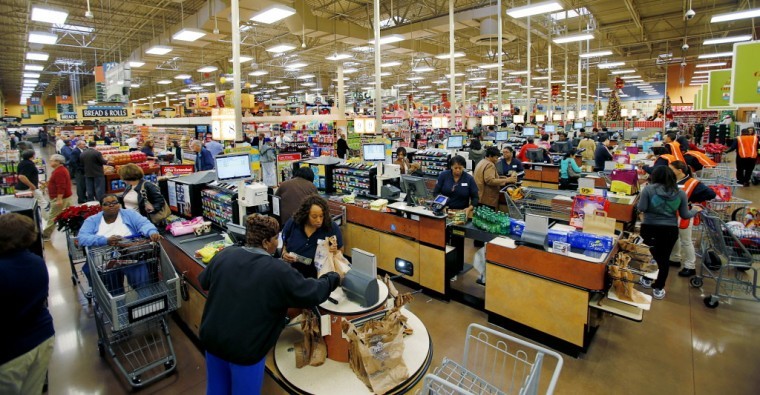 Thousands popped in throughout Wednesday for a peek at the new mega Kroger Marketplace store in Chesterfield County.
"We saw the grand opening and thought it was just another store," said J.T. Beverly of Chesterfield as he shopped with Amanda Camacho for toys for their two children.
"I'm impressed," Camacho said.
The 123,600-square-foot Kroger Marketplace store is unlike the chain's traditional grocery stores. In addition to selling groceries, prepared foods and bakery items, the store carries furniture, children's clothes, home décor items and appliances.
Tracy Dean of Chesterfield said she liked the idea that so many items were under one roof.
"It's nice to do all your shopping in one place," she said pushed a cart filled with a vacuum cleaner and an ironing board.
While the Marketplace concept is new to the Richmond area, the Cincinnati-based grocery chain operates more than 100 of them across the country. The company is building another Marketplace in Hampton Roads and will begin construction soon on one off Staples Mill Road in Henrico County.
Jay Cummins, president of Kroger's six-state mid-Atlantic market, said he was happy with the early results from the store.
"I expect we'll stay busy throughout the weekend," he said.
To accommodate the large crowds, Kroger has employees parking their cars in a satellite lot about a half mile away and shuttling them to the store.
That did little to ease parking issues Wednesday morning as shoppers jockeyed for the few available spots.
The new store in Stonebridge, a mixed-use development on the site of the former Cloverleaf Mall in Chesterfield, employs 364 people.
Kroger also is making a major effort to reach Hispanic customers by offering popular food items, staffing each department with at least one Spanish-speaking employee and having signs in English and in Spanish.
"We want to do a better job at reaching Hispanic customers," Cummins said.