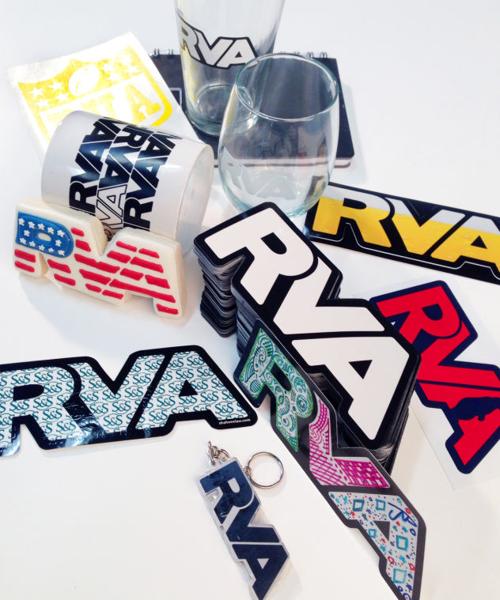 Kelly O'Keefe hasn't forgotten the conversation that got him on board with what became the RVA phenomenon.
"It was December 2009," he recalled last week. "I was driving in Carytown and I got a call from Lucy Meade. She wanted to know if I'd be interested in getting the Brandcenter involved in building a brand for the city of Richmond.
O'Keefe, now chief creative strategy officer at PadillaCRT and a professor at the VCU Brandcenter, was then the graduate-level advertising school's managing director. Meade is director of marketing and development for Venture Richmond, a community advocacy and marketing organization.
The path to the Richmond area's new brand could have ended there. The ubiquitous bumper stickers might not have shown up. The RVA Creates website might never have been dreamed of.
The use of the three letters in company names and product brands might have stalled. The assimilation of "RVA" into newspaper headlines, on social media, into digital-speak alongside "OMG" and "LOL" and into everyday conversation — all of that might have slowed to a crawl.
Instead, it would steamroll ahead.
Virginia State Corporation Commission statistics suggest businesses have embraced the brand.
At the beginning of the brand rollout in 2011, Venture Richmond staff members checked for the number of business names that started with the letters RVA — there were 19. When they counted again last August, 125 businesses had RVA at the start of their name — for example, RVA Segway Tours and RVA Repairs.
Meade pointed out that Venture Richmond didn't count companies like the consulting firm Strongfirst RVA that use the letters somewhere other than the beginning of the name.
And in addition to being on car bumpers, the logo is showing up on a variety of memorabilia — cups, key chains, notebooks and the like. At RVALicensePlate.com there's a campaign to get the state Department of Motor Vehicles to issue an RVA-brand vanity license plate.
The Hodges Partnership shepherds the brand's social media presence. RVA Creates has about 2,300 likes on Facebook and more than 5,000 Twitter followers.
That popularity is not lost on retailers, some of whom are using the brand successfully. For example, Franco's Fine Clothiers got Vineyard Vines to create a line of shirts incorporating "RVA."
"We can't keep enough of them in stock," said Mark Ambrogi, who runs the Franco's store in Short Pump. "We keep a list of people who couldn't get them in their size because we were sold out again."
Ambrogi said he started carrying the shirts in 2012. The first order was for 160 shirts, and he's waiting for the arrival of an order for 500.
The brand also gets incorporated into names for everything from art exhibits to organized bar crawls.
"Exactly what we had hoped for," Meade said, "but we had no idea how big it would be."
On that day in 2009, steering through Carytown, O'Keefe certainly had no idea a new brand for the city would be a hit.
In his professional opinion, there was little chance a community-branding exercise would lead to a satisfactory conclusion.
"It's very difficult to create a positive brand for a locality," he explained last week. "You always have lots of interests at the table, and you end up with something that attempts to serve all the people — and consequently serves none of them very well."
But Meade didn't take O'Keefe's initial "no" for an answer.
"She told me some exploration for the project had been done by Matt Williams," O'Keefe said. "Matt's a great friend and a very smart guy. That piqued my interest."
Williams, now CEO of The Martin Agency, had expressed the same reservations when Meade asked him about building a brand for Richmond. He, too, was loath to cook up another Richmond slogan, and he was less than optimistic about the whole prospect.
But The Martin Agency and the Brandcenter had collaborated for years, and the possibility of involving the Brandcenter and its students intrigued Williams.
He had set aside his reservations and in 2009 had convened community groups — half a dozen of them, sometimes dozens of people at a time — to find out if the desire for a new brand was shared.
The feedback was fascinating.
"We had 50-year-olds who had lived here a long time and a lot of them were complaining about crime, parking, taxes," Williams said.
"And we had 25-year-olds who had only been here a year or two," he said. "They were talking about Richmond's art and food and culture and opportunity.
"Hearing the young people talk about Richmond made me realize once again that this area has some amazing stuff going for it," he said. "Listening to those 25-year-olds made me see Richmond in a new way and realize there's a great story to be told. It made me realize we need to celebrate what they see."
With Williams and then O'Keefe on board, the RVA train left the station.
Caley Cantrell, a communications strategy professor at the Brandcenter, gave the city's brand problem to several groups of students and asked them to come back with solutions.
Using "a combination of research, inspiration and fairy dust," Cantrell recalled, "they realized that there are times when something you have been searching for is right there in front of you."
RVA was certainly not hard to find.
The letters, with a W in front, have been a Richmond radio station's call letters since 1925. Local publications and companies sometimes included the monogram in their names.
"Three groups of students had the idea of using the letters as an element," she said. "Two literally used the RVA initials as the brand.
"Maybe it's been proposed before. Maybe people thought, 'It can't be that easy,' or, 'It's not inventive enough,' " Cantrell said, "but maybe that's why the RVA brand has been so wildly successful and widely embraced — it's simple, organic, true to Richmond."
Armed with the disarmingly straightforward wisdom of the Brandcenter students, the area's communications professionals pitched in. They dropped their usual competitive stance and worked in concert.
Joining Williams and O'Keefe were Moses Foster of West Cary Group, Tony Scida and Josh Dare of The Hodges Partnership, John Homs of JHI, and Frank Gilliam and Aaron Dotson of Elevation.
Tammy Hawley of Mayor Dwight C. Jones' administration assisted, and Jones and other leaders from around the metro area were consulted. Venture Richmond officers Jack Berry, Jim Watkins, Lisa Sims and Meade kept things rolling.
The professionals met many times over a period of months to discuss how the brand would be used. Who would control the trademark and licensing? Who would police the use of the mark? Where would the profits go?
After spirited conversation, Williams said, "we decided we didn't need any of that."
The Brandcenter students had called for a creative element — an invitation for neighborhoods to adapt the logo and make it their own. "Why not follow their lead and give the logo to the community?" Williams said.
"When anybody asked what kind of hoops they had to jump through to use the RVA logo," Venture Richmond's Meade said, "we told them, there are no hoops — go ahead and use it any way you want. The reaction we'd get was, 'Huh? Awesome!' "
Given the parameter that there were no parameters, Foster and his West Cary Group built the website RVACreates.com and had it up and running in 2011.
"It's in the spirit of the brand," Foster said. "The website is there for everybody to use. It is a do-it-yourself tool. If you have a photograph you like, you can make your own version of the brand in a few seconds."
Once the personalized brand image is crafted, Foster explained, it stays on the site for everyone to check out. Last week a visitor to the site could see RVA-framed images of bands, dancers, kayakers, snowboarders, an extreme-sports bicyclist, an exuberant pet and so on.
To date, the site has had more than 23,500 visits and nearly 2,500 images have been posted. Only one has been taken down — at the beginning of the process — for being too family-unfriendly.
"The whole idea is built on trusting the community," O'Keefe said, "and the community has really lived up to that trust."
A jumbo-size version of the brand as an empty canvas was created as well. Gilliam and Dotson at Elevation designed the sign, and it was built by Acorn Signs, a Richmond company.
It is a rectangle about 6 feet tall and 10 feet wide with the letters cut out. Alex Dahm has been hauling it on a trailer to events and sites for Venture Richmond since 2011.
"Wherever we park it," Dahm said, "people are all over it and their cameras are out. Whether it's in the middle of downtown or out in Midlothian, people climb on the trailer, crawl into the letters, take photos for Instagram."
Homs, whose JHI shop tweaked the brand's design before Venture Richmond unleashed it, said RVA invites passion.
"Passion and creativity are linked," he said. "If your passion is setting fence posts and you make them straight and beautiful, that's your creative outlet. If your passion is art or car engines or your kids — that's all creative.
"This brand," he said, "lets you present your own passion as something that makes RVA great."