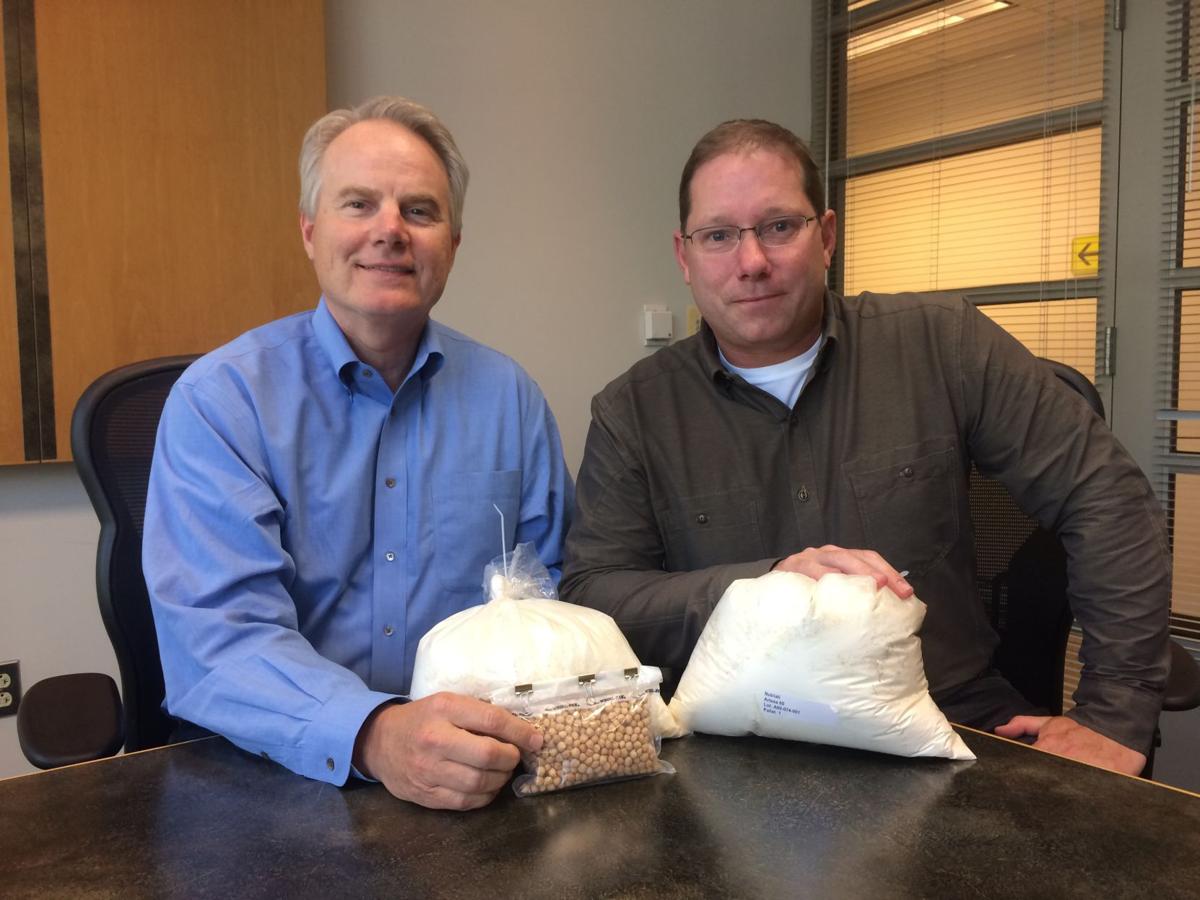 Nutriati Inc., a food technology company based in the Virginia Biotechnology Research Park in Richmond, has received an $8 million round of investments that will help the company commercialize its products.
Founded in 2013, Nutriati has developed a process for turning chickpeas into a protein powder that can serve as a substitute ingredient for eggs, wheat, soy and milk in numerous food products such as snack bars, health food shakes and brownie mixes.
"We have made a really healthy product," said Richard Kelly, the company's co-founder and chief executive officer. "It tastes good, it has got great texture, and it is gluten-free and non-allergenic."
The investment round was led by two firms: London-based Tate & Lyle Ventures, which invests in expansion-stage companies in the food sciences, and Powerplant Ventures, a Los Angeles-based venture capital firm that invests in companies that use plants to deliver nutrition in sustainable and ethical ways.
Also participating in the investment round were the Richmond-based venture capital firm NRV, which provides advice and startup capital to local companies, and Blueberry Ventures, a venture capital firm based in San Francisco.
NRV had previously provided a $1.5 million investment to Nutriati in 2015.
Nutriati was founded by Kelly and Michael Spinelli, its chief technology officer. The company is procuring chickpeas — also known as garbanzo beans — from Canada, and it has contract manufacturers in North Carolina and Pennsylvania to extract chickpea oil and to make the final products, a protein concentrate food ingredient and a gluten-free chickpea flour.
To bring those products to market through customers in the food industry, Nutriati has partnered with PLT Health Solutions Inc., a Morristown, N.J.-based marketing and distribution company.
The majority of the proceeds from the new round of investments will be used as working capital to commercialize the food ingredients, Spinelli said. Also, Nutriati will use some proceeds to further its research and development.
"There is a deep need, beyond chickpeas, for (food) companies to look for innovative, unique food ingredients," Spinelli said.
With the recent capital infusion, the company expects to be able to provide its products to consumer food-makers "on a sustainable basis" by this year's fourth quarter, Kelly said.
Nutriati also is planning to open a culinary science center in the Richmond region. The company has not settled on a location for that.
"The purpose of that center will be to bring customers (food manufacturers) to Richmond," Spinelli said. "Then we can show them how to use our ingredients in their products."
Kelly said Nutriati has been careful to look for investors who are aligned with its mission of developing healthy food products.
Tate & Lyle Ventures is an investment arm of Tate & Lyle PLC, a London-based global food ingredients company.
The partners in Powerplant Ventures include T.K. Pillan, a co-founder of the vegetarian restaurant chain Veggie Grill, and Mark Rampolla, the founder and chief executive of ZICO Beverages, which was one of the pioneers in the coconut water beverage category. The Coca-Cola Co. now owns ZICO Beverages.
Pillan is joining Nutriati's board of directors, along with David Atkinson, a managing partner of Tate & Lyle Ventures. Kelly and Spinelli also are on the board, along with Bob Mooney, a co-founder and managing partner of NRV.
In November, Nutriati won ChamberRVA's 2016 i.e. Innovation Award. The award recognizes a regional company that has shown "out-of-the-box" thinking and growth, innovation and potential.