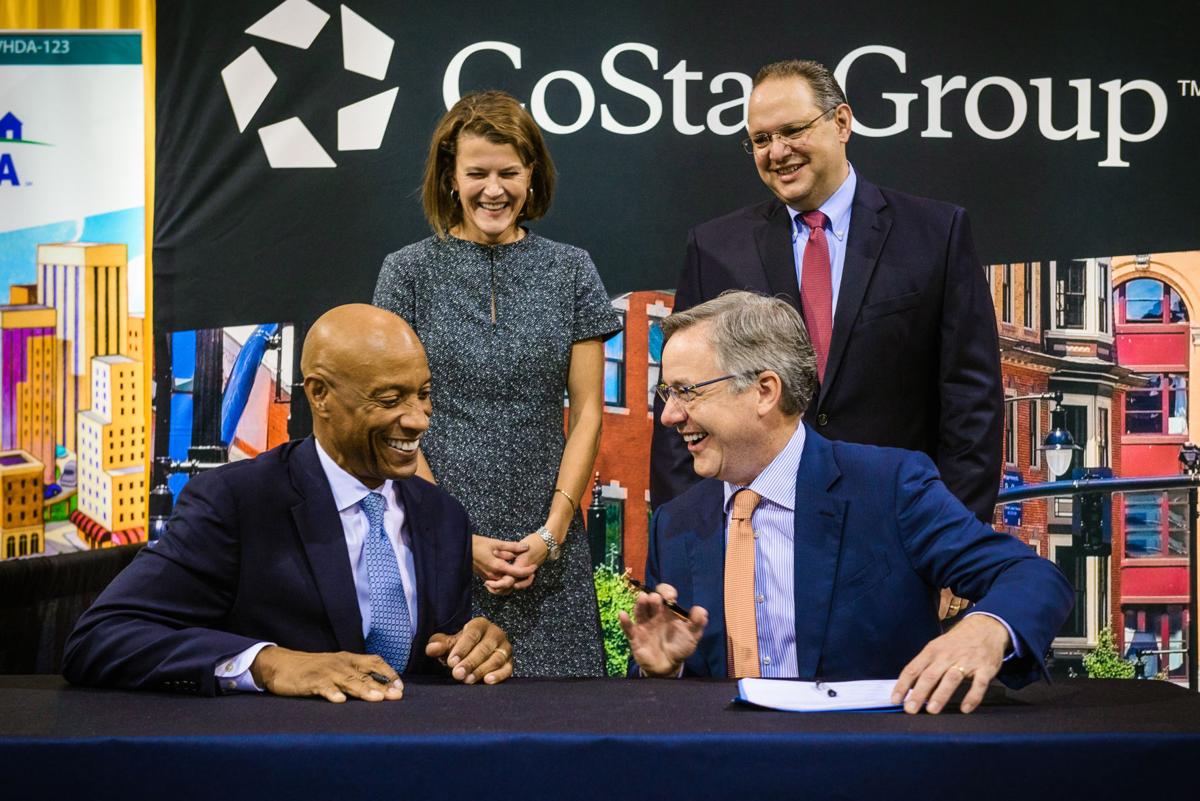 Andrew C. Florance sat incognito for the most part in the audience last year of the annual Real Estate Trends Conference hosted by Virginia Commonwealth University, trying to decide whether to relocate the global research headquarters for CoStar Group Inc. to Richmond.
On Thursday, as the lead speaker of the 27th annual conference, Florance told 1,500 people in attendance why the Washington-based commercial real estate and analytics firm chose Richmond as a hub for one of the most innovative and fastest-growing companies in the world.
Florance, CEO and founder of CoStar, was able to check off a lot of boxes for Richmond — quality of life, low crime rates compared to Washington, and lack of traffic congestion — but could it deliver on providing a talented workforce for the research center? Florance, who needed to ramp up quickly, was unsure.
To date, nearly one year later, CoStar has hired 600 employees for its Richmond operations, most from VCU but also from other colleges in Virginia.
"The whole educational system (in Virginia) led us to feel confident to make the call to come here," said Florance, citing in particular the company's partnership with the VCU School of Business. "We couldn't be happier. There's something in the water at VCU that produces fantastic people for commercial real estate."
Florance announced at the conference a $2.5 million gift to the VCU School of Business to create the CoStar Group Endowed Chair in Real Estate Analytics. The trends conference was hosted by the VCU Kornblau Real Estate Program.
As Amazon scouts for a second headquarters location, people should not dismiss the Richmond area, Florance said. Also of note, Florance and Jeff Bezos — founder, chairman and CEO of Amazon.com — were lab partners at Princeton University.
"I honestly think you have a shot at Amazon," Florance said.
Three properties in the Richmond region are among 10 sites that Virginia will pitch next week to Amazon to land the second North American headquarters of the Seattle-based company, according to multiple sources:
Tree Hill Farm, a 500-acre property along state Route 5 in eastern Henrico County, near Interstate 295 and Pocahontas Parkway;
North Boulevard, more than 60 acres of city-owned land in Richmond that includes The Diamond baseball stadium; and
the 160-acre property formerly proposed for Galleria Mall snuggled between Powhite Parkway, Chippenham Parkway and Jahnke Road at Chesterfield County's border with South Richmond.
Richmond lacks a connectivity to Washington, but the deck is stacked in its favor on other levels, Florance said in general about the city and surrounding area. "Richmond is looking really strong. I think the rest of the country is a little jealous," he said. "It's far outperforming in job growth."
That has resulted in some of the lowest apartment vacancy rates, well below the national average. "We keep hearing that the apartment market is frothy, overbuilt," Florance said. But the numbers don't bear that out.
However, most properties being built are for renters who earn more than $75,000 a year, which has led to a shortage of workforce housing here and elsewhere. Also, in the next four years, millennials will reach their peak childbearing years, so the one-bedroom apartments won't work anymore, he said.
"There are a lot more households being formed than roofs being built," Florance said. In the Richmond area, the deficit of housing units — whether a single-family home or an apartment — is at least 20,000 units, he said.
"There is an opportunity to meet demand for new housing even this late in the economic expansion," Florance said.
In 2016, it looked like the country was slipping into a recession. "But we've pulled out of that, and things look pretty good. ... These are the good times."
Typical expansions last two to seven years. The country is in the eighth year. "The reality is we are in a mature economy."
The country could fall into a recession in the next three years, even though indicators show that the economy for the short term will keep growing, Florance said.
The nation is adding jobs, and wages are rising. The housing market has recovered in most markets. Unemployment is likely to hit a multidecade low. The country is seeing wage growth. The U.S. office market is as solid as it's ever been, driving vacancy rates to the lowest levels in decades.
One catalyst that could push the country into a recession is the national debt level. Government debt at $20 trillion means the average taxpayer owes $168,000 against that debt, Florance said.
(804) 775-8023
Staff writer Michael Martz contributed to this report.