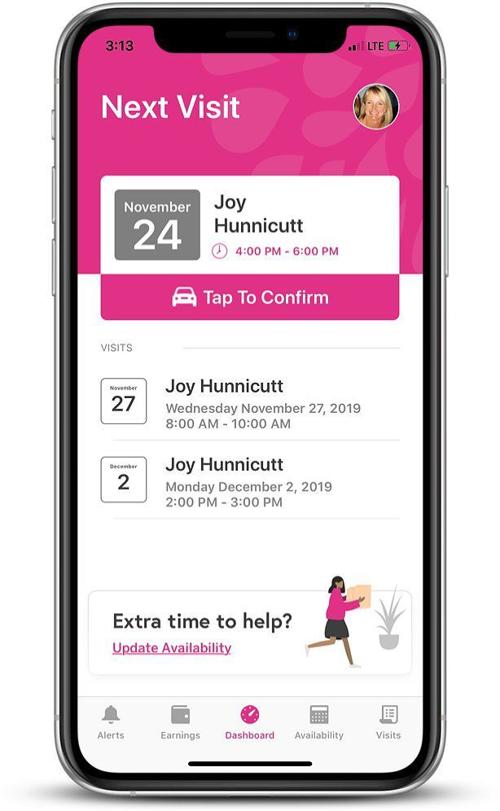 The Richmond-based startup company Naborforce is seeing a rebound in demand from the COVID-19 downturn and has expanded into a new market area, with plans to add several more markets in the next year.
Founded by entrepreneur Paige Wilson in 2018, Naborforce is seeking to address the challenges posed by the nation's aging population demographics.
The company created an online platform that connects seniors and homebound individuals who need help with vetted people called "Nabors" who earn some extra cash by providing neighborly services such as grocery shopping, meal preparation and light household chores, along with companionship.
Naborforce started out in the Richmond market and then expanded to Charlottesville before the COVID-19 pandemic forced it to slow its growth early last year.
The company announced this week that it has started offering its service in Raleigh, N.C.
In the early months of the pandemic, "we basically had to shut down our core business because helping at-risk seniors in their homes in Mach of last year just wasn't going to happen," Wilson said. "The irony was they needed it the most then because of the isolation, but we just could not do it safely."
The company has since adopted stricter safety protocols, and with the rollout of COVID-19 vaccines, Wilson said clients and Nabors are returning to the service.
"Our revenue — really in the last six months — has [more than] tripled," Wilson said. "In fact, now with the vaccine getting pretty widespread in that at-risk senior population, our client sign-ups in March have doubled from February."
The company has facilitated about 14,000 hours of neighborly work since it started, Wilson said. About 400 seniors are now using the platform and about 300 Nabors are providing help through it. Nabors provide an average of about four hours a week of services, and the clients hire Nabors for an average of about four hours a week, at a flat charge of $25 per hour daytime and $30 on weekends and evenings.
The Raleigh, N.C., market made sense as a third market, and the company's first outside of Virginia, Wilson said.
"The reality is that we get calls from everywhere, everybody needs us," she said.
"We wanted to identify a market that was outside of Virginia, had attributes similar to Richmond and was drivable for our first out-of-state market. Raleigh fits all those," Wilson said.
The company is expecting to add the Chapel Hill and Durham, N.C., areas by the summer. It is also expecting to add as many as four new markets this year and 10 markets in 2022, including several more in Virginia, Maryland and North Carolina.
The company employs five full-time employees and a contractor, and it plans to hire four or five more employees within the next six months to work in technology support and business growth.