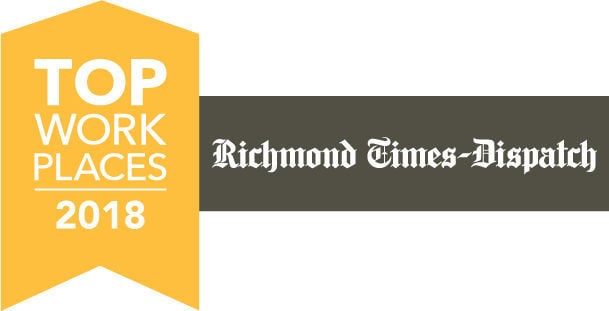 On the road to success, organizations need to know where they are.
That's the motivation behind the annual Top Workplaces survey, which gives employees the chance to rate their workplaces.
"Becoming a Top Workplace isn't something organizations can buy," said Doug Claffey, CEO of Energage, the suburban Philadelphia-based employee research and consulting firm. "It's an achievement organizations have to work for."
For the fifth year, the Richmond Times-Dispatch has partnered with Energage, formerly WorkplaceDynamics, to determine the Richmond region's Top Workplaces based solely on employee survey feedback.
Starting in September, The Times-Dispatch welcomed anyone to nominate companies as Top Workplaces.
Any employer was eligible, as long as it had at least 35 employees in the greater Richmond area. Employers could be public, private, nonprofit or governmental. There is no cost to enter the Top Workplaces program.
In total, Energage invited 716 employers in the region to participate, and 107 organizations agreed to do so. Those businesses employ 50,932 people locally.
Of those employees who received questionnaires, 17,762 responded, either on paper or online.
This year, 65 Richmond-area employers scored well enough to earn recognition on the Top Workplaces list.
Fourteen of the 65 businesses have been on the list each year for five years, while three employers have been on the list for four consecutive years, nine for three consecutive years and 12 for two consecutive years.
An additional 18 employers are newcomers to the list this year.
The employee survey gathers responses on 24 factors covering seven areas, including organizational health factors that measure how well employees are working together toward a common cause:
Alignment: where the company is headed, its values, cooperation;
Effectiveness: doing things well, sharing different viewpoints, encouraging new ideas;
Connection: employees feel appreciated, their work is meaningful; and
My manager: cares about concerns, helps learn and grow.
In addition, the survey asks employees about other factors:
Employee engagement: motivation, retention and referral;
Leader: confidence in company leadership; and
The basics: pay, benefits, flexibility, training and expectations.
Statements relating to "Connection" and "Alignment" are consistently judged most important to employees, while statements about pay and benefits rate least important for workplace satisfaction.
Smaller employers tend to score higher than midsize employers, and midsize employers tend to score higher than large employers.
Employers are ranked among groups of similar size to most accurately compare results. The size bands are mega (1,000-plus employees), large (400-999), midsize (125 to 399) and small (124 or fewer).
Five companies are in the mega category, 10 businesses are in the large category, 20 are in the midsize category, and 30 are in the small category.
Within those size groupings, companies are ranked, and those that score high enough are recognized as Top Workplaces.
Energage also determines special award winners based on standout scores on specific areas of the survey.
Why aren't some companies on the list? Perhaps they chose not to participate or did not score high enough based on the survey results.
To ensure organizations are accurately administering the survey, Energage runs statistical tests to look for questionable results. Sometimes, it disqualifies employers based on those tests.
Be on the lookout for the notices in September and plan to participate in the 2019 program — either as a returning company or as a newcomer. But you can get a jump on the process now by making a nomination at http://www.rich mond.com/top-workplaces.