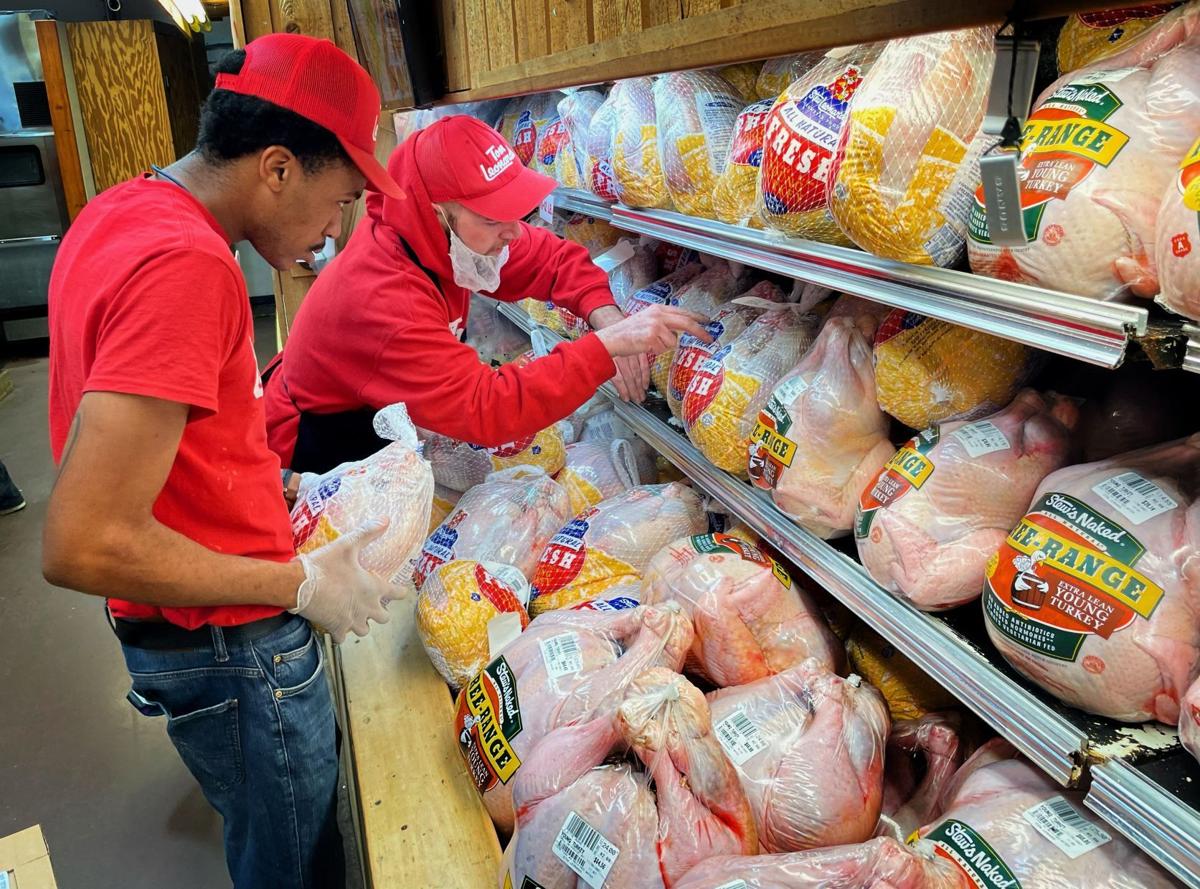 Expect to pay more for this year's Thanksgiving meal compared with 2020.
Inflation, food demand and supply chain disruptions caused by the COVID-19 pandemic continue to trickle down into the cost of food products. A good example is the price right now for the centerpiece of most Thanksgiving tables: the turkey.
The USDA's national Turkey Market News Report on Friday showed that prices for smaller 8- to 16-pound turkeys were around $1.45 per pound, up nearly 10% from around $1.32 per pound at the same time in 2020.
The higher prices and tighter supplies of turkeys could impact what goes on the holiday table, experts say.
Shortages of some other food products also could happen as consumers get out to buy Thanksgiving supplies in the coming days. Area grocery stores report they are confident in having enough product, but experts suggest shopping early.
"There certainly is enough turkey out there — it just might be at a higher price point," said Elijah Griles, a commodity specialist for the Virginia Farm Bureau Federation.
Tom Leonard, owner of Tom Leonard's Farmer's Market in western Henrico County, said he ordered more turkeys this year than usual to ensure having enough supply. He said he has seen customers buy two or three at a time.
"Prices are higher this year," Leonard said. "But we have plenty of turkeys."
The market sells fresh turkeys obtained from farmers in Virginia. Prices for fresh turkeys sold at his store this year are about $2.19 per pound, up from $1.49 per pound last year.
Leonard said the higher costs can be attributed to a combination of factors. "Corn and feed prices skyrocketed because of a drought in the middle of the country," he said. Increased costs for fuel in food transportation and labor shortages in food processing and trucking also have contributed.
"We work with local farmers, and everybody has the same problem — they can't find people," Leonard said. "So, they are producing as fast as they can with half the people."
Turkey production overall appears to be down this year compared with last year.
The USDA reported in September that turkey production nationwide is expected to be down 4% this year — with a 9% decline in Virginia.
That was the case for Craig and Nancy Miller, who raise about 200,000 turkeys a year on their farm in Rockingham County in the heart of the Shenandoah Valley's poultry producing region.
This year, the number of turkeys they raised was down about 30%, mainly because of a lack of processing capacity, said Miller, who has been farming since 1986.
"The reason is they just don't have enough people in these [food processing] plants to accommodate a normal number," Miller said.
"I don't think that is really anybody's fault. COVID just changed the way we do business in every aspect of life. As farmers, we are resilient and we will get through it," he said.
"COVID affected the food chain dramatically," Miller said. "It will eventually balance itself out, but on the other hand, not just our country but our world has never quite been though something like COVID. It is going to take a while for it to correct itself but I am confident it will."
The shelves at the Tom Leonard's store were filled with turkeys on Friday. Several other grocery chains have said they expect to have enough Thanksgiving meal supplies.
"While we continue to have some out of stocks in our stores, we're in good shape for our customers' upcoming holiday celebrations," a spokesperson for grocery chain Wegmans said Thursday.
"We expect turkeys and holiday meal provisions to be in good supply for Thanksgiving gatherings and are confident in our ability to serve our customers' needs throughout the holiday," said James Menees, corporate affairs manager for Kroger's Mid-Atlantic division, which operates the chain's 18 stores in the Richmond area.
However, supplies of pre-cooked turkeys could be more limited.
Ukrop's Homestyle Foods, the Henrico-based company that makes and ships bakery and prepared foods, notified its customers in early October that it won't be able to sell fully cooked turkeys this year because of supply issues.
"We heard from our supplier that the order we placed months ago will not be fulfilled. We immediately began looking for turkeys elsewhere but have not been successful," the company said in the October letter to customers. "Increased demand for fully cooked and smaller turkeys has resulted in a shortage that will be felt across the country."
Last year, Ukrop's had orders for 1,659 fully cooked turkey dinners and turkey a la carte, up from the 847 orders in 2019.
Ukrop's is still selling its full dinner package but with a spiral ham instead. And it is still selling its side dishes and desserts.
Food prices are up for Thanksgiving dinner this year.
A traditional meal to feed 10 adults in Virginia is estimated to cost $63.66, up 5.52% or an increase of $3.33 from last year's average of $60.33, according to the Virginia Farm Bureau's annual grocery store price survey.
Across the U.S., the average cost of preparing the holiday dinner for 10 people rose about 14% to $53.31, according to the American Farm Bureau Federation estimated.
"2020 was an exceptional year when we saw the meal cost decrease for the first time in several years," said Elijah Griles with the Virginia Farm Bureau. This year, "there is a little more of a return to normal in terms of people getting together and purchasing products."
The average cost nationwide for a turkey is about $23.99 for a 16-pound bird, the American Farm Bureau said. That's roughly $1.50 per pound, up 24% from last year.
In Virginia, the average cost of a 16-pound turkey was $25.17, or about $1.57 per pound. That's up 12.1% from the 2020 average of $1.40 per pound.
Prices vary at other area supermarkets for private-label frozen turkeys — from 33 cents a pound at Wegmans and Food Lion (by using a shopper's card and having a minimum purchase of $25), to 39 cents at Publix and 49 cents at Kroger. Aldi is selling frozen Butterball turkeys for 87 cents a pound.
The average price for a 4-pound bone-in ham was $8.47 in the recent Virginia Farm Bureau survey. That was up from $8.29 last year.
Prices have jumped for some items on the survey list, such as a gallon of milk, russet potatoes and pumpkin pie filling. But prices have declined for other items including frozen peas and green beans.
Shopping at Tom Leonard's Farmer's Market on Friday, Susan Keating of Midlothian picked up two 10-12 pound turkeys — one to bake and one to fry for a Thanksgiving dinner with eight people.
"I'm getting them early," Keating said, adding that she wanted to do that to avoid any possible shortages. "Fresh turkeys are always better — they are tastier and juicier. The price is definitely up."