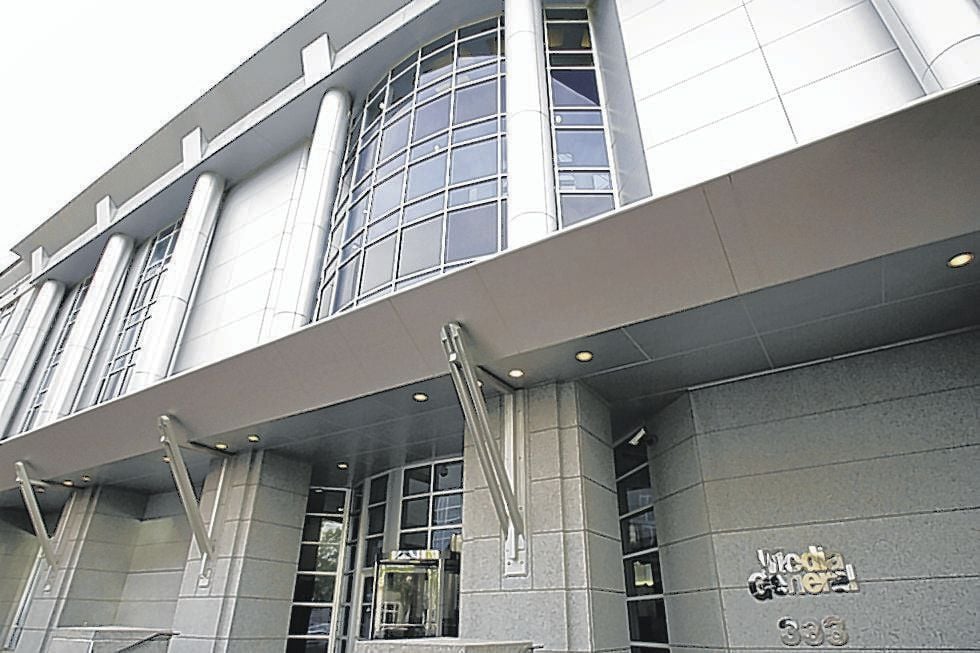 Media General Inc., the Richmond-based communications company that once owned newspapers and television stations across the country, is gone as a corporate entity.
The company was acquired Tuesday by Texas-based Nexstar Broadcasting Group Inc. in a stock and cash deal valued at $4.6 billion.
The new company — called Nexstar Media Group — becomes the nation's second largest broadcast television operator with 171 television stations reaching about 39 percent of U.S. television households. In comparison, Sinclair Broadcast Group Inc. operates 173 stations in 81 markets.
The deal marks the end of an era for Media General, which was founded in 1969 in Richmond as a holding company for newspapers and television properties. The company had transformed itself over the years and expanded its television holdings — 71 stations at the end, including WRIC in Richmond.
It also means Richmond is no longer headquarters for Media General and its stock no longer will trade on the New York Stock Exchange. Media General shares closed Tuesday at $18.51, down 29 cents or 1.54 percent.
The companies have not said what will happen to Media General's offices in downtown Richmond.
Nexstar Media Group's headquarters will be in the Dallas suburb of Irving, Texas, where Nexstar is based. The company's shares will trade on the NASDAQ Global Select Market under the "NXST" ticker symbol.
"I can't say it is a sad day but a day we had to recognize the inevitable would happen given the scope and changes in the broadcast media today," said Marshall N. Morton, who served as Media General's president and CEO from 2005 to 2012.
The deal also caps a 5-year-long transformation for Media General, starting with the company's 2012 sale of its newspapers, including the Richmond Times-Dispatch, to a subsidiary of Berkshire Hathaway Inc.
Media General subsequently merged with two other broadcasting companies — and those mergers meant an increasing amount of the headquarters operations moved elsewhere to key offices in Austin, Texas; New York City; and Providence, R.I.
Richmond was the company's headquarters in name, but only dozens of corporate employees worked at its 333 E. Franklin St. building. While Vincent L. Sadusky, who has been Media General's president and CEO since December 2014, had an office there, he lived in Florida.
The acquisition comes nearly a year after the two companies announced on Jan. 27, 2016, that they would combine.
The Federal Communications Commission approved the transaction last week. The FCC's clearance was the final regulatory approval needed to complete the merger.
Nexstar also said Tuesday that it completed the previously announced sale of 13 television stations for $548 million, including WSLS in Roanoke.
"Our acquisition of Media General marks a significant milestone in Nexstar's 20 year history of growth," Perry Sook, Nexstar's chairman, president and CEO said in a statement. He will lead the new company.
Sadusky, who will not be a part of the new company, could not be reached for comment. He was "terminated without cause," according to regulatory filings.
Also in connection with the merger, James F. Woodward, Media General's senior vice president and chief financial officer, and Andrew C. Carington, its vice president, general counsel and secretary, have been "terminated without cause," the regulatory filings show. Each is entitled to receive the severance and benefits as provided under their employment agreement with the company.
In addition, Timothy Mulvaney stopped serving as Medial General's controller and chief accounting officer, the filings show.
The deal is expected to more than double the combined company's revenue — to be more than $2.3 billion — and adjusted operating profit. The combined company now expects to generate average annual free cash flow of about $565 million, up from prior guidance of $540 million, Sook said.
Nexstar Media Group expects to achieve about $81 million in "synergies," or cost reductions and efficiencies, from combining the companies' operations in the first year after the merger. That's up from the $76 million it initially had expected.
Much of the synergies are expected to come from personnel reductions and eliminating redundant professional services, although Nexstar Media Group didn't say how many jobs will be lost.
Nexstar acquired all of the outstanding shares of Media General for $10.55 per share in cash, 0.1249 share of Nexstar Class A common stock.
Each shareholder also gets one contingent value right — a type of option issued to the buyer of a company — to account for the proceeds Media General might receive, if any, in an upcoming spectrum auction run by the Federal Communications Commission. The companies said they didn't know how much the auction might generate.
(804) 649-6379
Staff writer John Reid Blackwell contributed to this report.