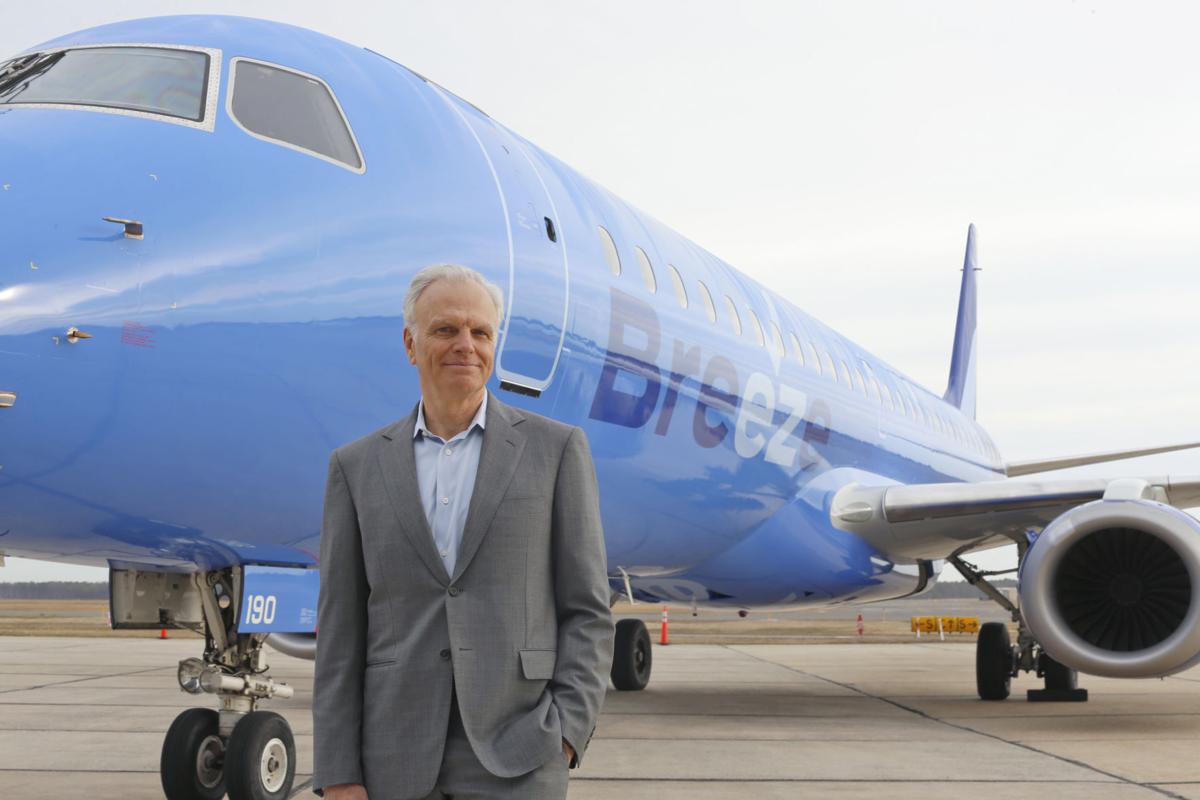 A new low-cost airline from the founder of JetBlue is setting up operations in Virginia and will offer nonstop flights from Richmond International Airport to three Southern destinations, including New Orleans, as well as open an operations center in Norfolk that is expected to employ more than 100 people.
Breeze Airways, which was founded recently by airline entrepreneur David Neeleman, is planning to start flights from Richmond International Airport on July 8. Neeleman previously founded JetBlue, as well as Brazil's Azul, Canada's WestJet and Utah-based Morris Air, which was later purchased by Southwest Airlines.
Salt Lake City-based Breeze is expecting to start in the Richmond area with service between Richmond and Charleston, S.C., offering flights four days a week — Thursday, Friday, Sunday and Monday.
Flights between Richmond and New Orleans' Louis Armstrong International Airport are expected to start July 15, followed by flights between Richmond and Tampa International Airport in Florida on July 22.
Breeze, which is the second new U.S. carrier announced in a month as airlines try to profit from an anticipated rebound in air travel, started selling tickets Friday.
Richmond International Airport is one of 16 airports selected to join the inaugural network of Breeze, which aims to build a customer base by offering low-cost fares and high-flexibility services, such as no change or cancellation fees. Breeze joins seven other major airlines that offer nonstop flights from Richmond International Airport.
The company is advertising its flights as starting at $39, one-way. The airline charges $20 extra for up to three checked or carry-on bags, a luggage rate that the airline describes as "one of the lowest in the U.S."
The flights to Charleston and New Orleans are new flights for Richmond International Airport. Tampa is currently served from Richmond by JetBlue, which considers the route a seasonal market. Other flights to Florida include service with Allegiant Air, another low-fare airline that offers flights from Richmond to Sarasota and St. Petersburg, Fla.
"We have existing service around Tampa Bay, but I think it is a strong market and having good options like this is pretty valuable," said Troy Bell, a spokesperson for Richmond International Airport.
Breeze Airways also is planning to invest $5.2 million to open an operations center in Norfolk, Gov. Ralph Northam's office announced. The center is expected to employ about 116 people.
Northam's office said the company targets "underserved and unserved cities without nonstop service and has identified dozens of route opportunities from Norfolk International Airport" along with the new flights from Richmond.
Neeleman's bet on a new airline comes as airlines expect that passenger traffic will bounce back this summer from the industry's collapse during the COVID-19 pandemic.
Breeze Airways has "generated a lot of buzz from people inside the airline industry, mostly because of the credibility that [Neeleman] has," said George Hoffer, a transportation economist and professor emeritus at Virginia Commonwealth University.
Hoffer said Breeze is following in the footsteps of the most recent new entrants in that its route structure, schedules and frequencies target the leisure market, as well as its pairing of secondary cities such as Richmond and Charleston.
The new service to leisure markets is a positive development for Richmond International, Hoffer said, and given the company's promise of a Norfolk presence, any significant maintenance issue with one airplane can be more quickly resolved with a substitute craft once the airline's fleet expands.
Breeze said it will start service with two types of aircraft, which can seat 118 and 108 passengers, and an average flight length of less than two hours.
"Being chosen for the historic launch of Breeze Airways means serious perks for RIC travelers, who will soon be able to enjoy nonstop flights to Charleston, New Orleans and Tampa," said Patricia O'Bannon, chair of the Capital Region Airport Commission.