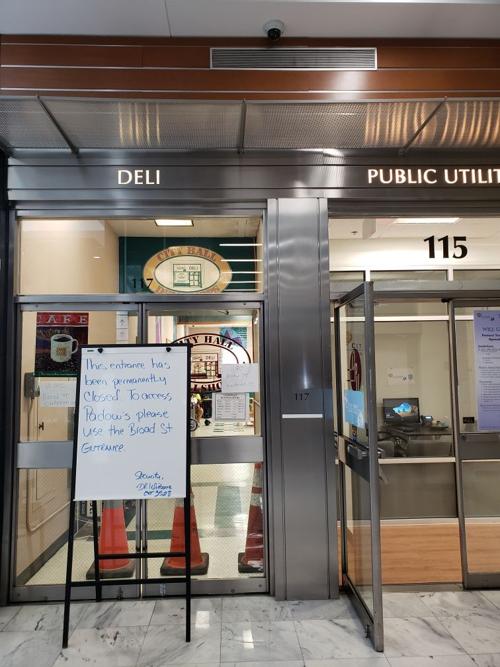 Padow's Hams & Deli, where city employees for years have gotten breakfast, lunch and snacks, has until Sept. 23 to move out of its space on the first floor of Richmond's City Hall.
Lenora G. Reid, the city's acting chief administrative officer, set that move-out deadline in a June letter to Sidney A. Padow, the deli's president.
Padow said he originally opened the deli at City Hall in 1998 and turned over ownership of the venture to Sue and John Park in 2004, and the couple now run it through their company Sue's Kitchen.
"They're kicking us out after 22 years," Padow said Thursday. "They are telling us to get out. They are basically saying to vacate."
In the June letter, Reid wrote the lease between the city and the deli ran from March 1 2004 until Feb. 28, 2009 for the business to rent space at Room 115 in the City Hall building at 900 E. Broad St.
The city never renewed the lease, Reid wrote, adding that "Padow's has been continuing in the below-referenced premises as a holdover tenant. The city now wishes to terminate this tenancy."
In a letter sent to media outlets, Padow wrote that kicking the deli out means that City Hall employees and visitors now have nowhere to get a meal within three blocks of the government building. The business sold soups, salads, ham and turkey sandwiches, among other fare.
In response to questions about why the city was pushing the deli out and what would go in its place, a spokeswoman for Mayor Levar Stoney said in an emailed statement that a health clinic was expected to go into the space.
"The space is being used for a health clinic available to persons covered by the city's healthcare provider, a valuable employee resource," said Sam Schwartzkopf, a communications and policy analyst for the mayor.
Padow said in his letter to the media that Sue Park has been wanting to remodel the deli, but couldn't make the investment without a lease extension.
"I was month-to-month," Sue Park said Thursday. "They didn't give me a signed lease."
Park said officials locked the door from the deli into the City Hall lobby on Tuesday, giving patrons only an exterior door access to the deli.
She added she would like to stay at the City Hall location. "But they sent me a termination letter. I don't have any contract," she said.
Park and her husband also operate the Padow's Hams & Deli location as a franchise operator at the Colony Crossing shopping center at 2431 Colony Crossing Place in Chesterfield County.
Padow said the city's move is forcing out a "state-recognized-minority business enterprise" after years of service to City Hall.
He's not giving up hope that Sue and John Park, who are from South Korea, can remain in business at City Hall.
"We want a new lease, and we want to stay there," Padow said. "And we think we're being treated unfairly."