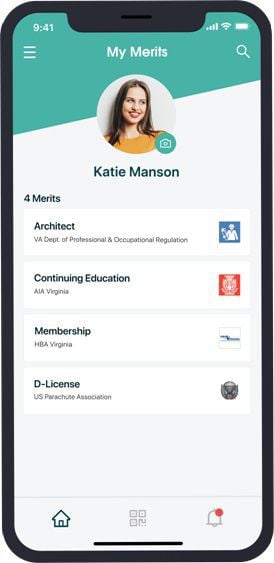 Hundreds of thousands of state-licensed professionals in Virginia now will be able to display their credentials using a smartphone app.
Virginia's Department of Professional and Occupational Regulation said Tuesday it has partnered with Merit, a California-based digital credentialing firm, to provide digital licenses for occupational license holders in the state.
More than 310,000 Virginia workers in more than 40 industries are required by law to have a license from the state agency to work. Those professions include architects and engineers, electricians, plumbers, cosmetologists, barbers, tattooists, polygraph examiners, boxers and martial artists, among many others. Those practitioners are required to display or have their credentials available, such as the licenses that are displayed in salons and barber shops.
"This allows the barber or the HVAC tech or the real estate agent to provide that in a more modern way than just a pocket card," said Mary Broz-Vaughan, acting director of Virginia's Department of Professional and Occupational Regulation.
Professionals can download and use the Merit app for free, and the company is providing the system at no cost to the state agency. All historic and current workers who get their licenses through DPOR will be issued digital licenses that will be available in Merit's mobile app or on a web browser.
Merit, which was founded in February 2016 by Tomer Kagan and Jake Orrin, provides its basic service for free. It makes money by offering additional services to its clients such as advanced analytics and training.
Craig Toalson, chief executive officer of the Home Builders Association of Virginia, said there are more than 83,000 contractors in Virginia who have licenses.
"This new system will make licensing easier for everyone involved, and will allow workers to spend less time navigating a complex paperwork process and more time focusing on the careers that they love," he said.