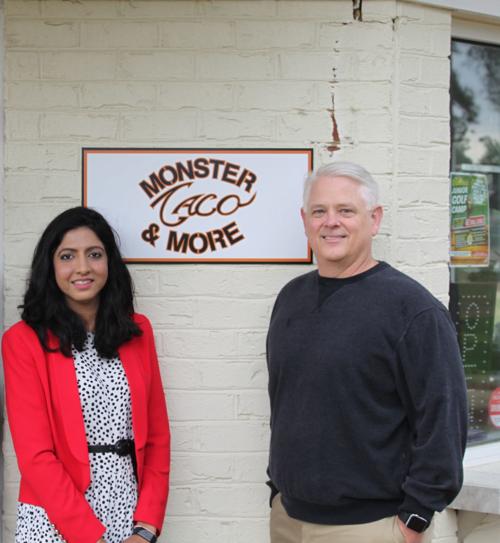 Weeks before the coronavirus pandemic forced restaurants to close their dining rooms, a Richmond-based startup launched an app to make ordering takeout easier.
Khadeeja Suleman, the founder of Drive-Thru, wanted to create "a virtual drive-thru in all restaurants." The app facilitates ordering, payment and curbside pickup.
"I'm a mom of two, and it was a struggle to do takeout with two kids in the car. I had to unbuckle them from the car seat and deal with toddlers running around the restaurant just to pick up food," she said. "I thought 'there has to be an easier way of doing this.'"
Suleman wanted a takeout experience as simple as a drive-thru window, but she didn't want to order fast food.
At the end of 2018, she joined Startup Virginia, a business incubator in Shockoe Bottom, where she met her business partner, David Wright. They launched the Drive-Thru app at the beginning of March.
Weeks later, when restaurants closed their dining rooms, curbside pickup and contactless delivery became the new normal.
"It sounds like the perfect timing, but actually it wasn't because many of the restaurants were struggling to make sense of what was happening," Suleman said.
The Drive-Thru app is designed to help restaurants manage takeout more efficiently. But during the pandemic, restaurants have been serving fewer customers than usual.
"They didn't necessarily need this app to streamline the takeout process," Suleman said. "They had the time and staff to take orders through the phone and have a few staff members standing outside to help with curbside pickup orders."
Amid economic uncertainty, restaurants have been slow to adopt Drive-Thru, even though interest in curbside pickup has skyrocketed.
"There has been a lot of interest from the customer side, but from the restaurant side it's been difficult because they're struggling right now," she said.
Once restaurants get busier, their need for the app will increase, she said.
"Once it gets busy, that's when they'll need something to make things faster and more convenient," she said. "It's easier for them to use an app rather than answer the phone and listen to a customer in a noisy restaurant, and it's easier for the customer, too."
More than 3,000 people have downloaded the Drive-Thru app.
Customers can order from only a handful of local restaurants at this point including Monster Taco & More on Founders Bridge Boulevard in Chesterfield County and The Café at Richmond Volleyball Club on Byrdhill Road in Henrico County. Social 52 on West Main Street in Richmond and Greek on Cary in Carytown will be added to the app in the next few weeks.
There is a $1 fee for any order placed on Drive-Thru. Restaurants won't be charged a commission fee during the pandemic, Suleman said.
Low fees set Drive-Thru apart from other third-party ordering apps, like DoorDash and Postmates, she said.
"Even if you do takeout, through those apps, they still charge a lot of commission. It ranges from 7% to 10%, even for takeout," she said.
The company will be hiring its first employees next month, she said.
As Virginia continues to reopen and restaurants get busier, she expects that Drive-Thru will be adding more restaurants to its app.
She hopes to expand to restaurants in Charlottesville, Virginia Beach and Washington, D.C., by the end of the year.