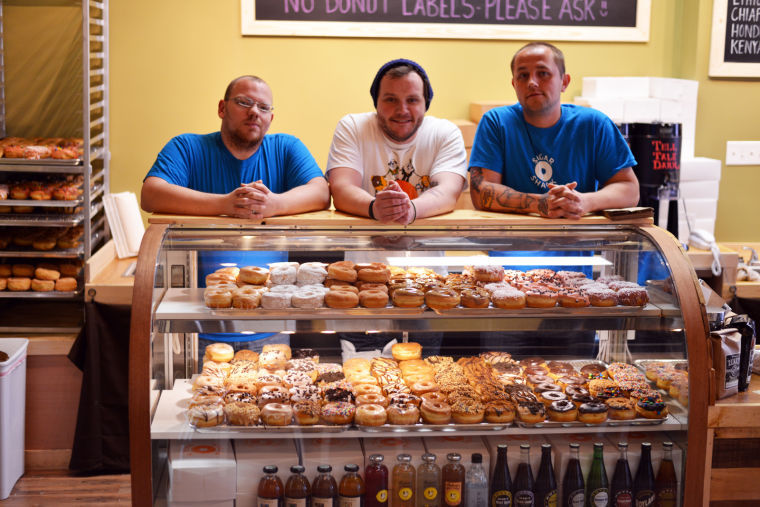 Sugar Shack Donuts is embarking on an ambitious expansion plan.
The Richmond doughnut shop, which opened slightly more than a year ago and recently was named one of the best in America by USA Today, plans to add three more stores within the next year — and has plans for three more after that, owner Ian Kelley said.
The original Sugar Shack opened in June 2013 at Lombardy and Leigh streets. The company opened a second location, called Sugar Shack Coffee, in February at 12th and Main streets downtown.
Now western Henrico County, Chesterfield County and Alexandria will get Sugar Shack Donut shops in the next 12 months.
Construction should begin in the next two weeks on a spot at 1501 N. Parham Road at Parham and Quioccasin roads in a former gas station, Kelley wrote in an email.
"This location will feature all the same design elements of Lombardy Street, all the same donuts, coffees and menu items," he said. "Just like our first two shops, this new shop will have hand-built bars and pallet walls that I'll personally install again. We intend it to feel identical to the original in all aspects."
David McRae, the manager from the Lombardy location, will be the general manager of the Parham Road store and a few other Lombardy employees are making the move to ensure consistency, Kelley said.
That location is expected to open Dec. 1.
Next up is Midlothian, Kelley said, which should open in March 2015.
"I still cannot release the exact address of this location, but I will say it's in the Midlothian/Woolridge vicinity," Kelley said.
Soon Richmonders from all over town won't have to wait for a store in their neighborhood to grab a nearby donut — Sugar Shack also is going mobile.
"Our Donut & Espresso truck is in the works as we speak and should be on the road by October at the latest. It will also be available for special events starting in 2015," Kelley said.
And Sugar Shack's expansion plans go beyond Richmond.
A shop is opening in Alexandria — at 804 N. Henry St. in the new Belle Pre development. That location will be co-owned and operated by Del. K. Robert Krupicka Jr., D-Alexandria, who, Kelley said, is keeping the consistency of the Sugar Shack brand, but adding a speakeasy.
"[Krupicka] has been training with me and my staff for the past three months and we have been working closely to make sure he opens up exactly like we are on Lombardy. The only difference will be the addition of a speakeasy attached — a concept we kicked around originally and bypassed at Lombardy," Kelley said.
Next year will bring even more Sugar Shacks to Virginia and elsewhere, he said.
"I'm working on expansion deals in Norfolk, Charlottesville, and Baltimore that all should open in 2015. All of our new locations will open with operators who've come through Richmond first so that we can maintain consistency of our product, service, and brand store to store," he said.
Sugar Shack, however, won't be putting a store in the Short Pump area.
The shop recently had been looking at spots in the West Broad Village development in western Henrico but decided against it because the terms of the lease weren't good, Kelley said.
"They wanted such ridiculous terms that we couldn't make any sense of it," he wrote.
Karri Peifer is the editor of Richmond.com and the site's senior food writer. You can catch more dining news from her in weekly "Dish" column, which appears every Thursday in the Dining section of the Richmond Times-Dispatch.