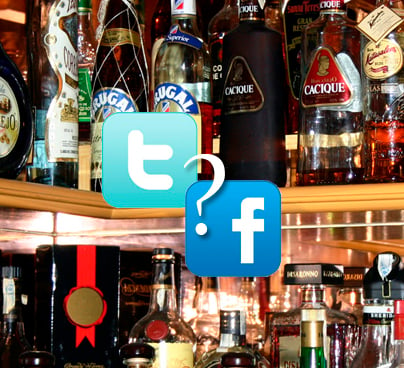 Numerous restaurants in Richmond are violating, some without knowing, some simply disregarding, what many see as an invasive prohibition on social media promotion.
Gone are the days of Speakeasies, Prohibition-era liquor establishments, where liquor discreetly flowed for those whose tongues were agile with the correct password for entry. Even though billions of dollars now steadily pour into the coffers of alcohol manufacturers, in Virginia restaurants dare not speak easy about happy hour pricing.
Not too long ago restaurants were completely prohibited from promoting happy hour outside of the storefront. In late 2009, the ABC board approved the posting of a 17" by 22" sign in the window of a restaurant. This action symbolized forward movement from an organization often thought of as conservative.
The momentous change spawned signage in windows, announcing, yes the business has a happy hour--a fact probably already known by 10 of 10 adults. In an urban setting, the sign might make a difference, but in a suburban setting, most restaurants receive specific destination traffic.
What really matters to those seeking the heaviest drinks for recession-light wallets are the prices, the choices, and the times. Times are actually allowed on the posted sign, but no specific mention of available selections, or the special prices is permitted.
"What the customer is deprived of is the information about what kind of specials are being offered," said Thomas Lisk, an attorney at Eckert Seamans who previously served as chairman of the Industry Advisory Panel to the Virginia ABC Board during its regulatory review process.
"Even if the ABC wanted to continue a restriction and maybe say you couldn't advertise the prices, perhaps to refrain from a price war among restaurants, certainly you would think you would be able to advertise whether your drink specials were on draft beer, or wine, or highballs," added Lisk.
That way the wine drinkers can hunker into their happy hour havens, while the rail-drinkers find their own spirited roost.
It's common knowledge that if a patron visits a restaurant in the early evening hours, an adult-beverage special awaits them. This is probably shocking news, but it might just be the reason the patron visited at that particular time.
The ABC has said in the past that the concerns surrounding happy hour advertising are excessive alcohol consumption, fatalities, and the targeting of underage drinking.
"The [ABC] board has had a historic view that advertising drink specials was going to be prohibited because they didn't want that to be an enticement to have people come into the restaurant," said Lisk.
Doesn't it seem though, that the mere existence of happy hour itself has become a social inducement for frugal imbibing, regardless that restaurants can't advertise their specials?
If people are already conditioned to drink at a certain time, why the hesitation in allowing restaurants to take advantage of a competitive market and promote their businesses?
A potential pivotal change brewing on the horizon is a social media policy. Currently, there is none specifically established by the ABC board. The ABC board muddles social media interaction or promotion as advertising, which is very strictly regulated.
Social Media--Regulated as Advertising
Use of social media falls under ABC regulation as electronic media.
Electronic media is defined by the ABC as, "any system involving the transfer of signs, signals, writing, images, sounds, data, or intelligence of any nature transmitted in whole or in part by a wire, radio, television, electromagnetic, photo-electronic, or photo-optical system, including, but not limited to, radio, television, electronic mail, and the Internet."
However, electronic media is regulated and defined by the ABC Board in regards to advertising.
Here we enter some grey areas.
Is it fair to penalize restaurants who post happy hour specials through social media? Is it fair to say that social media networks are merely forms of advertising? Would people begin consuming more alcohol if it was legal to promote happy hour specials, or would people just find their favorite deals more easily? Would restaurants suddenly get confused about ABC law and start serving underage drinkers?
How is advertising defined?
(ăd'vər-tī'zĭng) The activity of attracting public attention to a product or business, as by paid announcements in the print, broadcast, or electronic media.
There isn't one conclusive definition for social media, but one shared attribute of most social networks is that they are free.
When a restaurant uses Facebook to promote a special event, menu change or a drink price, they don't pay anyone (except their Internet provider) for the promotion and they are only promoting to a group of people who opted to follow them on Facebook, or Twitter (even though that is a grey area due to #hashtags).
Social media is definitely a different form of promoting, or advertising, one more likely to center around chosen relationships. A customer more actively participates through social media than other forms of media.
For example, I might tune in for my favorite show on TV, but I have no idea or input as to what commercials will appear throughout the show. With social media I can chose, for the most part what promotions and messages I receive.
Grey areas and Violations
"Two years ago, I started tweeting about restaurant stuff, like specials," said the representative of a local restaurant group with multiple businesses.
"Even our ABC agent said it was a grey area, you have to use your judgement," they added.
That restaurant group was issued a warning for posting specials on their website.
There were 37 written warnings issued by the ABC Bureau of Law Enforcement agents for electronic advertising violations in 2010. There were 46 written warnings for advertising violations in 2009, and in 2008, 9 charges were brought before hearings and there were 40 written warnings.
Much like the smoking ban, some view the consequences as nothing more than a slap on the wrist, while most completely adhere to the regulations in fear of any retaliation. The ABC does monitor social media, but restaurants are also turning in competitors.
A patron can directly call a restaurant to inquire about happy hour prices, and it is legal to relay that information over the phone. But, a restaurant can not post the information on their own website that they pay to maintain and which a customer directly seeks out when they dial-up the url.
Additionally, spokesperson for ABC, Becky Gettings, said an answering machine (or voicemail) message "could be considered electronic media advertising."
A restaurant can't post happy hour specials on their Facebook page, but a patron of that page could inquire what the specials are, and another patron could reply, as long as they don't represent the restaurant.
A customer can specifically ask to be placed on the mailing list for a restaurant, but can't receive email notification of happy hour specials. However, a restaurant can send you paper correspondence of the drink specials.
Additionally, a manufacturer of distilled spirits is allowed to send email coupons for products purchased in a state ABC store and reimbursed by the manufacturer.
"The state would benefit by having manufacturers use coupons to encourage more sales of packaged spirits," said Lisk, when asked about this seeming contradiction.
Yet, the state would also benefit from tax revenue made through happy hour sales.
We probably shouldn't even get started on drink specials through Foursquare. After all, a customer must be at a location to make a check-in, so why couldn't a restaurant advertise happy hour prices, albeit electronically, upon the check-in?
Businesses Want A Shot Of Social
"Hands down we would get more business if we could promote our exceptional happy hour deals," said a marketing manager who wished to remain anonymous.
"Yes, discounted prices can bring people into specific places, absolutely," said another source who wished to remain anonymous after prior experiences with the ABC board.
It is proven that discounted prices are incentive for creating customers. Everyday, various online platforms and sellers stream deals for consumers. Does exposure to those deals promote unnecessary shopping? Should we censor those deals in concerns that they might potentially be viewed by a shopping addict or induce debt?
Social media is a form of communication akin to a conference call that people can join at any moment. Sometimes it's more similar to a megaphone--a one-way conversation. Regardless, social media is prompting changes to business, education and government policy world-wide.
"We want to make sure the rules, regulations and policies keep up with evolving communications technologies, allowing businesses to make information more readily available to their customers," said ABC Chairman J. Neal Insley.
Until the ABC board makes good on Insley's assertion, there are a couple of ways to help fellow Richmonders find the best happy hour deals around town. Leave a fair, honest review on Yelp that includes drink specials and use hashtag #HHRVA on Twitter to archive happy hour specials.
Here are some guidelines to help navigate the rules of happy hour promotion and avoid violations.
• Have a 17" by 22" sign in the window. It can state the time of happy hour, but that's it.
• Tell customers about happy hour specials over the phone.
• Post specials on a chalkboard, or menu, that can only be seen from within the restaurant.
• Advertise regular menu and drink prices, even online.
• Promote food specials, even online.
• The media can write about happy hour prices, as long there is no quid pro quo incentive (this for that).
• A person who is not an employee of a restaurant can electronically broadcast, all day long, about happy hour specials.
• Get a mailing list. Send customers paper correspondence with drink specials.
• Remind customers to post quick reviews on Trip Advisor and Yelp.
• No mention of happy hour through electronic media--social media, websites, answering machines--or in any paid advertising.
• No mention of alcohol specials, whether or not they occur during happy hour.
• No association of food discounts with happy hour.
• No employee can tweet or use social media on behalf of the restaurant. The ABC board will impute their actions on the restaurant, if the connection is made and proven.
• No retweeting someone's tweet about your happy hour.
• No posting happy hour specials on Yelp if you represent the business.
Alix is a Production Assistant at CBS6. She also covers a variety of topics for Richmond.com and encourages you to send your story tips and suggestions to her. You can contact her through her website and Twitter.