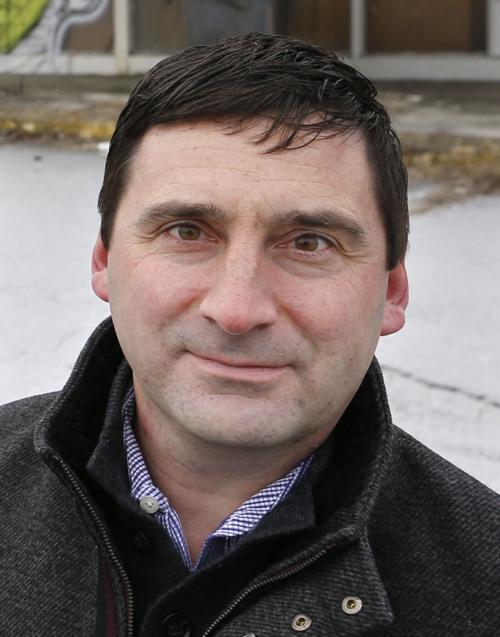 Michael C. Hild, founder and former CEO of the now-defunct Chesterfield County-based Live Well Financial, has been found guilty by a federal jury of five criminal counts in a multimillion-dollar bond fraud scheme.
Hild faces a maximum sentence of 115 years in prison and a maximum fine of $5 million when he is sentenced on Aug. 20 by U.S. District Judge Ronnie Abrams in New York City.
The jury reached its verdict Friday afternoon after deliberating for about half the day.
The guilty verdict culminated the trial in federal court that started April 13 in which federal prosecutors said Hild was the mastermind behind the fraud scheme to "line his own pockets" to the tune of more than $25 million. But Hild denied any wrongdoing when he testified earlier this week on his own behalf.
Hild, 46, was arrested and charged in late August 2019 with the five counts: one count of conspiracy to commit wire and bank fraud, one count of wire fraud and one count of bank fraud (each carries a maximum sentence of 30 years in prison); one count of conspiracy to commit securities fraud (carries a maximum sentence of five years); and one count of securities fraud (carries a maximum sentence of 20 years in prison).
He has remained free on bond since he was arrested in 2019.
Hild's lawyer, Ben Dusing, said Friday afternoon that he and his client "respectfully disagree" with the verdict.
During the trial, federal prosecutors claimed that Hild fraudulently inflated the value of Live Well Financial's portfolio of complex reverse-mortgage bonds from 2015 to 2019 in order to induce various financial institutions into loaning more money to the company by tens of millions of dollars.
"Hild deceived a third-party pricing service by providing it with inflated marks, resulting in the pricing service publishing valuations for the bonds far in excess of market value. Lenders were hoodwinked into lending far more than they otherwise would have," Audrey Strauss, the U.S. attorney for the Southern District of New York, said in a statement.
"The house of cards came crashing down with the unwinding of Live Well and the revelation to lenders that the bond portfolio had been overvalued by $200 million," he said.
The scheme allowed Live Well to grow its bond portfolio from 20 bonds with a value of about $50 million in 2014 to approximately 50 bonds with a value of more than $500 million by the end of 2016. In May 2019, Live Well wrote down the value of its portfolio by over $200 million.
Live Well financed the acquisition and growth of its bond portfolio through a series of loans in which Live Well used its bond portfolio as collateral.
But Hild and his co-conspirators embarked on a scheme to have a pricing service publish valuations for the bonds that far exceeded actual market prices, prosecutors claim. By doing so, lenders extended credit to Live Well in excess of the prices for which the bonds could be sold on the market.
Hild's actions "were ruinous for the lenders, for the employees, and yes, for the defendant himself," Assistant U.S. Attorney Scott Hartman told jurors during closing statements on Thursday.
"Real people lost their jobs. Hundreds of millions of dollars were lost by these lenders. A company was ruined," Hartman said. "Why did he do it? It was all about the money. The defendant pocketed over $25 million from the scheme, and he continued to line his pockets even as the entire company was crumbling around him."
Dusing, with the BGDLaw firm in Fort Wright, Ky., who is a childhood friend of Hild's, told jurors that prosecutors didn't have the evidence to convict his client.
Moreover, Dusing said, the scheme the government alleges makes no sense.
"How do you inflate the market value if there really is no market? How do you jack up a number that doesn't exist? How do you mark it up?" Dusing said. "For the simple reason that allegation does not make sense. There is no market. There was no proof. How can one be guilty of jacking up or inflating a market value when there really is no market?"
Two former Live Well Financial executives also have pleaded guilty to five criminal counts for their part in the scheme.
Eric Rohr, who served as Live Well's chief financial officer from 2008 to late 2018, and Darren Stumberger, the company's former head trader and executive vice president from 2014 until March 2019, cooperated with federal prosecutors during the trial. Both are scheduled to be sentenced this summer.
Hild founded Live Well Financial in April 2005 and served as its CEO until the company abruptly shut down on May 3, 2019, when Live Well laid off its 103 employees, most of whom worked at the company's corporate offices in the Boulders office complex in Chesterfield.
In July 2019, three of the company's creditors sought — and were granted approval by a judge in U.S. Bankruptcy Court in Delaware — a motion to place Live Well into involuntary bankruptcy protection.
Hild also faces five civil charges that were filed by the U.S. Securities and Exchange Commission in late August 2019 when he was charged with the criminal counts. But those civil charges have been put on hold until his criminal case is completed.