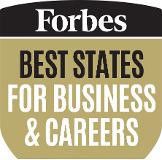 Virginia moved up another spot again on Forbes magazine's rankings for the best state in which to do business.
The state now placed No. 4 in the magazine's 13th annual Best States for Business list, up from No. 5 last year.
The annual list, published this week, had placed Virginia sixth in 2016, seventh in 2015, fourth in 2014 and first place in 2013.
North Carolina was named the Best State for Business for a second year.
"Virginia has a widely diverse economy that includes local and federal government, military, farming and manufacturing," Forbes said. "The state scored a big win in 2018 when e-commerce giant Amazon announced plans to locate one of its new headquarters in Arlington County."
Forbes has rated the business climates of the 50 states annually since 2006, with Virginia finishing five times in the top spot and three times ranking second — from 2006 through 2013. But higher business costs and a declining economic climate have pushed the state lower, Forbes said.
But the state has been on an upswing in recent years.
"We are moving in the right direction," said Barry DuVal, president and CEO of the Virginia Chamber of Commerce.
He said he was encouraged by the state's improvement in the rankings.
"We believe we are on the path to become the best state in which to do business," DuVal said. "Recent improvements in national rankings demonstrate improvement; however, we have much more opportunity to improve over the next several years."
The Forbes list judges states in six categories: business costs, labor supply, regulatory environment, economic climate, growth prospects, and quality of life.
Virginia ranked first for its regulatory climate "because of its strong incentive offerings and business-friendly government policies," Forbes said.
The state also rates first in the quality of life category. It was No. 3 in the labor supply category.
But the state placed No. 28 in business costs and No. 27 in economic climate and No. 16 in growth prospects.
Forbes cited North Carolina's low energy and tax costs as a reason for the top ranking.
"Virginia is going to need to go through the steps of tax conformity and tax reform ... if Virginia is going to get back to being the best state for doing business," Duval said.
Utah was ranked No. 2 this year on the Forbes list, up from third last year. It had been first on the Forbes list six times in seven years between 2010 and 2016.
Texas ranked third this year, falling from No. 2 last year. Nebraska was ranked No. 5.
In July, financial news cable network CNBC ranked Virginia at No. 4 on its annual list of America's Top States for Business.