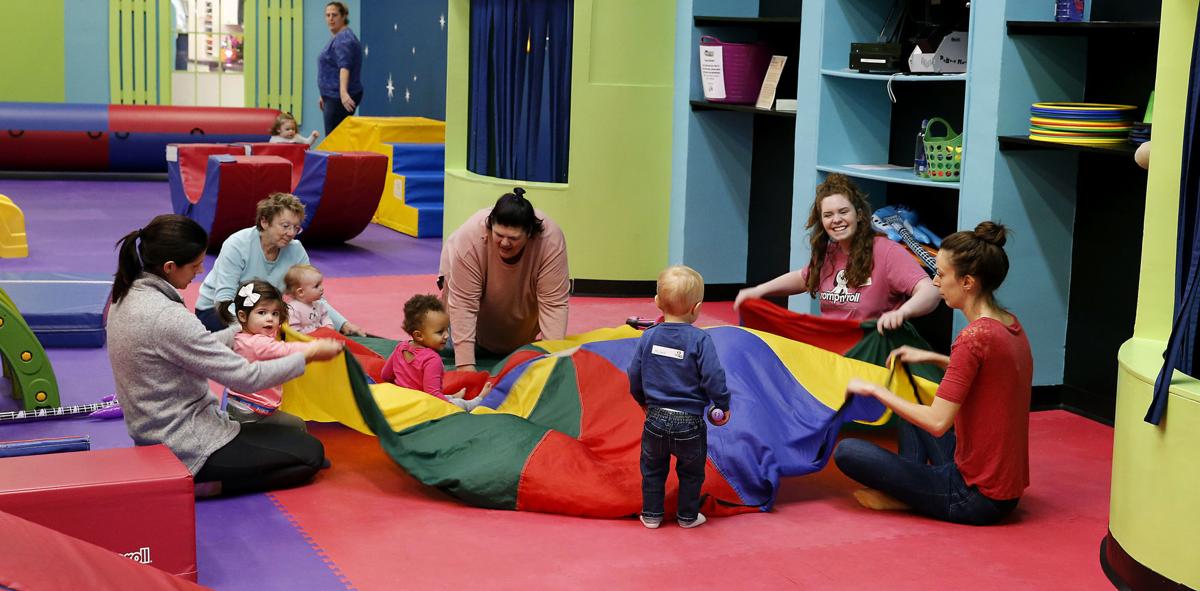 Day care operators in the Richmond region have been grappling with whether to stay open as the coronavirus spread shuttered K-12 schools this week.
Parents have been trying to figure out if their day care providers who normally watch their children are open and whether to send their children there.
Mechanicsville resident Hannah Scarborough said Monday that her son's day care was closed, but her infant daughter's child care was open. Nonetheless, she decided to watch both children at home.
"If schools are closed, day cares should be too or there's no point to all of this," Scarborough said.
The Sprout School at the YWCA Richmond and the St. James's Children's Center on West Franklin Street are closed for two weeks. Others have closed, too.
Some facilities remained open on Tuesday, but child care providers have temporarily closed amid the coronavirus concerns.
On Wednesday, the five Richmond-area locations of LeafSpring School day care facilities will be closed, said Meghan McMahon, Leafspring's director of marketing.
Most of LeafSpring's schools were open on Monday, but by Tuesday afternoon, four of those locations — two in Chesterfield County and two in Henrico County — had closed while a fifth location, in Hanover County, had remained open, according to a LeafSpring webpage that details its response to the COVID-19 concerns.
"We're in contact with parents constantly," McMahon said. "It's definitely unprecedented times here."
LeafSpring facilities have been taking numerous steps in response to the concerns about the coronavirus including increasing the frequency of cleanings at its facilities, she said.
"Child care and day care centers need more guidance from local and state officials on whether to stay open or closed," McMahon wrote in an email. "We want to do everything we can to protect the health and welfare of our communities, but we also want to pay our teachers, be good stewards to our families and keep our centers in business. We're asking our state and local officials to provide specific, actionable guidance to child care and day care centers like ours so we can make the right decisions for our families and our future."
Ms. Babs' Nursery School, which is licensed to provide day care for up to 90 children in the Fan District, closed its doors effective Monday, said Joe Cafarella, the school's owner. "You can't be too safe," Cafarella said, adding that he is still paying the school's 22 employees.
"We are doing above-grade sanitation in the school in preparation for us to reopen when we feel like the peak has passed," Cafarella said.
But the nursery school owner said he's not sure when the school will reopen, adding that the center will be closed at least through this week.
Some local parents have been trying to hash out child care plans as their regular day care arrangements have been upended by the concerns over the virus.
"As a first responder, we do not have the option to call in sick. [We] still rely on these child care facilities offering child care during this time," Josh Pruden with Chesterfield Fire & EMS said in a Facebook post on Monday. "Being that this illness is not targeting kids, I am grateful we have resources out there staying open so critical staff such as hospital employees and first responders have available child care. If you have the option to keep your child home you are fortunate. But for many of us, that is not an option."
Megan Fox, a nurse from Chester who has a 3-year-old, said she and her husband were splitting child care duties. While he works the night shift, Fox said she works during the day, often from home.
"Our day care closed, and I'm happy to comply," Fox said. "My husband and I work opposite hours … so it won't hit us too hard. But I do feel for parents who are scrambling for child care."
Romp n' Roll, the Henrico-based children's gym and play center that caters to children ages 3 months to 5 years, has decided to temporarily shutter locations in the Westpark Shopping Center in Henrico and off Courthouse Road in Chesterfield, said Michael Barnett, the company's co-founder.
The business continues to host activities for the children and their parents or guardians via Facebook Live webcasts.
"We thought that just doing extra cleanings was going to be the right approach," Barnett said. "But then, in the past couple of days it became clear to us that social distancing is what's really needed right now."
The National Association for the Education of Young Children recommends child care centers should close in states and localities where schools are closed, except for the children of "essential personnel" such as emergency responders.
Voices for Virginia's Children, a nonprofit that advocates on children's issues, is asking Virginia officials to issue a statement clarifying what is expected of child care providers, as well as providing guidance and assistance for families serving as "essential personnel" who will need child care to continue doing their jobs.
"I've talked to many people in the child care industry and the parents. They're trying to figure out what to do and make the best decisions during these times," said Emily Griffey, policy director for Voices for Virginia's Children. "They need clear parameters to follow in regards to the pandemic. Such as, you should be closing if you serve this many children and you should be taking the following precautions."
Griffey's group is also asking Congress to provide assistance to child care businesses in case of upcoming long-term financial hardships so that child cares can remain open when families return to work.
"We need an industry bailout [for child care]," Griffey said. "We're looking at a bailout for the airline industry. Why not child care as well? We can't have all the child care providers shutting their doors when families need to go back to work."