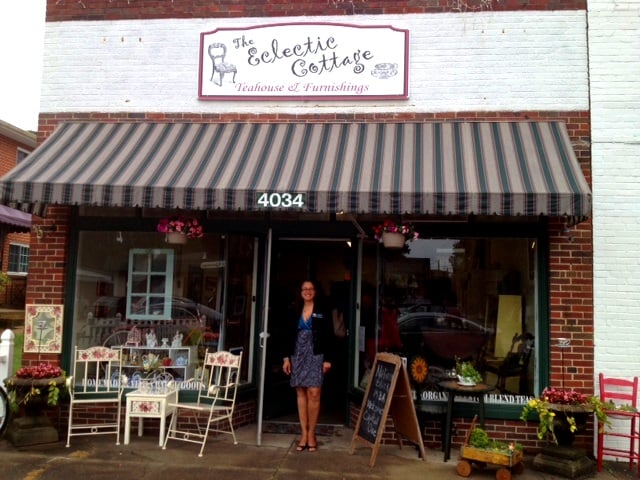 Mesha Mott shared many traditions with her mother, but their favorite pastime was high tea.
From Paris to Istanbul, London to Rome, they never skipped that ritual. Mott is now carrying on the tradition with The Eclectic Cottage, now open in Richmond's Bellevue neighborhood.
While high tea is served only on Saturdays and Sundays, this establishment serves as a laid-back tea shop and antique store during the week.
The spot attracts locals who want a quiet, living room-type setting without the loud music and buzz of a coffee shop.
Here, guests nestle into vintage furniture and sip white ginger apricot tea, as cuckoo clocks tick around them. Shoppers mill about, snatching up vintage jewelry and yard gnomes.
On Saturdays and Sundays, no expense is spared on guests who make reservations for high tea. It's quiche Lorraine and salmon caper crostini, cucumber sandwiches and basil lemon sugar cookies.
And of course, the tea. Guests can choose three different tea blends, mixed by Mesha herself, such as Key Lime Red Robious. I sampled the Mint Chocolate Truffle, which was refreshing.
The menu is something Mott takes seriously. "I'm very picky," she explained. "I have three different bakers, each good at their own thing. One is vegan, another is gluten-free and one makes regular desserts. You cannot tell the difference." She could see my skepticism as she pulled a chocolate raspberry cupcake from the case. "Just try it," she said. Admittedly, it was just as rich and delicious as a regular cupcake, and it was vegan. The gluten-free crumb cake was moist and sweet with cinnamon. "See?" she beamed. "I told you I was picky. And one of my bakers puts fresh herbs in all her desserts." The lavender shortbread is addictive, and melts in your mouth. My favorite dessert was the rum cake, dense with butter and as heavy as lead.
Mott was lured to Richmond from Maryland, after many visits to the Bellevue neighborhood to visit family. "I just love Richmond," she said. "I love to eat at Dot's Back Inn and see the Friday night movies at Once Upon a Vine. I wanted to add to it. Sometimes I put free tea samples out front. Another time, I had musicians playing outside our store!"
In addition to serving high tea, Mesha also sells antiques as a nod to her mother Barbara, an avid antique collector. In fact, most of the things in the store belonged to her. And while Mesha adds to the collection with furnishings and collectibles, at least 30 more boxes of her mother's things have yet to be opened. One can tell from the canary yellow hutch and the fine crystal that Barbara had a taste for the quirky as well as the refined.  Mott pulls a framed photo off of her desk. She points out her mother, tall and refined, wearing a 1960s mod coat. She was classic, yet clearly had her eye on the changing times. The Eclectic Cottage certainly carries on that legacy.