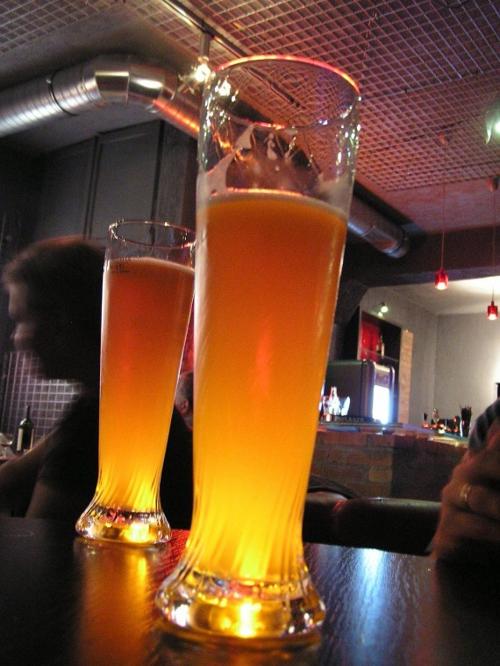 With apologies to Helen Reddy, some things are more important than roaring. Like drinking your beverage of choice despite societal expectations. Like working in an industry that for the past few decades has been dominated by men. Like bellying up to either side of the bar with a sudsy beer in hand.
During this craft beer boom, women are increasingly involved as consumers and professionals.
And when I talk about consuming, I'm not just talking about wimpy fruity beers like Anheuser-Busch and the big boys have tried to shove on us. I'm talking big beers, too, like imperial IPAs with high alcohol and bitterness, bold stouts, potent quadrupels, complex pilsners, pucker-up sours, and many other quality beers poised to tickle our palates.
In fact, when it comes to choosing quality, women as a whole are pickier than men: though only 20 percent of women drink beer (compared to 53 percent of men), women make up 37percent of the craft-beer-drinking community.
 While we like to consume, we still like to pair our beer with socializing. In May 2010, Amy Kramer started the co-ed Richmond Beer Lovers, which has met for more than 175 events, ranging from mystery beer-tasting parties and beer pairing dinners to road trips visiting breweries and festivals. Home brewer Hilary Langford is head of River City Beer Betties, which hosts beer-related meetings in support of local and regional breweries, restaurants and other small businesses.
More recently, RVA Ladies of Lager was created on Meetup.com. The group meets weekly at local restaurants for food, beer and conversation. I joined them for a recent dinner at The Blue Goat and enjoyed the pairing of friendly, female beer enthusiasts with fine food and brews. The most talked-about beers of the evening were DuClaw's Sweet Baby Jesus porter, the Devil's Backbone Vienna Lager and Parkway's Get Bent Mountain IPA.
Within the industry, too, women are becoming more active. Brewing used to be a woman's domain back in Sumerian times and even during the early days of our nation. Of course, that wasn't necessarily all good. I can hear ancient Sumerian warriors now: "A woman's place is in the brew house!" Or, "Do you know why women's feet are shorter than men's? So they can stand closer to the mash tun!"
However, once brewing became more industrialized, men usurped this creative privilege. Now, we're reclaiming our right to brew. James River Homebrewers has a woman president for 2014, Anna Shore. Shore and her husband Ed have been home-brewing for 18 years. Once upon a time, Shore says, she drank Yuengling and Sam Adams, back when those were the available craft beers. She studied for and passed the Beer Judge Certification Program (BJCP) test, which has helped her as a brewer. Shore has seen an increase of women among both drinkers and brewers, and she further hopes that her visible leadership in JRHB will encourage more women to join the group.
Women are making their mark in the industry, too. The Pink Boots Society, a national organization of women in the beer industry, has more than 900 members, up from 404 in August 2010.
In Richmond, the current count of female Certified Cicerone (certified beer experts, like sommeliers for wine) is four. There are 18 Richmond cicerones in all, so women make up nearly a quarter of the total.
As in any industry, there are numerous worthy job titles, and there are numerous reasons for being involved: the product, the passion and the people.
Certified Cicerone Rachael Cardwell of Hardywood Park Craft Brewery holds what may be considered the most prestigious title: brewer. She got her first taste of the greater craft beer world at Capital Ale House, later became a beer buyer, and joined Hardywood in 2011.
Another coveted title is brewery owner, which has been earned by Lisa Pumphrey of Lickinghole Creek Craft Brewery.
Cardwell and Pumphrey and two other Virginia women contributed to one of the best new Richmond beers of 2013: Hoperation Pink (proof that we still embrace our femininity). This India Pale Ale weighs in at 67 IBUs. (IBUs being the hop lovers' beacon of international bitterness units, with Bud Light coming in at 7 and Sierra Nevada Pale Ale at 38.) Brewed with pink grapefruit zest and dry-hopped with citrusy, tropical fruity Citra hops, the grapefruit aroma and finish blend masterfully. (Or should I say mistressfully?) For each barrel of the beer sold, $100 goes to VCU Massey Cancer Center and to other nonprofit organizations that support women's health.
Sarah Kilburn has been working in the industry for four years, helping to get craft beer to the masses. Now district manager for Samuel Adams (a.k.a. Boston Beer Co.) here in Virginia, Kilburn said, "I can't imagine myself doing anything but the beer business."
Kilburn emphasizes that women still face particular challenges in the industry. She recalls that early in her career, a wholesaler said to her, "A man will gain men's respect and credibility sooner than a woman, but once a woman earns it, it will be twice as hard to take it from her." Kilburn has experienced that, but sees the benefit of it as well: "It's a challenge to make sure you do know your business. It's almost motivating to debunk that thought and the way people view you." That motivation and the support of Boston Beer Company explain why she earned her Cicerone certification two years ago.
However, the craft beer industry is about more than just drinking creative, tasty alcoholic beverages. Though there is that.
Hardywood's hospitality manager, cicerone Kerry Anderson, values how her job unites "a dedicated team of creatives with talented individuals representing different parts of our community." Anderson points out how the positive perceptions of craft beer are able to fuse music, art, cuisine, and community culture—as anyone who has spent much time at brewery events can attest.
To embrace a stereotype, women often do like making people happy—and beer makes people happy. Teri Fahrendorf, professional brewer and Pink Boots Society founder, explained that motivation in the 2011 movie on women and beer, "The Love of Beer": "At the end of the day, does what you do make people happy? I used to be a cobalt programmer. At the end of the day, what I did made nobody happy—not even me."
Other Richmond brewbies include Cheyenne Burnham, operations and events coordinator at Strangeways; Shannon Ely, tasting room manager at Lickinghole Creek, eager beer enthusiast and home brewer; and Kate Lee, who recently made the move from Anheuser-Busch InBev in Williamsburg to Hardywood Park's director of quality assurance. And then there are the numerous knowledgeable beer buyers, bartenders, brewery employees, distributors and servers around town. Not to mention this Richmond writer who enjoys researching and writing about ales and lagers.
Yes, we've come a long way, baby. But still, I must admit: I do love it when a server comes to take my drink order and begins spouting off the wines that may interest me. My innocent smile and my order for the high ABV hoppy ale can debunk another stereotype.