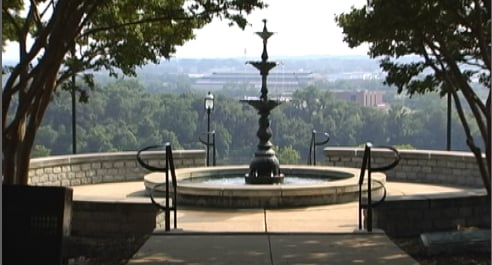 Richmond. There are more than 100 neighborhoods folded into the city; pockets of turf grown rich throughout the years and shaped by the culture and politics of passing time.
We would like to launch our neighborhood series with Church Hill, the oldest neighborhood in Richmond. Indeed, most of the River City is old and historic. But each has its own story.
We will be exploring and reporting back on the distinct character of Richmond's prominent neighborhoods. We'll bring you a multimedia showcase that will maybe inspire you to go on an adventure, to relocate --or just simply be more informed about your own 'hood, and city.
The first neighborhood in Richmond
Church Hill overlooks the city from its lofty perch (one of the highest in the city) in the East End. The district draws its name from St. John's Episcopal Church, which was built in 1742, by the founder of the city, William Byrd II. Believe it or not, you can find him on Facebook.
Byrd named our city because the view of the James from Libby Hill so closely resembled the English version known as Richmond Hill, which adorns the banks of the Thames River.
Church Hill is the name used to describe both the specific St. John's historic district and the general area of the East End which encompasses other neighborhoods, such as Chimborazo, Fairmount, Peter Paul, Union Hill and Woodville.
According to the National Park Service, in the 18th century a man known as Dr. Richard Adams owned most of the property in the area so it was known "interchangeably as Adams, Church, or Richmond Hill."
Most homes are pre Civil-War. Greek Revival was the area's first style of architecture after colonial, and is visible in the design of row-housing with columns. Also adding to the neighborhood's appearance are the Italianate and Queen Anne architecture styles. A stroll down the streets reveals row housing, townhouses, ornate wood porches, lavish scroll-work, and facades with combinations of stone and brick.
Having a head start on the rest of Richmond, development was mostly complete by the 1900's. By the 1950's the area was in a state of decay, which, despite official preservation efforts, did not begin to shift course until building rehabilitation started in the 1970's. Gentrification began in the 1980's but after 2001 introduced even more new homeowners into the area, and several new businesses.
Boundaries
The Church Hill district is bounded by 32nd Street to the east, M. Street to the north, 21st Street to the west, and Franklin Street and Williamsburg Road to the south. Other adjacent neighborhoods often referred to as Church Hill are: Chimborazo, Fairmount, Peter Paul, Union Hill and Woodville. The zip code for this area is 23223.
Recreation
(Day)
There are four parks in close proximity to Churchill: Patrick Henry, Libby Hill, Jefferson, and Chimborazo.
The geography allows for spectacular sunsets, some say the best is viewed from Libby Hill, which also affords a view of the James River.
Chimborazo Park provides a 180' view of the city and boasts 30-acres for recreation. A gazebo can be rented for weddings and events.
Chimborazo features two dog parks, one each for small and large dogs.
Also home to the "hospital on the hill," a former Civil-War hospital is open to the public as a museum.
(Night)
Just down the hill in Shockoe Bottom/Slip, are numerous nightclubs.
Hill Café
Patrick Henry Pub
Alamo BBQ
It Must Be Heaven
Pies, Fries, and Franks
Roosevelt, soon to open
For complete list, hours and location visit Richmond.com/restaurants-food
Coffeshops
Globehopper is technically within the Shockoe Bottom neighborhood but is frequented by those in Church Hill area.
Landmarks
Confederate Soldiers and Sailors monument in Libby Hill Park, by city engineer Wilfred Cutshaw in 1894.
The old WRVA studio by Phillip Johnson at 21st and Grace Streets is considered a Modernist landmark from 1970 and offers amazing sunset views.
Trivia
A miniature replica of the Statue of Liberty can be found in Chimborazo Park. The Boy Scouts of America dedicated the replica in 1950 "as a pledge of everlasting fidelity and loyalty to the United States of America."
A train, and the bones and souls of many are sealed within the Church Hill tunnel, a 4,000 foot tunnel built by the C & O railroad. Plagued with problems from the beginning of its construction, the tunnel has been called a "mankiller."
In 1925 the tunnel tragically collapsed on the train inside. Two workmen were killed and two others never found. One urban legend is that there were passengers on board. Another is that after the wreck the Richmond vampire emerged from the tunnel and ran to a mausoleum bearing the name W.W. Pool in Hollywood Cemetery.
Community
Robinson Street Theater is a renovated theater that offers arts-based programs with intent to restore healthy community. They also feature movies. Available for rental.
Tricycle Gardens host community gardens, urban farms, and learning gardens. They offer two plots for rental in Church Hill.
Peter Paul Development Center is an outreach and community center that serves Church Hill neighborhoods.
Storefront for Community Design is a non-profit that offers design and building consultation. First hour is free, the rest is pro-rated based on need.
Church Hill Activites and Tutoring (CHAT): Their mission is to create and sustain intentional communities that are dedicated to transforming the lives of at-risk youth in Church Hill.
Convenience/Quality of Life
Limited supermarkets, the main one is known as the Market, located in Shockoe Bottom. There are numerous corner store markets, with limited selection and higher prices.
The closest Farmer's Market is the 17th Street Farmer's Market, also the oldest market in Richmond.
Six different bus routes service Church Hill.
Popular festival
Churchill Irish Festival: A 25 year old tradition.
Real Estate
Would you like to buy? Listings on Zillow range from $42,000-$250,000. Homes on Broad Street and to the north of Broad typically list at higher prices.
Renting is considered less expensive in this part of Richmond, although it is on the rise due to renovations and influx of MCV students.
Larger residences allow for multiple roommates to share costs.
Crime
Church Hill is in the First Precinct. Officers for Sectors 111, 112, and 113 publish monthly newsletters.
Some sections are considered safer than others.
Church Hill has been called the 10th Most Dangerous Neighborhood in America, although data included stats from surrounding neighborhoods and the research methods used are dubious.
For more reading:
St. John's Church will be eternally bound to the famous words of Patrick Henry, who shouted, "Give Me Liberty or Give Me Death," from within its walls.
In the same spirit, Churchill lives on, a neighborhood, a monument a top the hill, often unexplored, usually driven past on the interstate, yet it's home to the stories of our rise into a city.