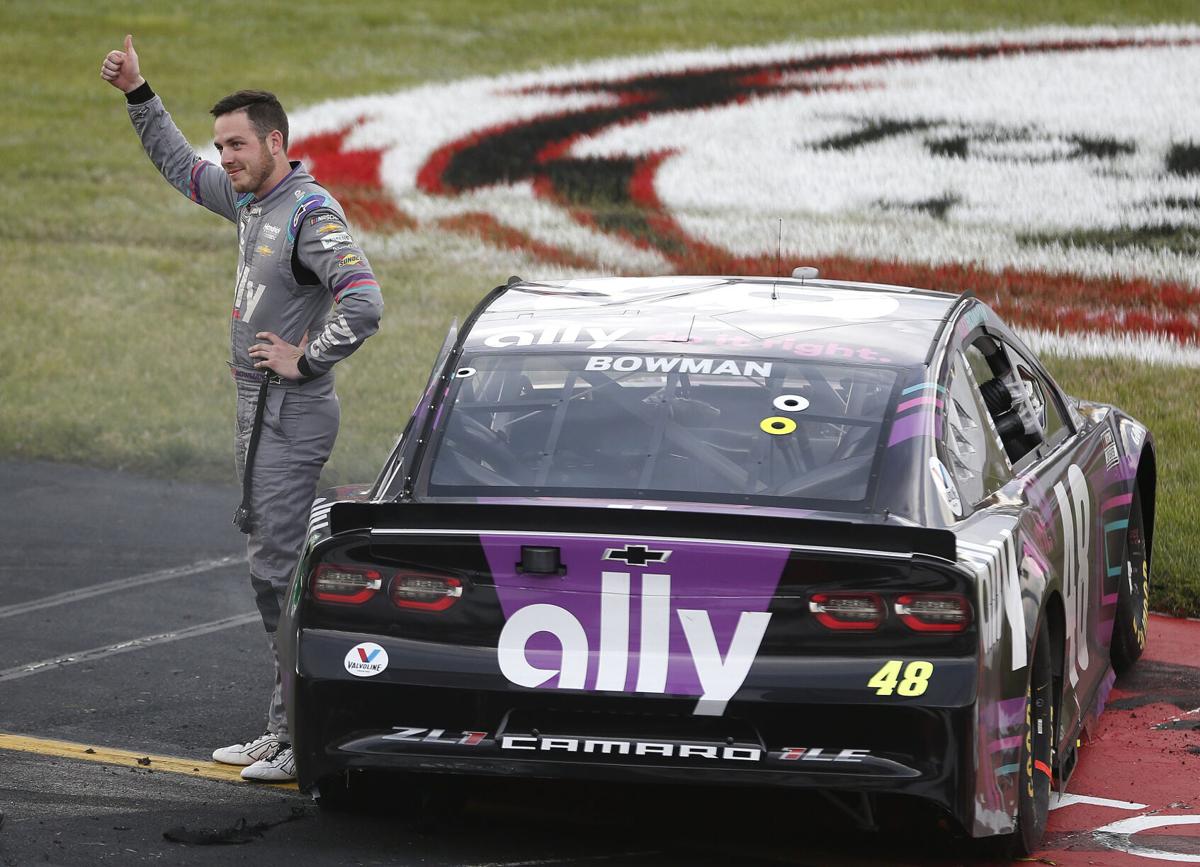 RICHMOND -- A race that was dominated by long green-flag runs and Denny Hamlin was turned on its head in the closing laps, when Alex Bowman swooped past the Chesterfield native on the final restart of Sunday afternoon's Toyota Owners 400 and held the point to earn his third career NASCAR Cup Series win, his first of the season, his first at Richmond Raceway, his first with the No. 48 on the sides and the roof, and the first for his sponsor Ally Financial.
It was an emotional win for Bowman, who dedicated it to William "Rowdy" Harrell and his family. Rowdy, who was a tire carrier on Bowman's pit crew, was killed in an automobile accident along with his wife Blakley in the Florida Keys on their honeymoon in November 2020.
"I miss him and Blakley every day," Bowman said in his televised postrace interview. "It means the world to be able to win for Ally, and it's definitely emotional obviously with how hard the offseason was on us. Appreciative for the opportunity, and we've got more races to win this year."
In his postrace conference, Bowman said that "Rowdy was that big, outgoing personality that really kept the group pumped up in any situation, really held us all together. He was always happy, no matter what the circumstance was.
"He meant a ton to our race team," Bowman said. "He's probably the first guy when I filled in in the 88 back in the day to really make me feel super welcome, feel like he had my back. He was just a huge part of our team."
In Sunday's race, Bowman, rebounded from a lap-240 pit road penalty for an uncontrolled tire and got the shot at the lead he needed when Kevin Harvick cut a tire and spun rear-first into the Turn 1 wall, bringing out the caution – only the second for an incident in Sunday's race – with 20 to go.
Hamlin at the time was trailing Joey Logano when the caution came out, and for the third time that day, his pit crew elevated him from second place to first.
But Bowman, who restarted in third in the inside lane following the pit stop, quickly worked his way to the bottom of Hamlin and cleared him for the lead with 10 to go.
"We took off. My strong suit all day was being able to get into the corner really deep. I was able to get in deep, (beside) Denny," Bowman said. "I knew I had the preferred lane, could probably clear him. I kind of figured he would get right back to me and be faster than us."
"We just didn't take off very good there," Hamlin said. "Definitely was worse when our car took off after (the) restart. The 48 had his tires pumped up, he was able to take off there, get the lead, build a lead big enough I didn't have enough time to get back to him.
Bowman became the season's eighth different winner in the first nine races, as well as the third different Hendrick Motorsports driver to reach victory lane along with William Byron at Homestead and Kyle Larson at Las Vegas. The only Hendrick driver who has not yet won this season is Chase Elliott, the defending Cup Series champion.
Hamlin, who swept both stages and led 207 of 400 laps, finished second for his eighth top five this season and kept hold of the points lead. But despite his dominant performances this season, he's still searching for his first win of 2021.
"It's frustrating for sure, but honestly I'd rather be where I am than Alex Bowman. I don't care that he's got a win. We're smashing everyone," Hamlin said. "I'd still rather be where I'm at."
He added: "It doesn't change my attitude or work ethic. I'm going to work just as hard to win next week and the week after that," Hamlin said. "I've just got to digest it and look at it and see where we could've been a little bit better, but ultimately there's nothing I can do. My effort was as high as it could be. There's nothing that's glaring that I feel I could or should have done different, but maybe there is. I'll go back and look at it and figure it out. It just seemed like the No. 48 had it gripped up there for a couple of laps."
Hamlin's pit crew had also helped him overtake his Joe Gibbs Racing teammate Martin Truex Jr. on each of the first two stages, with Hamlin going on to win both.
Logano passed Hamlin with 66 laps to go, but lost the lead on the final pit stop and slipped back to third.
Hamlin's JGR teammate Christopher Bell finished fourth and Truex, who led 107 laps on Sunday, rebounded from a pit road penalty in the final stage to take fifth.
Aric Almirola, who had yet to finish in the top 10 this season, put together to a strong race to finish sixth. Byron, Kyle Busch, Matt DiBenedetto and Austin Dillon rounded out the top 10. Busch, who like Bowman and Truex rebounded from a late-race pit road penalty, ensured that all four JGR Toyotas finished in the top eight.
The first caution for an incident came out in the second stage when Austin Cindric, who was coming off of pit road and found himself in a three-wide race with Kyle Larson on his inside and Ryan Newman up top, got into Newman and spun him out going into Turn 3.
Out of 38 racecars entered, 37 finished Sunday's race.
This was the first Cup race since September 2019 that Richmond Raceway had fans at the track for the race.
"Glad that some fans were able to come back. I knew Richmond put some good equity in this racetrack to help make it a great fan experience," Hamlin said. "Hopefully we'll have them back in the infield here soon."
The NASCAR Cup Series will next head to Talladega Superspeedway for the GEICO 500 on Sunday, April 25, at 2 p.m. The race will air on FOX.
--Out of this year's eight different winners, five won at least one race in 2020. The four winningest drivers last year - Kevin Harvick, Denny Hamlin, Chase Elliott and Brad Keselowski - have yet to win this year.
---If Hamlin wins again, it will be his 45th Cup Series career win, and he will move into 18th by himself on the all-time wins list. He's currently tied with Bill Elliott at 44 wins each.
---Alex Bowman's win not only gave the No. 48 its first win since Jimmie Johnson earned his last Cup Series win at Dover on June 4, 2017. This was also Ally Financial's first-ever win as a sponsor in the Cup Series, and it was the first time Chevrolet had won at Richmond since 2017 with Kyle Larson. It was Hendrick Motorsports' first victory at Richmond Raceway since Jimmie Johnson won there in 2008.
---Seven different drivers have won the last eight races at Talladega Superspeedway. Ryan Blaney won back-to-back races at the 2.66-mile oval by inches over Ryan Newman in Oct. 19 and again over Ricky Stenhouse Jr. in June 2020. Hamlin won this past fall race at Talladega. The winningest active driver at the superspeedway is Brad Keselowski with five wins.