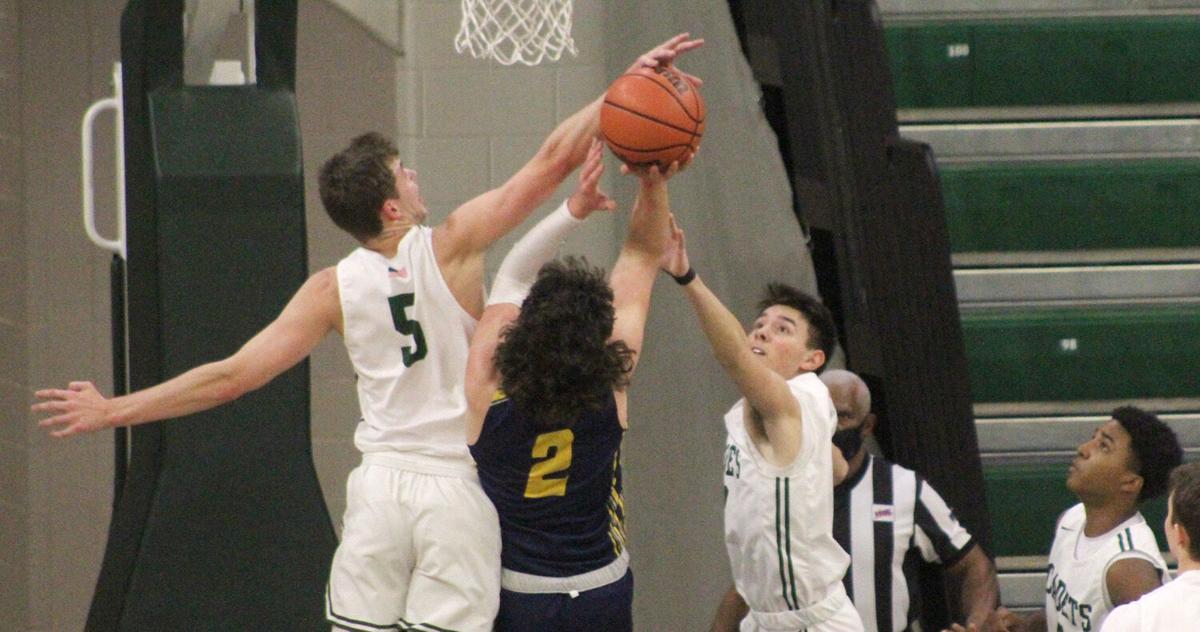 GOOCHLAND - Fending off Richmond Spirit's steady rally by taking care of the basketball in the closing stretch and getting game-clinching plays from junior Anthony Fisher and senior Whit Williams, Benedictine won Thursday's home game 70-63 over the Warhawks to earn its third straight victory and improve to 6-4.
"We're playing with more confidence, we're playing with more discipline, we're playing with more of everything," said Benedictine head coach Mark Royster. "It's paid off. It'd be great…if we could've gotten a full schedule in this year, but with what we've got in 10 games – couldn't be any happier."
The Cadets' depth was on display in Thursday's home win as 10 different players scored, and five netted 8 or more points with three reaching double digits. Williams led the team with 15 and was followed by Fisher and senior Jackson Cray with 11 each. Senior Cody Herman added 9 and Hudson Williams chipped in 8. Cray knocked down three 3-pointers and Hudson made two shots from behind the arc.
The second quarter ultimately proved huge for the Cadets as they took back the lead at 17-15 on two points from Fisher at the line and never gave it back from there. Fisher's free throws kickstarted a 12-0 run for his team, and Benedictine led by as much as 19. Pressure and steals from players including Whitfield enabled the Cadets to string together quick drives to the basket that helped them balloon their lead.
Richmond Spirit, however, hit on a 9-0 run across the second and third quarters and added a 9-2 surge later in the third to tighten the Cadets' lead to 53-47. Hudson had an exclamation mark of a response when he put-back a 3 to close out the quarter, and his Benedictine teammate Jackson Cray kept up the momentum by knocking two big 3's early in the fourth.
But the Warhawks unleashed another 9-0 burst, whittling the Cadets' advantage all the way down to 3 with 3:09 remaining.
That made it back-to-back games, Royster noted, in which Benedictine had a double-digit lead only to see it get cut down in the last three or four minutes to one possession that would either tie it or allow the other team to take the lead on the next basket.
"We get out in the lead and…they do really good playing defense to get us there, and then they just get a little complacent on offense and shooting shots that maybe we shouldn't shoot, not as open, and then we miss a couple layups; it just kind of mushrooms into allowing a team to come back," Royster said, adding of the Warhawks: "They only had one team foul, so they could be a little aggressive with 4 minutes to go; they could bang you a little bit and they got a couple of steals off of it, but (with) Anthony handling the ball and Cody and Jeb (Cray) handling the ball, we have three guys who can handle the ball and make free throws, so we can spread them out."
After the two teams traded buckets to boost the overall score to 66-63 with 1:16 left, Benedictine went to work in spreading the floor and weaving the ball back and forth to one another, taking fouls from the visitors and even backing up into the defensive end to tick seconds off the clock and keep the ball out of their opponents' hands.
As the fouls continued to crop up, Williams got sent to the free-throw line for a 1-and-1 call.
He made both shots, and that made it a two-possession game with 45.3 seconds to play.
Fisher then put into motion the play that put it away, when he nabbed a steal from Richmond Spirit and broke away for the driving layup attempt.
His initial shot missed, but Williams made sure it went through on the putback.
Kris Tiller (5 points), Patrick Larkin (4), Walter Daniels (3), Steven Lord (2) and Jeb Cray (2) all contributed to the Cadets' efforts on offense on Thursday.
After playing all 10 of their games to date in their brand new home gymnasium, the McMurtrie-Reynolds Pavilion, the Cadets are now hitting the road to face teams they've played earlier this season. They'll start by playing at St. John Paul the Great on Feb. 18 at 6 p.m.
"We've got two on the road, those will be our first two (away games); they're itching to wear the green uniforms because they do look good," Royster said with a chuckle, adding: "I'm looking forward to coaching on the road…we haven't left the confines of this facility since the beginning of the season, so that's Nov. 30 to Feb. 11. That's a long homestand."
But the Cadets won't be going into unfamiliar territory, as they've been to their upcoming opponents' gyms in the past.
"It's not going to be something unusual for them to be in those gyms," Royster said.
Benedictine's first road game was actually supposed to be today's game against Richmond Spirit, and it was supposed to be held at Goodwill Baptist Church in Henrico. But the game got moved to Benedictine's campus the day of due to the pending forecast of snow, which began to fall shortly before the game started.
"It was really nice that they could come over," Royster said of Richmond Spirit.
Walker Edwards led the Warhawks with 16 points. Sincere Moore netted 14.