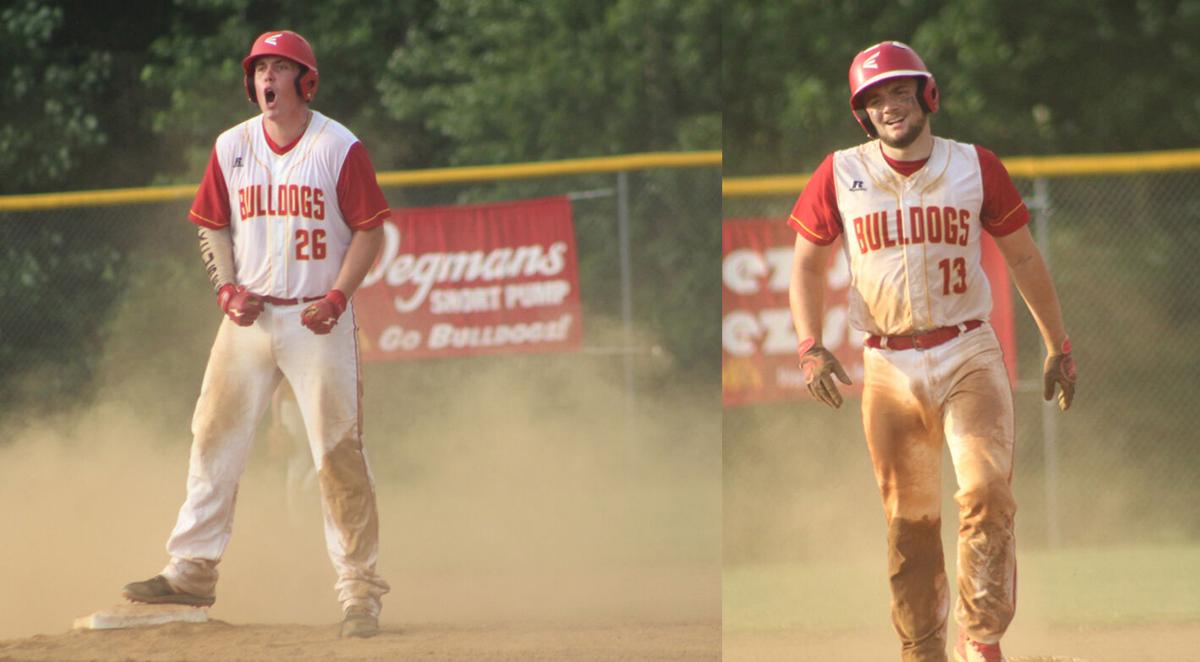 GOOCHLAND – Lockdown defense in both the middle innings and the top of the eighth – as well as a clutch 3-run rally in the sixth at the plate – paved the way for Goochland's varsity baseball team to walk-off 4-3 over Amelia in its regular-season finale.
"That was a good one," said Goochland head coach Wes Farkas. "It's what we needed – kind of backing into the playoffs a little bit, but getting that win tonight, that was crucial for our guys."
The triumph marked a major turnaround from the Bulldogs' 11-1 setback to Amelia earlier in the season, and it also helped ensure that they would host the first round of regionals this coming Monday at Goochland High School.
"It felt really good to come out here, get this win – we needed it. We needed that home-game playoff game coming up on Monday; especially coming from all of our seniors, we really wanted a home playoff game,," said Goochland senior Travis Lestyk, who walked in the game-winning run in the bottom of the eighth. "This was definitely a collective team effort, and I honestly couldn't be any more proud of this team tonight, especially in the later innings."
Two key runners reached base for the Bulldogs in the sixth. Sophomore John Summitt safely made it to first when the third baseman briefly bobbled the ball before making the throw, and the officials ruled that the first baseman was off the bag when making the catch.
Facing two outs, senior Chris White took a walk, and then senior Ayden Doczi stepped up to bat.
Seeing a fastball that the pitcher left up, the future VMI football player smashed the 2-2, 2-out pitch in a towering trajectory that carried the ball all the way up to the left-field fence, bringing home both Summitt and White and tying the game at 2-2.
"I realized it just needed to happen – we were down 2-0, and we needed something to happen to get some life in the team," Doczi said of his game-tying double.
"We got runners in scoring position, that was a must-have kind of hit, and he stepped up," Farkas said. "That's what you want: a clutch hitter, and he came through for us there."
Doczi added of the approach in that kind of situation: "Definitely keep your head level…it's required, and I know that, here and there, it kind of leaves everyone – you get a little too high, a little too low – but you want to ride that roller coaster as even as possible, and, honestly, I've been taught: sit on a fastball, adjust to anything else, and he gave me a fastball I was able to hit."
Following Doczi, catcher Lestyk slammed a groundball up through the middle and into center field. Lestyk would ultimately be called out on his attempt to extend his trip on the hit to second base...
...but not before senior Corey Vincent, the courtesy runner for Doczi, scored from second to give the Bulldogs their first lead of the day.
"Corey, he ran the bases well, he did his job," Lestyk said, "and he got us up."
Amelia would respond in the top of the seventh, scoring on a sacrifice fly and ultimately forcing the game to go extra innings.
But Goochland answered in the bottom of the eighth. Sophomore Mason Gregory smacked a line-drive single into right-center, Will Stratton bunted and reached first as the ball deflected off of the first baseman's glove following an Amelia infielder's throw, and White loaded the bases on an infield hit.
After the Raiders registered one out, Lestyk stepped back up to the plate. He waited through three balls and three strikes, including a foul ball he hit to keep his at-bat alive on the full count, before he watched the decisive 3-2 pitch sail below the zone.
He took his base on ball no. 4 to drive in Gregory for the walk-off run and the win.
"As everybody on this team knows, I haven't always been the most patient at the plate, but it has most definitely been something that I've been working on, and it definitely paid off tonight when we needed it the most," Lestyk said. "I couldn't be any happier tonight with it."
"Travis has been one of our more disciplined hitters all season – he leads the team in quality at-bats – so he's kind of a guy you want up there to make a pitcher work for that," Farkas said. "He did what he's been doing all year, so that was good. He was definitely selective at the end. Obviously you'd love to have a walk-off hit, but a walk-off is still a walk-off for us…a win is a win, and we'll take that momentum going into the playoffs next week."
Lestyk and Doczi finished the game with 2 RBI apiece. White batted 2 for 3 and scored a run.
While the Bulldogs' defense gave up 2 unearned runs across the first two innings, it made heads-up plays throughout the game and persevered in trouble spots. Doczi caught a flyout in foul territory in the third inning, and Summitt followed up Doczi's play with a high-reaching, leaping catch to snatch a flyball in shallow left field. Senior Andrew Jones turned a flyout into his glove at third base into a double play in the fourth inning when he forced out an Amelia base runner – who had too big of a lead off of first base to tag back up – on the throw to Doczi.
Goochland's starting pitcher A.J. Condrey, a sophomore, struck out five batters, scattered three walks and two hits in five innings on the mound and kept his ERA for the game at 0.00.
"A.J. pitched really well, we kind of gave away those first two runs – we have one where we throw it into the outfield, the other one, it's a hit batter, they ultimately score…and then we kind of settled in," Farkas said. "A.J. pitched well, he had solid defense behind him, and Chris, once he got settled in, he threw well, too. Again, defense came up big for us."
White fanned four batters and allowed three walks, one earned run and no hits in his three innings of work. He also held a potential third run for Amelia at third base by getting the next two batters to swing for strikeouts and pull his team out of the top of the sixth.
The Bulldogs delivered a lights-out top of the eighth inning against Amelia's batters. White fanned two – one looking, one swinging – and Riley Hite hustled to a groundball to rifle the 6-3 throw to first in a three-up, three-down half-inning that set up Goochland's game-winning efforts in the bottom of the frame.
The Bulldogs ended their final regular season as a member of the James River District with a winning record of 6-5. But the experience of playing in the district this year could prove key to their successes in the regional tournament, which will feature several unfamiliar teams as this will be Goochland's spring teams' first time playing in the Class 3, Region B playoffs.
"I feel like the James River District this year was pretty even across the board – any given night, we had to really kind of struggle to get a win in most nights – that's good; competition level's good for us," Farkas said, "and hopefully that'll prepare us."
Goochland will host the first round of the regional tournament on Monday, June 14, at 6 p.m.