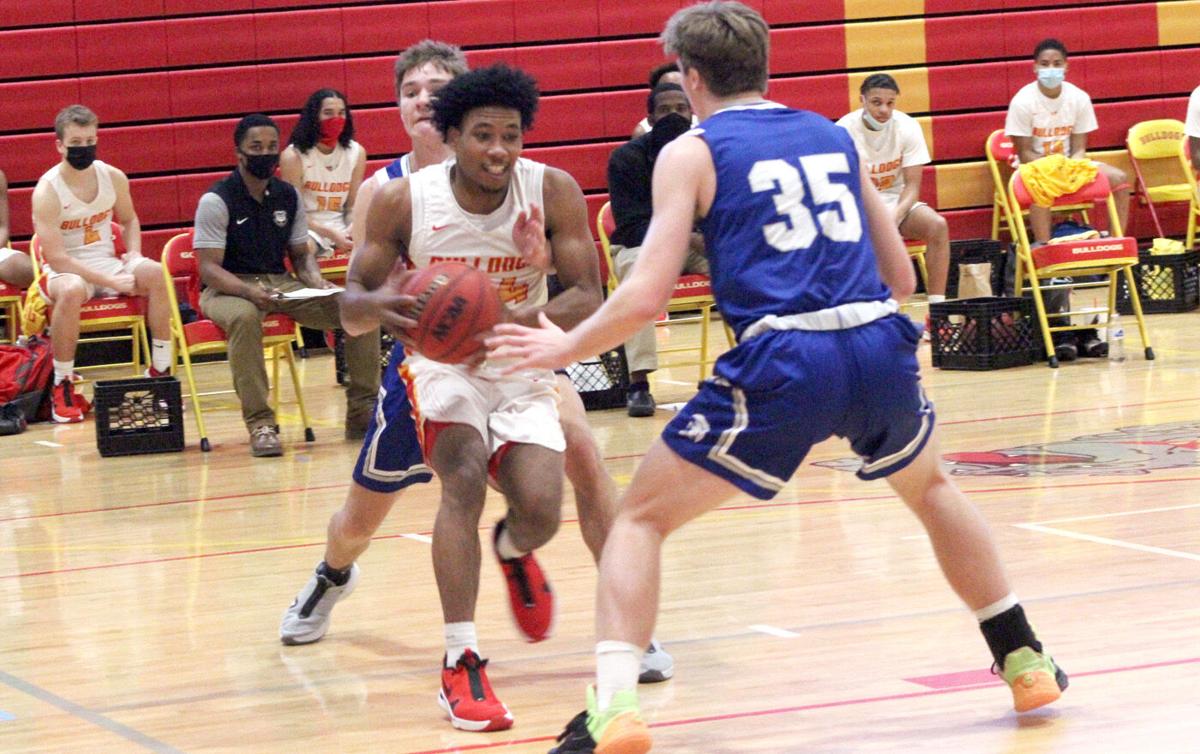 GOOCHLAND - For head coach Preston Gordon and his Goochland Bulldogs, the season already became a success the week before when they played their first game, and on the Virginia High School League's opening day for winter sports, no less.
But on Tuesday, getting their first season win was huge.
"It's huge for our community. It's a step in the right direction," Gordon said. "Obviously we're already going in the right direction, but just it's…a little bit more pride that we can have."
Goochland caught fire behind strong defense and hot outside shooting to deny New Kent 60-47 and improve to 1-1 following last week's loss to Fluvanna.
"I'm really proud of the way our guys bounced back. I thought we did a much better job defensively," said Gordon, who also added: "I felt our chemistry was a lot better."
Seniors Kameron Holman, Jack Hoffler and Kyle Goff led Goochland in scoring with 21, 17 and 11 points, respectively. Holman and Goff each knocked down three 3-pointers, and Hoffler hit two, including one with a defender in his face in the third quarter.
Defensively, the Bulldogs mixed it up a little more, and despite going up against taller and bigger players from the Trojans, they hauled in 34 rebounds, with Hoffler getting nine and Holman eight. Omarion Quarles, De'Andre Robinson, senior Reid Dameron and Derek Pierce, the latter of whom created havoc in the top of the zone, all contributed to Goochland's defensive stand.
"We definitely had to box out – just hold them off the glass," said Holman, who added four steals. Goff had three.
Goochland's top two scorers were also the team's leaders in assists on Tuesday, as Holman and Hoffler each had four.
"I was proud of Kam and Jack – I thought they did a great job attacking the rim," Gordon said.
At the top of the third quarter, New Kent parlayed takeaways into a 9-0 run to tighten Goochland's lead to 3 points, but the Bulldogs, their coach said, didn't fold.
The Trojans stayed in the hunt through the first few minutes of the fourth, but then Holman knocked down a three-pointer with a defender in front of him to spark a massive run that lifted the Bulldogs into a 15-point lead with 2:05 to play.
"That was big shot; it definitely gave us some momentum, then that got other guys into the game...and they started making shots, too," Holman said. "We all just feed off of each other."
That run also included 3s from his fellow seniors Hoffler and Goff.
With their stops transitioning to buckets, Holman added that they started to get into more sets on offense, getting them more open looks, and that they had less turnovers.
The Bulldogs were strong once more from the free-throw line, making 11 of 14 total chances, although Gordon felt that, in the first half, they settled for some of their shots. While Gordon added that the Bulldogs did hit some good shots, he told the players at halftime that they needed to be more aggressive offensively.
"I thought that was a good adjustment that our guys made," he said.
Taking better care of the basketball, both Holman and Gordon noted, is something that the Bulldogs will continue to address going forward.
"One of the things that I knew that we had to do a really good job of is getting back in transition," Gordon added. "In that third quarter, there were some times that we didn't get back into transition, and that's something we still have to work on…we played teams in the past that pushed the ball really well in transition, and so that was one of the things we focused on. We did a decent job. I think we can do a better job consistently for four quarters.
But he added: "Overall, I was proud of our guys…it's a good win for us to get started in this crazy year right now...the changes that we made from the first game to the second game were huge."
Goochland next hosts Richmond Spirit on Wednesday, Jan. 6 at 7 p.m. at Goochland High School.