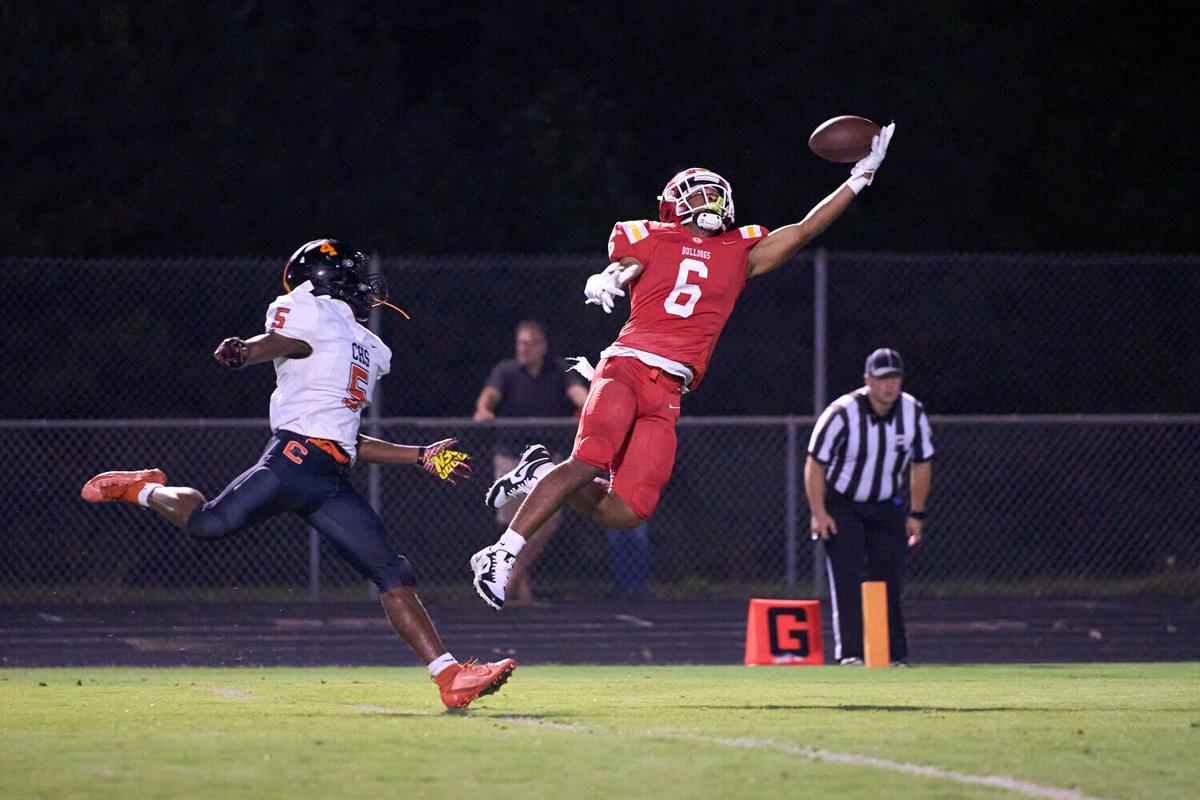 GOOCHLAND -- The Bulldogs' relentless defense continued, if not epitomized, its standout play in Friday's Homecoming game versus Charlottesville. The stalwart unit forced five turnovers – three on fumbles, two on interceptions – and scored not one, but two safeties in addition to a touchdown on a fumble return in Goochland's 25-6 rout of the visiting Black Knights.
"Defense has played lights out," said Goochland head coach Alex Fruth. "They did a great job up front, in the secondary – the whole nine yards."
The Bulldogs held Charlottesville to 143 total yards of offense (120 rushing, 23 passing).
De'Andre Robinson was in on five tackles, recovered a fumble and scored the team's first safety to make it 9-0 in the first quarter.
Enrique Alvarez also continued to shine up front as he was in on six tackles, including two for loss, and scored the team's second safety in the fourth.
The versatile C.J. Towles once again scored from both sides of the ball. At quarterback, he threw a 29-yard scoring strike to Jason Woodson to help Goochland lead 16-0 in the second quarter. Towles at defensive back helped bolster his team's lead to 23-0 in the third quarter when he recovered a fumble and took it to the house for his second touchdown on the night. He also caught an interception.
Deontae Quarles recorded six tackles, including two for loss, and linebacker Corey Mullins, whom Fruth said was "everywhere," dished out five tackles, including two for loss. Carter Payne was also in on five tackles.
J.D. Mills caught an interception, and Justin Morton recovered a fumble. Derek Pierce and Eyan Pace also contributed to a secondary that helped hold Charlottesville to 2 of 11 passing.
Goochland's defense gave the offensive unit a short field to work with on its first touchdown drive of the night. Running back Gabe Liptak put the Bulldogs on the scoreboard with a 4-yard touchdown run in the first quarter.
Tyler Black kicked 3 of 3 PATs and sent two of his four kickoffs into the end zone for touchbacks.
Black also excelled at punting. He pinned Charlottesville inside the 20 prior to Goochland's first scoring drive of the game and consistently forced Charlottesville's offense to march the long field, thus leading to the two safeties.
"His foot has been a blessing on the punt side," Fruth said of Black while adding: "Between our punt team and our defense, we looked really good in those aspects of the game."
The Bulldogs (4-2) have earned back-to-back wins going into their next matchup. They will play at Monticello High School this Friday at 7 p.m.