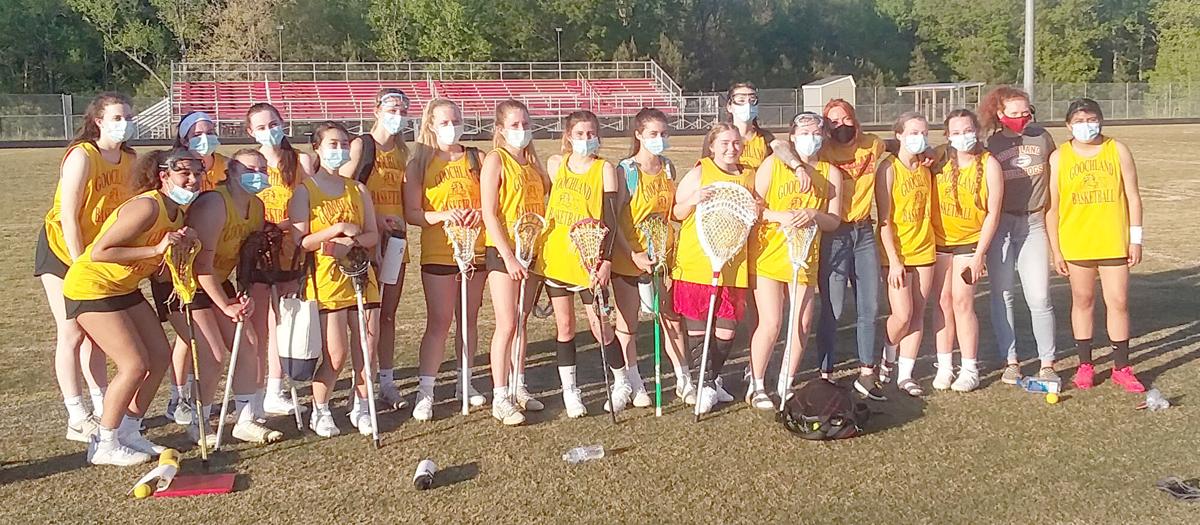 "To be able to get four goals your first game is very impressive. I couldn't have asked for a better first game for us this season." - Goochland head lacrosse coach Lydia James 
GOOCHLAND – Megan Painter played lacrosse when she was attending middle school in Powhatan for two semesters. When she moved to Goochland, her new school didn't have a lacrosse program, but she raised the question: "Can we start one?"
She reached out to Goochland's Athletic Director Joe Fowler to find out how they could get the team started, and with a meeting one morning before school, the process to build the team began, and Painter started reaching out to find prospective players.
Lydia James, who is from Gettysburg, Pennsylvania and had coached lacrosse for five years back home, saw an advertisement in the newspaper, and one of her friend's dads had said they were talking about something with the coach. When she moved to the area, James knew that lacrosse was something she couldn't give up. She reached out, and from that point on, James and Painter worked together on getting Goochland's girls' lacrosse team started.
The team was able to get in two weeks of practice, but in March of 2020, the onset of the COVID-19 pandemic led to a nationwide shutdown and the cancellation of spring sports.
That didn't deter them. Over the course of this past year, the seven players who had started with James continued their preparation and kept putting in the work. They reached out to their friends, and eventually, the first-ever Bulldogs' varsity lacrosse team grew to 19 players.
Because of the pandemic and the way that the Virginia High School League athletic seasons were subsequently reshuffled and condensed for this school year, Goochland's new team only had two weeks to practice before its first game. One half of the team was brand new, and while the other half had been practicing stick skills, James said they had learned the game this past week.
But when they faced Fuqua on the field in their first-ever lacrosse game together, the Goochland Bulldogs were able to put together what they learned and score four goals in their debut.
In the scorebook, the game was a 14-4 win for Fuqua, but to James, it was the best first game she could've asked for.
"I think that they did an incredible job," James said of her players. "To be able to get four goals your first game is very impressive. I couldn't have asked for a better first game for us this season."
"It's really cool to be able to play again first of all just because it's been a few years, and just watching everyone grow is something that is so cool to see," Painter said. "Kids weren't able to catch or throw two weeks ago, and now they're already catching balls, they're getting more confident. You can just see the confidence growing and just people being ready more as the past two weeks have gone on and just getting closer to the team."
Multisport athlete Ella Walton scored the Goochland girls lacrosse program's first-ever goal, and she did so to cut Fuqua's lead to 4-1 during the first half. Joining Walton in scoring the Bulldogs' first four goals were Marina Stratiou – who was also Walton's varsity volleyball teammate and one of the main setters – as well as Julia Phillips and Sarah Wright.
Phillips scored her goal off of a fast break by Rayanna Tibbs, who also played on the varsity basketball team. Tibbs was able to take off downfield after successfully defending against a Fuqua player to force a loose ball, with Tibbs scooping up the ball to secure possession.
Goochland's players and coaching staff, featuring James and Hannah Yates, praised the efforts of goalie Caitlin McDermott, who had only been in goal for a week.
"For them to be able to get in here and get on the field and be able to keep up with the other girls…be able to communicate with one another – being able to put all of the pieces that they've learned in the past two weeks together into this game and watching that they were actually able to put it all together I think is the biggest strength of it all," James said, "because we didn't have enough girls to do a scrimmage yet, so they've only been doing drills and practices; this was their first experience, so for them to get out here and know where they're supposed to go…it shows they put in the work, not just in practice, but outside of practice, too."
After team bonding the day before the game, James said Painter and Wright decided to go run around the field a few times to bolster their preparation for opening day.
While the team features athletes who have represented Goochland in other sports – including volleyball Libero Blair Bussells and swimmer Bayleigh Allen – there are also a few players on the team who have never played sports before, James said.
"That means: You're going out of your comfort zone and giving us a shot, and that means so much to me," James said, "and the girls who haven't played sports before, I've actually had to stop and be like: 'Wait, you actually have never played sports before?' Because they're trying so hard and they're so committed to this team that you would've never guessed that this is the first time that they've been part of a team."
As the season progresses, James' biggest point of emphasis is for the players to have fun.
"That's the biggest thing about lacrosse, and that's the number-one reason I love it, is because I have fun," James said, adding: "I want them to continue to get to know each other and grow a team bond and create that family, and ultimately I want them to leave this season being able to say: 'I learned something about lacrosse; I was able to grow and improve…' I just want them to walk out of this season being like: 'Yeah, if I was thrown into a lacrosse game right now, I know that I can be great.' Just confidence is key and helping them grow their confidence throughout the season."
Painter praised coach James, saying, "She's done so much for us." And of her Goochland team, she added: "I've always wanted a team that I've been really close with, and now I feel like I've made connections that are really cool."
Wright added: "Right from the start, we have a whole new group of girls just two weeks in, and they're so dedicated, so I'm really thankful for all the hard work they put in, and I don't know about everybody else, but I had a lot of fun."
"I just could not have asked for a better group of girls," James said. "Each individual girl that I have on my team, I am so thankful for for completely different reasons. Each one of them is so unique and has their own beautiful personality, and just to be able to grow with each one of them and see where these amazing young women are going to end up, and be part of their growth, is truly the most rewarding thing as a coach or a person, so I'm just glad to be here."