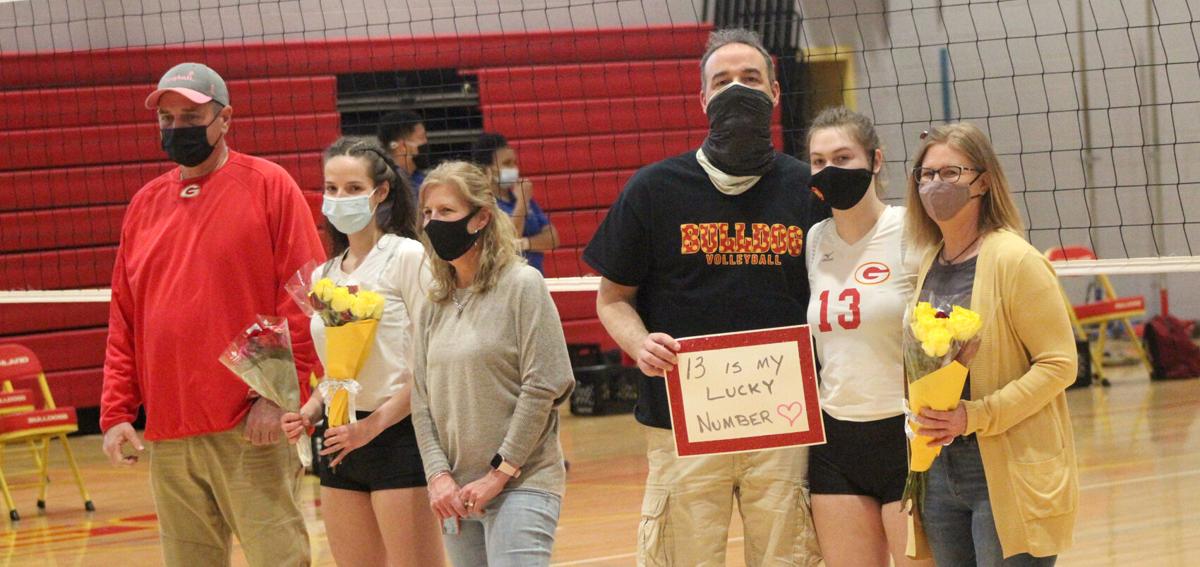 GOOCHLAND -- Playing its first match in 11 days, Goochland volleyball stayed dominant with a straight-sets victory over Cumberland (25-10, 27-25, 25-9) to improve to 6-1.
Tuesday's match was also Goochand's Senior Day. The Bulldogs celebrated the contributions and achievements of seniors Megan Harlow and Taylor Michaels, who helped Goochland's volleyball team win the Region 3B championship and advance to the Class 3 state semifinals in 2019.
"They're really great. They're quiet leaders," Goochland head coach Rachel Jacobsen said of Harlow and Michaels. "I know that they're always going to do the right thing. I know that they're always going to encourage their teammates. I know that they're always going to be helpful and positive, and they're just a great presence to have around. We're going to miss them a lot next year."
Both seniors contributed to Tuesday's win. Michaels showcased her versatility by setting in addition to continuously bringing powerful attacks on offense, and she ended the night with four assists, 2 kills, and 2 aces.
Harlow set the tone in Goochland's dominant first set when she delivered a dink to Cumberland's shallow middle floor for the Bulldogs' first point of the match. She ended the night with 5 kills.
Sophomore Nina Smith in her return tied for the longest service stretch on Goochland's team on Tuesday, as she served for nine straight points in Goochland's first-set win.
Compared to the first time the Bulldogs played Cumberland this season, Jacobsen said they were more consistent this time around in the first and third set, and she was impressed by how the Bulldogs were able to pull out the victory in the second set, in which Goochland was trying some different things. Cumberland was on set point with a 24-23 lead, but the Bulldogs tied it 24-24 to force extra points in the set when the Dukes couldn't return Harlow's dink.
From there, junior Libero Blair Bussells had two huge first touches on Cumberland's attacks – a diving receive that sent the ball right back to the Dukes, and a quick touch on the next receive that skied the ball upwards – and Michaels smashed a laser to Cumberland's court on Nicole Brown's set for a 26-25 lead.
Sophomore Laura Lee Baldwin wrapped up set point for Goochland with a rocketing hit that slammed into the receiving Cumberland player's hands and ricocheted out of bounds.
"It says a lot about our tenacity," Jacobsen said of the Bulldogs' clutch performance.
Marina Stratiou was the other Goochland player to serve for nine straight points, doing so to mushroom Goochland's third-set lead over Cumberland to 12-2. She also had the last serve of the day, which Cumberland hit away to ensure the set and match for the Bulldogs. Stratiou totaled three assists and a team-leading five aces.
"Marina's just very steady, all-around," Jacobsen said of Stratiou. "I can always trust her to be a calm person on the court and…do what needs to be done."
In one of her first times playing in all three straight sets of a match, Baldwin ended the night with a team-leading 6 kills. She was brought up from JV last year, and that was her first year playing, period, Jacobsen said.
"She did a really, really great job tonight," Jacobsen said of Baldwin. "She's come really far. She's highly athletic in the first place…she's worked really hard."
Jasmine Price made strong defensive plays in the second set, including a receive on a Cumberland attack that enabled Michaels to set it and Baldwin to deliver the kill to the left side for a 9-7 lead, as well as a diving save to keep alive a tying point for a 14-14 score.
"She's just such a great all-around player to have around. Just her energy is just infectious," Jacobsen said of Price. "She brings everybody around her up. She's just so positive."
Bussells and Audrey Dolan both had multiple clutch dives on defense in Tuesday's match and ended the evening with nine digs and seven digs, respectively. Sophomore setter Nicole Brown had four assists.
Goochland will host Culpeper tomorrow at 7 p.m. before ending the regular season on Thursday at Randolph-Henry at 7 p.m,