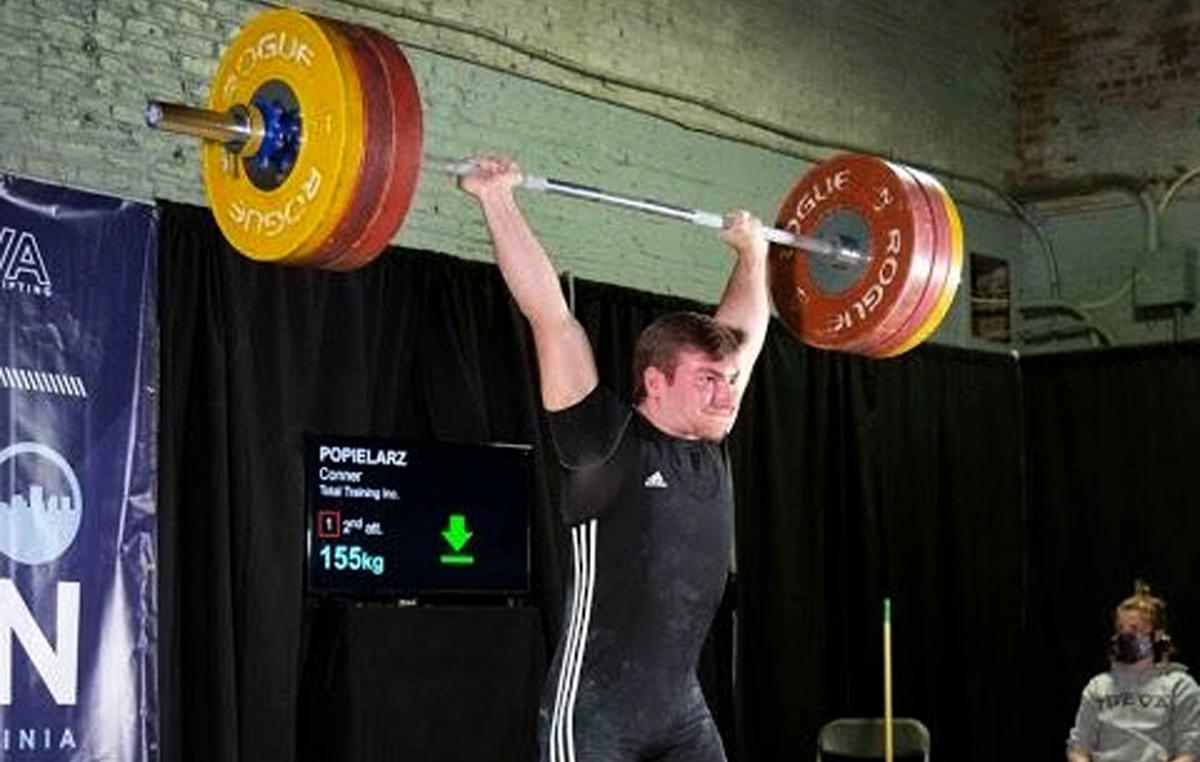 Conner Popielarz was already going to the gym through his weight training for football, but the Goochland High School alumnus and incoming Lenoir-Rhyne University student-athlete believes that his interest in competitive weightlifting first started with videos that he discovered online.
"I just started to try to learn the lifts on my own," Conner said, "and when I found out it was a sport, that was something I wanted to pursue, because I like strength sports as a whole…and that was something that really appealed to me."
He'd already gotten pretty strong overall from his strength training related to football, and competitive weightlifting was something that seemed fun.
"I was willing to put in my full effort to train for it."
He's only been training for a year-and-a-half, but already, Conner is finding success in his young weightlifting career.
"It's been paying off," he said, "and I really feel like I have a lot of potential."
In his first competition less than a year ago – the 2020 East Coast Gold Olympic weightlifting competition in Virginia Beach – Conner placed first in his age/weight class and third overall in the open class, in which he competed against adults of all ages and weight.
That's also where he broke his age/weight class' state records in the snatch and in the clean and jerk, as well as the total combination lift record in one event.
Conner from there participated in two local meets. He took on the Old Dominion Classic and won across all of his age/weight classes in the RVA Open. Following those two meets, he traveled to Detroit for his first national competition, the USA National Weightlifting Championship, earlier this summer.
"It was a fun experience traveling – I wasn't there that long, but it's just fun to see a bunch of other nationally ranked lifters, and it's definitely a different vibe," Conner said, "and it's always fun to get on that competition platform because I just feel a total adrenaline rush, and it makes me lift better."
Competing in the 89-kilogram (approximately 196-pound) weight class, the 5-8, 193-pound standout lifted himself onto the podium six times for six bronze medals on the national stage. He placed third in the snatch, in the clean and jerk, and in the overall total category in both the Junior (under 20 years old) and the Open (under 25 years old) age groups.
He also achieved those marks after having gotten hurt a week before the national meet. He had gone into the competition not really knowing what to expect, but he spoke to really nursing the injury during that preceding week.
He went in hoping to get at least one medal, but he far exceeded his expectations with his performance at nationals.
"That was really exciting," he said, "but I kind of like to win, so…I'm also not satisfied with getting six bronze medals."
He will look to do even better in the next year. He's also qualified for December's North American Open Finals, which is a senior meet (15 years and older) and, as Conner put it, the second biggest meet in the United States behind senior nationals.
With weightlifting, Conner feels like "you've just got to be a certain crazy type of athlete to want to do it, because you're pretty much doing the same thing day in and day out, so you really have to be committed, because you only compete in two lifts, so you can't really stray too far from it."
But he finds it appealing that "you just practice over and over the same thing, and when you find the results, it's really rewarding."
The two lifts in which he competes – the snatch, and the clean and jerk – both begin with a similar motion of lifting the weighted bar from the ground. But with the snatch, the competitor – from the spectator's eye – lifts the bar from floor to overhead in one motion, whereas, with the clean and jerk, the competitor lifts the bar from the floor to the shoulders to overhead in two different motions.
At the national meet, Conner lifted 125 kilograms – or 275 pounds – for his best competitive lift yet in the snatch. In training, he's lifted a best of 132 kilograms, or 291 pounds. Also at nationals, Conner lifted 160 kilograms – or 352 pounds – in the clean and jerk. It's his best lift in the category, both in training and in competition.
As for how Conner prepares for upcoming meets and for achieving those top lifts, he said that "the further out from competition you are, you're just trying to accumulate as much volume as your body can handle," so for him, it's a matter of getting in a lot of work and repetitions.
"You're basically just breaking your body down so you can recover later."
And then, when he gets closer to competition, Conner spoke to a focus of shifting from the high volume of work and reps he had been doing, to practicing those heavy single lifts to mimic competition. He noted that he was about three weeks away from the next meet when he was lifting at 132 and 160 kilograms.
"And it's mental, too, just getting under a really heavy weight," Conner said.
Conner will lift 2 to 2 ½ hours a day for five to six days a week, depending on how his body feels. He spoke to basing everything he does around training and recovery, the latter of which encompasses elements like rest and diet. Everything he eats, he thinks of more-so as recovery and not so much as food, and he takes hot baths almost every day, which he feels really helps with recovery.
"Pretty much everything I do, I think: 'Can this make me better?'" Conner said. "That's what I do to try to catch up to my competition that's ahead of me."
In high school, Conner competed in basketball up to his 10th-grade year, and he also became a leading contributor on Goochland's varsity football team. As a senior, Conner rushed for 351 yards and 5 touchdowns on 53 carries and caught seven passes for 69 yards and 2 more touchdowns during the Bulldogs' unbeaten 2021 regular season. He helped Goochland football reach the Class 3, Region B championship game this year.
Conner spoke to developing into a well-rounded athlete before he got into weightlifting.
"I definitely feel like this is the right time for me to specialize," he said, "but definitely developing my athleticism in other sports benefited me."
Conner will not only attend Lenoir-Rhyne University in Hickory, North Carolina, but he is also embracing the unique opportunity to compete on the university's weightlifting team.
"It's a pretty cool opportunity because there's not that many schools that offer it," Conner said. "I was able to get a partial scholarship, which is amazing…I'm just blessed to have that opportunity to go."
Conner also cited atmosphere – which he noted is a big part of weightlifting – as a major reason for his decision. He praised the number of highly talented weightlifters on the team, and he is getting the chance to work with Lenoir-Rhyne's head coach and World Champion power lifter Travis Mash. Conner pointed to Coach Mash's focus on the culture and on having a positive atmosphere, as well as to his goal of having people compete at a high level.
"He wants to get people on Team USA and medal at international competitions," Conner said. "That's his goal for me, and that's my goal as well."
Conner also had the chance to work with Coach Mash in the warm-up room at the national competition in Detroit.
While his ultimate goal is to make it onto Team USA and compete in the Pan Ams and/or Worlds, Conner likes to make goals that he feels he's capable of achieving 1 to 2 years from now. His current 1-to-2-year goal is to make a Junior Pan Am/World team and win Junior Nationals.
"I find that's the best way to do it, is just have a more short-term goal, and I feel like that could definitely lead to bigger goals in the future," Conner said. "That's how (you) can make training more sustainable as well."
He gave credit to his coaches at Total Training Inc., which is the sports performance gym that Conner started going to as an eighth grader for football and basketball.
"It's also where I started weightlifting," he said. "My coaches Keith Wright and Bob Blanton are definitely influential."