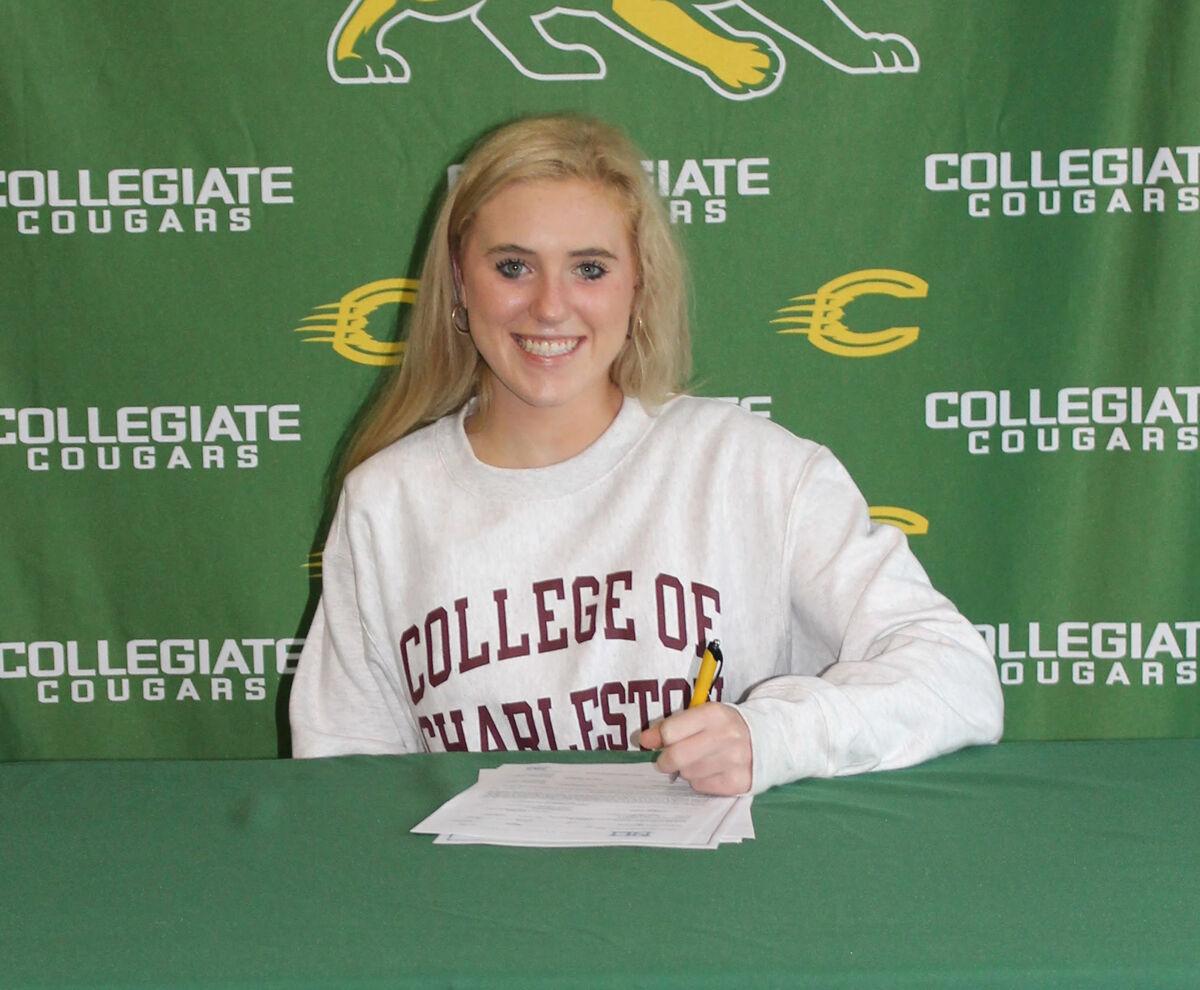 GOOCHLAND – At the beginning of October, Collegiate girls tennis coach Allyson Brand said this season would be a successful one if everyone were to stay safe and healthy, improve in something and continue to come out and play tennis throughout the whole stretch.
The team more than accomplished its mission.
It completed every match slated for this 10-match fall season, which was shorter than normal and featured conference-only contests because of the ongoing COVID-19 pandemic.
"I think it was great for the girls – I think they enjoyed the team part of it, the camaraderie, supporting each other," Brand said.
The team stayed healthy and injury-free, save for one small injury for a few days at the end. All 14 girls got to play this year. Everyone, from the seniors to the younger players, improved on something.
Just to have a season – which can no longer be seen as a guarantee because of COVID – is a success in its own right.
But the Cougars made this year even more special.
They went undefeated (10-0) as a team, accomplishing one of the goals that the girls had set for themselves.
"One of the things we always try to get the girls to do is – we always tell them ... nothing's going to be given to us; we've got to go out there and play and earn and show them how we can play," Brand said. "I do think the girls definitely did that this year."
The Cougars won 94% of their sanctioned individual matches (66-4) and close to 91% of their matches overall (90-9) including exhibition matches. Their team wins included a sweep of League of Independent Schools rival St. Catherine's, who last year beat them for the LIS championship and finished one round ahead of Collegiate in the state finals as runners-up (the Cougars reached the semifinals). The Saints, however, were Collegiate's toughest team by the numbers this year. They were the only team to prevent the Cougars from recording a single 10-0 bagel set against them this season.
"They're always tough – they're always great girls, great coaches," Brand said of St. Catherine's, adding: "It's always fun to have some great competition where everybody brings out the best."
Brand expected to have a strong team with a lot of depth going in, but even so, her players this season "definitely exceeded" expectations.
"With so much going on and uncertainty out there with the pandemic . . . just seeing their smile on their face, seeing them having fun, improving, wanting to be out there playing tennis and being with each other, that's great," Brand said.
They were also able to have their Senior Day – a universal high school sports tradition that appeared immovable until the pandemic hit – and celebrate the contributions of their six seniors: captain Nora Willett, returning No. 1 Helena Huff, Powhatan County's Kayli Shenk, Kylee Sanderson, Sarina DePalma and manager Rebekah Wright.
For Brand, that was a favorite moment.
"That is huge to be able to have that, knowing how, for seniors, just having a sense of closure and . . . to leave the season on a positive is great," Brand said.
Seniors Willett, Huff and Shenk never missed a sanctioned match this season. All three went undefeated.
Willett's teammates and coach pointed to her outstanding leadership on and off the court, with her peers also praising Willett for keeping the team safe and accountable, building up her teammates, making sure they're following the rules, staying positive, encouraging them to put in 100% during practices and games and being a great role model.
"She's a great leader," Brand said of Willett. "She led ... not by just saying, but she led by doing."
Huff's drive, focus and love for the game showed every day she was out there, her coach added.
"She loves being around the team," Brand said. "As soon as she finishes her match, she wants to go cheer on her teammates, and I think her drive out there on the court every day, even at practice, was great. In that sense of it, she's a great role model for the whole team."
Shenk was known for always smiling and laughing on the court – her teammates said her energy bounces off and brightens everyone else's day – and also for her strong commitment to the sport and her good sportsmanship.
"Kayli's awesome – her spirit, fun-loving, just out there wanting everybody to have fun and still competing," her coach said.
Sanderson started attending Collegiate as a freshman, playing two years of JV and two years of varsity. According to her team, Sanderson always had a smile on her face, whether they were doing fitness or tennis drills, and was a great team member, always engaging with her team and enjoying the team experience. She finished her senior season with a 5-1 record, with three of her wins coming in top-seven matches. Brand said her ground strokes were "super consistent."
DePalma, a member of Collegiate tennis for six years with four years on JV and two years on varsity, ended up going 3-2 in 2020, with one win in top-seven play. She ended her Collegiate tennis career by winning her last three matches.
She made her Senior Day all the more memorable by edging past St. Anne's-Belfield's Lily Wiley 9-7 in a competitive matchup. The match gave her confidence that helped her close out the year in strong fashion, noted Brand, who also complimented DePalma's strong serve and ground stroke. DePalma's team described her as a great team player, adding that her positive attitude and work ethic helped her to motivate and encourage her teammates during games.
Wright came to Collegiate in 10th grade and was a program manager all three years at the varsity level. Wright's team said that she's always positive, and that her outgoing personality is contagious. Brand praised her as "super-helpful, proactive" and "very encouraging to everyone around her."
Every one of the 14 girls got to play a top-seven match, meaning they had the opportunity to earn a point for their team.
"It makes them feel, I personally think, more part of the team," Brand said, "because when you play a match like that, especially for those who don't get the opportunity to do it all the time, it adds a little bit more of the emotional side to it."
Just getting to have this season, Brand said, was incredible.
"For the girls and the coaches to be able to go through the whole season, it's been a little glimpse of normalcy when they're out there," she said, "and it's almost been their ... little getaway to get away from everything, and hopefully a stress relief, to see them all smile and have a moment to get away from the pandemic that's going on."